>
Skins

>
Computer/OS
MXP Blue Flavour
Blends in seamlessly with your Windows XP Titlebar
Blends in seamlessly with your Windows XP Titlebar
After searching endlessly and hoping someone would come up with the skin I wanted I realised that was not going to happen. So, I've made it myself. Big thanks to Andrew Ebbatson (http://www.ebbatson.com) whose SkinUP2XP_Blue skin was used as a template for this skin.

Also Available:

(M)XP Green Flavour

For those people complaining about not having gamma schemes check out the Rainbow Flavour which shows that gamma schemes don't actually do the job. The silver skin is totally different to the blue and green skins of XP.
Download skin
| | | |
| --- | --- | --- |
| January 7, 2003 by Michael Soutar | 242353 downloads | |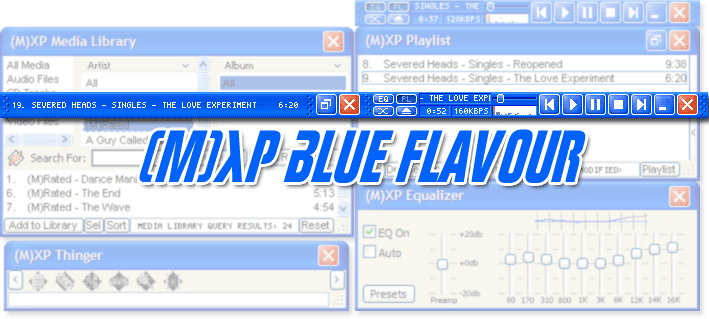 Staff review
Approved.
Windows XP
Comments
Fits perfectly - Great skin, but get rid of that crossfading button and replace it with a media library button! - December 19, 2003 by Aquatakat the Kat
Bill Gates would be proud... - If you use Win XP home and use the default color theme it'll fit right in. - December 9, 2003 by Ben Howard
lol - I hate XP, I gave it a 1 though because it is blue :) - August 26, 2003 by Brent Dixon
Damn close to perfect, I love it! - Fits right in to my XP home addition and has most everything skinned. Great work! It's the one skin I use religously. - August 2, 2003 by Rick .
What I've been looking for - I use windows XP and like the XP Look. 5 stars - July 19, 2003 by Tristan Reed
BLUEDRAGONFLY - LOVED it, I have windows xp & my fav. colour is BLUE - July 18, 2003 by Sheryl Kinman
Copy much? - I dunno who copied who but this looks exactly like another XP theme skin by Andrew something or other. And you might think yours is great but after seeing his and stating what I stated, same goes for you. I wish you would have done something differnet other than the BLINDING blue :o( - May 30, 2003 by Miss Deceptions
no bling - great skin but you really need to make a silver version.....blue just aint cuttin it. i really like the general idea of this skin, particularly the fact that you can just put it up in the title bar and it fits perfectly. blue sticks out like a sore thumb on my screen tho - May 11, 2003 by Abby Heit
This is cool - I like it. If I ever use the XP toolbar themes again, I will certainly use these XP skins. I am using Window Blinds 4 because I cannot stand that Microsoft only gave us three colors for toolbars. - May 6, 2003 by Grey Haven
Good job... - Good job on the skin, you got the xp shell style right. Now make the other two colors and you'll have the whole "XP" xperience! Just one request, make the windows move together, you know like the default Winamp skin. That way you can move the whole thing at once...Again, good job and nice work.. - February 2, 2003 by Paul Heinl
great - Really Great !!! Now I can keep on screen with "Always on top" and put it on the title bar . Thx a lot !!! - January 20, 2003 by Yan Caumapka
GREAT SKIN - MAYBE YOU NEED TO MAKE SOME COLOR THEMES, CUZ I'VE GOT THE SILVER MODE IN WINXP. SO A BLEU THING IN A SILVER OS ISN'T SO BEATIFULL. 2 STARS 4 THE DESIGN. - January 3, 2003 by werner noorlander
blah - Yeah it matches XP, but its so small, you cant even see it, so it doesnt matter if it matches, cuz its not visible.. - November 26, 2002 by Jay Brat
Needs to be in olive green! - I would give 6 stars if I could, but I cant. Get Olive Green! - November 24, 2002 by Myown Namehere
MXP .......five stars - Among the three better than I have seen - October 28, 2002 by Mario Novoa
Finally! - I have been looking for something like this for a long time: something that blends seamlessly into the OS. - October 16, 2002 by Shaun O'Connor
Silver? - Wheres my silver version - October 12, 2002 by Sean Rick