>
Skins

>
Cool Devices
Multipass
Compact, usable and stylish.
Compact, usable and stylish.
-1.4 fixes issues with WA5.2x

-Hover or Focus Mode drawers

-Collapsible shade mode

-New CARBON style

-Playlist shade mode

-All components skinned

-Integrated color theme switcher

-Advanced notification window

-Multiple custom visualizations

-Multi-state repeat buttons

-Supports Docked Toolbar mode

-Option to unlink shade position

-Supports Alternate Fonts



Graphics & Coding:

R. Peter Clark - http://www.rpeterclark.com



Presented by:

Breed - http://www.breedart.org
Download skin
| | | |
| --- | --- | --- |
| August 2, 2004 by Pete Clark | 519824 downloads | |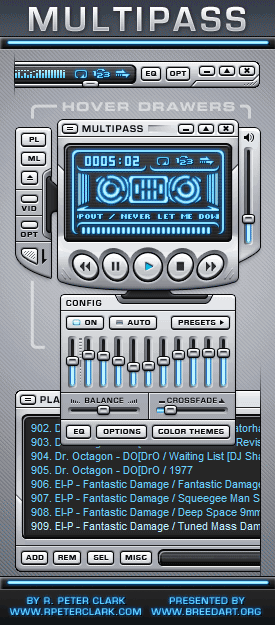 Staff review
Nice work.
Played with this for a bit, found it to be a nice skin to use, not over complicated and easy to use while still very good in the grapics department. We need more of this kind.
Comments
so kool - January 28, 2011 by [email protected]
I just love it.Beatiful mix of tech, exquisite in details, simple but wide on customizations.A pertect 10! - May 23, 2010 by [email protected]
Clean,smooth and modern,...ahhhh perfect - Great job friend,just what I was lookin for. Thank you very much. If I wanted to learn how to make a player, I would ask you. - March 14, 2009 by david duval
Cool! - Looks and works well. Cool!! - January 26, 2009 by Raymon Holeman
Best Skin Ever! - I created a account just to rate this skin. - July 8, 2008 by Hector Marchena
Excelent - Simple, nice tech style.I'm loving it. - April 22, 2008 by Mr K
Like.. - Me LOVE !! =) - April 9, 2008 by vapea vapea
Let's you adjust size - Unlike all of the stupid skins out there, this one allows you to adjust the size. - April 1, 2008 by brent goettsche
Great - It's very stylish. - March 25, 2008 by Farkas Szilard
Slick and Featured - I honestly don't know why this skin isn't the top-rated skin on winamp.com. The design is sleak, but not tacky or overdone. The features are endless and simple. All that said, its easy on the eyes and user-friendly. Fantastic skin. 5 stars. - March 22, 2008 by jason lowe
Brilliant! - Multipass gives it all to you, color themes. Easy-access hover drawers and a clean crisp skin. All the options you'll ever need, a great package. TY! (Multipass > Moon Groove) Pepsi challenge? - January 29, 2008 by Derrick Andrew
Beautiful Work. Very Worthy! - This skin is just awesome. Nice to finally find one that has a nice glossy finish that has docking capability. Docking is something that is a must have on my desktop. If a skin doesn't have it, I can't use it. Extra kudos for making the playlist side dockable too. That's just awewsome. The animation is nice and tight. My only gripe is that opening the EQ undocks the player. But it's not a huge complaint Once it's set I don't really need to see it.Nice set of colors, and again more Kudos for being able to use color editor to customize them if needed. - December 21, 2007 by M Cynthea Carrington
Good Stuff - I would have given this less than five but to make space between ugly stuff well I am giving it 5 not 4 or 4.5.I know ppl are looking for simple stuff and this size is good but its little odd in shape when on desktop (not as other odds of course)not fancy or new but the color themes makes up and the main window style is very cool 5/5!Thanks for this cool skin.I am using it - October 26, 2007 by john red
cute - amazing!!! But, again, could be bigger! Or it's about me... i don't like small skins... maybe I like winamp to much, and I want it to be VISIBLE!Congratulations for this skin! - June 29, 2007 by jericho xp
cool thing! really cool. but .. - Awesome Skin! Its so complete and good looking! Unbelievable!! And the functionality .. wow! Big big respect!My little critix:* Positionslider much too small and a little hidden in the UI. (I like it huge and handy.)* the edgy underside of the player is a little ugly. No Alpha support huh? I think straight wouldn't have hurt. - June 25, 2007 by eweybody !
The best - The best Winamp Skin I´ve ever used!;-) - February 21, 2007 by Bob Marlay
playlist editor - for some reason the playlist editor doesnt work for me.. it doesnt show up.. it does in other skins. i re-installed the skin and winamp but no luck.. any ideas? i <3 the skin - January 21, 2007 by Badral Mashbat
I likeit - sandra 2006 11 23 good - November 23, 2006 by sandra abukaite
incredibly easy to use - This is easily the best skin Ive found so far, everything is easy to read and use but it looks great too. I generally use it as a docked toobar and its the only one Ive found so far that actually has a decent layout in that setting. Good work :) - September 24, 2006 by Gabor Kiss
Beautiful - This is the first skin I've found with a fully functional docked toolbar which is a major bonus. Even without this feature, it is one of my favourite skins; easy to read, intuitive and beautiful to look at. Nuff said. - September 15, 2006 by Dominic Watson
How did I miss this one? - Don't know how I missed this one, it's certainly one of the better ones, for my taste. Great job! :) Mark H. - August 31, 2006 by Mark Headrick
Love It! - This is probably the best Winamp Skin I could find. I had Meridian, and I liked it except it told me I had to update (and when I tried to do the update setup it was trying to FORCE me to downlaod some Zango Search Client...) and it lagged, and it didn't let me skip through the song.... Multipass has everything. It is so simple and easy to use. The buttons are clear and the writing (although small..) easy to read. I love the different color themes, but I use the default which matches my Aston shell really well... it DOES NOT lag one tiny bit when I start it up, and it is just all in all a wonderful skin. GET THIS SKIN! YOU WILL LOVE IT! - August 4, 2006 by EmilyAnn Novak
I don't know why........ - this skin has such a small number of downloads compared to others of it's category? It's one of the best looking and easiest to use. It's in my top 5. - July 11, 2006 by Jack Sanders
A must use - Simply the best skin I've ever used. - June 10, 2006 by Stanimir Stamenkov
my favorite - compact useful terrific color combos - June 9, 2006 by Joe Caruth
Wow, I mean, Wow - This is exactly what I look with in a skin. I get color themes, all modes (docked included) and buttons I can actually find. Add the fact that it looks great too and I can ask for nothing more. - March 19, 2006 by Michael Blank
Awsome! - I'm about speachless. All around excellent! Simple, Functional, Nice effects, Clear and easy to see against all of my desktop backgrounds. Haven't found a quirk yet. Love this skin! - February 2, 2006 by John C
Best Skin - This Skin Rocks!!!! One of the best skins available on winamp.com..... Cheers to Peter Clark.... You rock man!!!! Safe..... - November 7, 2005 by sud b
Cool - Cool - October 10, 2005 by Alex Melnik
Multipass is the greatest - It does everything and does it very well. With the slide out control wings on mouse hover, it's compact and easy to operate all the controls even at 50% size. Looks great with the carbon buttons and all those color themes. There are a lot of skins that are nice to look at for awhile but the novelty always wears off and this is the one I always come back to. It is the greatest! Super job! - October 8, 2005 by Ray Evans
!!Wicked!!! - BEST SKIN i've seen..perfect size..clear buttons..looks awesome..everything u want in a skin! good stuff :) - October 2, 2005 by Nathan Figueirado
MAD PROPS - lots of details and hella simple, best of both worlds, like peanutbutter and jelly!!! - July 3, 2005 by Chuck Springer
The best skin for winamp 5 I ever saw! - Two words about this skin: The Best! - June 30, 2005 by Semyon Dvn
Multipass really sets the pace - Here's a skin that does a lot besides looking cool. I really like it and I've been using Winamp for a l-o-n-g time. This is the best (sorry, long-term friend and servant, Nucleo NLog). - June 20, 2005 by Jack Crowther
Bueno - Me parece un buen sking, muy manejable en modo minimizado, it's very cool... - June 3, 2005 by Alfyx Carmona
One of the best... - I've been using this skin for some time now and it is by far the most useable skin I've come across in a long time, and it also looks damn smexy!! - May 27, 2005 by Thanos Tsakiris
Best skin yet - its great, but it be even better if you made it as a hi-fi set, as an idea for next time - May 20, 2005 by Sandar Kleven
Best... skin... ever! - Sleek and stylish with a compact and intuitive design. I can't think of anything I'd like to change about it. The abundant selection of color schemes included all work so well with the clean design. I don't think I'll ever get sick of this skin at all. Timeless. - May 19, 2005 by Mo Shun
Just what I searched for!! - Yeah, definitively what I looked after for a long time! It's functional, highly customizable (many options, many themes), it's not too overloaded but still looks good... Great!!! More of this sort! - March 31, 2005 by Felix Neumann
nice - very nice skin, its up there with the standard winamp5 and MMD3 Skins for sheer classiness - March 10, 2005 by Dan Cooper
I lake it - Just that I like it;-) - February 26, 2005 by Pawel Hujowy
Totally sweet - This skin is very easy to use and looks great. I've not come across one as good as this in a long time. - January 31, 2005 by Lord Patent
Super Duper @$$-kicker - Hands down the best skin. - January 28, 2005 by Brian S
Bloody Brilliant - What an awsome skin. I can't believe I hadn't seen this one sooner. One of the slickest I've seen. Heaps of options, easy to use and very professional. I love the auto hide option when it's docked; great work! Highly recommended! - January 14, 2005 by Julian Scott
Nice, needs separate equalizer. - Very functional and clean-looking, but it'd be nice if a separate equalizer window was available in stick mode, so it doesn't have to revert to full-size. - January 13, 2005 by Jason McCay
Excellent update, carbon mode is beautiful! - Just found out there was a newer ver of the multipass skin I've been using and just dled this. I think carbon mode is one of the best ideas ever, especially love the option of having separate parts of winamp carbonized and what not. Great work! Only thing more that I can think of to improve is more color schemes or customizable colored parts. - January 8, 2005 by MD Tran
its good - messed with it for a bit, not to bad, gj - January 8, 2005 by C Deiter
If you don't have this skin DOWNLOAD IT NOW!!! - Happy New Year Everyone!!!!!! I first downloaded this skin about 2 weeks ago and dropped by today to mention a bug and request a feature. What do I find? A new version!!! The "always in top bug" is gone and I can now dock the playlist and set it to auto-hide. Pete Clark, thanks for the Christmas present bro! This skin kicks ass, it not just looks totally awesome but I totally love the fact that you can minimize Winamp and use that little slide out notifier that pops up when the track changes. Awesome when listening to Shoutcast streams! - January 1, 2005 by Steve Monroe
Su-weet - This skin is SU-WEET. The All Carbon style makes it even better. If you want the carbon mode, click on the Current Skin tab, hit Skin Options Menu, Style > All Carbon. Took my awhile to find to. - December 22, 2004 by ray zian
The Best of The Best - The Best Modern Skin I've Seen Yet. It's Simple Yet Stylish, & Has Enough Different Color Themes To Match Anyone's Mood. A Must Have For Hardcore Winamp Fans. Good Job Pete, You Got a Real Winner Here. - December 19, 2004 by Raul Silvestry
Multipass!!!!!!!! Say What?` - Very tight &clean ....................I am really surprised but I think this is one of the best!!!!!!! - December 17, 2004 by G Etzel
I love it, but it's so heavy? - This is a beautiful skin. Plenty of color options. compact size. but the file is so big it takes a little too long to load winamp. Are you in the process of building a lite version of it? - December 6, 2004 by Daniel Diaz
Awesome - The best skin I've ever used. Keep up the good work Pete. - December 1, 2004 by Alex Faktor
Eye candy - Excellent color variations! State-of-the-art illumination. Something like "alien" technology if you look only to symbols... Liked it. Seen nothing similar. - October 27, 2004 by seer over
Theres a script error when winamp closes - As the title says, i get a script error when i close winamp with this skin, and winamp doesnt remeber my playlist, i have the titlebar docked and the playlist. Im running windows xp, with all the updates. and winamp 5.05 - October 27, 2004 by Ben lupton
Bug? - I downloaded this skin with high hopes for a new default, but there's one problem. Whenever I try to open it, it gives me an error message and shuts down Winamp. I don't know what the problem is, I downloaded a skin just minutes prior to this one, but just thought I'd let you know, because it looks awesome. - October 12, 2004 by Jacob Schuman
very clean and clear - simple and clean, just how I love them... - September 16, 2004 by xan K
Carbon??? - How do you switch it to the carbon mode and why is it so hard to find? - September 14, 2004 by Rod Rammer
The Best By Far - This is the best skin I have ever had- By FAR! A lot of options, one of the ones i like the most is scrollbar volume control- i dont know if regular winamp has it but I like it in this compact neat styling version. It always notifies you of the next song also. Try it out you wont be dissappointed. - September 4, 2004 by Jeremy K
I've tried so much, I stop searching further... - This is simply the very best skin you can possible find on the whole internet, ... And I should know that! :-) I recently bumped into this skin, tried it out, and.... got so hooked to the simplicity, user-friendlyness and superb interface, that I mailed it towards all my friends by e-mail. Keep up the work! There possibly won't be an other skin that could replace this one for me, the first few months, or even years.. - September 4, 2004 by Chris Ekeris
Great Skin - Great skin...yes it is. - September 3, 2004 by Thomas Melis
RPC does it again! - Just awesome. Has every feature you could expect in a skin (except album covers in the notifier; I know, not mature enough yet) and a steller design with plenty of color themes and the alternate carbon style for even more variation. If you can't get this skin to fit in on your desktop, then you ain't doing something right. Extremely functional, very easy to use. My preferred skin now (at least until Avitronic is done) and a highly recommended download for everyone who uses Winamp. This should be the next MMD3 (Yes, I know I throw that out a lot, but I mean it this time.) - September 2, 2004 by toejam 07
Simply The Best... - I really don't know any other skin that is so good-looking and yet so ergonomic and easy to use! It's what I was looking for from a winamp skin! Nullsoft should start thinking about replacing the default skin... PTmax13 - August 24, 2004 by PTmax Panathas
schweeeeet! - Awesome. Simply Awesome. Straightforward functionality, coupled with stylish lines, visuals, and more color themes than you can shake a playlist at, make this one of my favorite skins. Only one issue--there's an occasional script error (it could not be part of the skin, but I only get it when using Multipass) that causes winamp to crash back to basic skin mode. FYI: Winamp 5.04, WinXP SP1. But that happens very rarely, so it won't keep me from using this very sweet skin. Great work! - August 23, 2004 by Rob Hofford
Excellent - Great design, easy to use, and it's the best skin I've run into yet. Whoever Pete Clark is has done an outstanding job with this skin, congrats. - Winamp user - August 15, 2004 by Andrew Freeman
so close to perfect.... - Great skin, so easy to use. The custom visualizations are a nice feature (both the side VU meters and the center visualization can be changed). But why is the Media Library messed up?! The scroll bars are just floating with no background and all the frame lines are gone. Five stars anyways for so many other good things. - August 13, 2004 by Pascal Getreuer
At last a winshade for me! - Countless skin downloads over the years, finally a winshade mode that works for me, and a great looking skin to boot! I don't use winamp, other than in winshade or minimised (systray). I also rarely use the playlist directly, mainly using the media library directly to queue albums. Call me strange but that's just me! So the winshade mode - super clear buttons without being oversized, nice compact display (or more detail if expanded), great colour themes - and last but not least the all important ML button for me! Other modes? I've no idea, but can't be much wrong with them either :) - August 13, 2004 by Mr Walrus
Very nice! - Very nice skin! thanx! - August 12, 2004 by Steve Darken
Zhing, baby!!! - I don't even have to download it to post an opinion. The screenshot tells me it's so damn fine. - August 12, 2004 by ChrisP Bacon
Very nice! - Very nice skin! thanx! :) - August 3, 2004 by Steve Darken
Outstanding... - I like it very much! - August 2, 2004 by K Kartal
Excellent - Where to begin ... This skin is just excellent! The look, the layout, the visualizations, the "notificiation window", these are all expertly done. Download this skin. - August 2, 2004 by Devin Cook
Awesome - Usable, fast, looks great. Nothing wrong with this skin at all. - August 2, 2004 by Aquatakat the Kat
Pete Clark just rules - Not as sexy as Invicta (my personal favorite Pete Clark skin) but a unique skin with lots of extra goodies and low CPU usage. The expanding main mode is cool and there are plenty of vaired color themes. I also really like the configuration drawer. More great work Pete! - August 2, 2004 by AE 4713
Skinners, look and learn - A great modern skin and less than a megbyte to download. The songticker options should be noted, the ability (and default) to have it slide in horizontally rather than vertically from the right or indeed the left of the screen is a nice touch. You have the option of controling the length it stays there too. Simplistic and functional, a modern minimalistic yet also technical skin. The only downside I find with this skin (as with many others out there) is that some of the colour themes are a bit more 'eye-sore' than 'eye-candy', however you are bound to find one you like if the default doesn't do it for you. - August 2, 2004 by Adam Luttman