>
Skins

>
Cool Devices
Mozart v5
Featured Skin, October 24, 2002.
Enjoy the music with Mozart skin!
New! Winamp Mozart Skin Desktop Icons.
Check deepinthought.hu with your Winamo2 Minibrowser (alt+t and ctrl+O) and download Stereo Analog VU Meter visualization plugin skin to.

fx05:
Remove green glow from all screen top buttons ; Winamp skin cheat screen is working ; New Gold style EQ bars added ; New EQ panel illuminator bevel ; Mmenu.cur added ; New windowshade Main&EQ screen modified ; Open file btn recoloured.

v5:
WA5 windows added.
Download skin
| | | |
| --- | --- | --- |
| April 16, 2005 by Nullsoft Classicz | 124165 downloads | |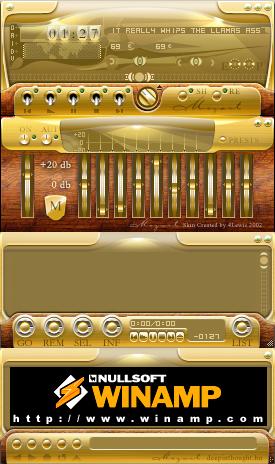 Staff review
Wow.....
This is a genuine 5 star skin, just play with the balance and volume sliders and look at the animations, see the toggles and knobs turn. A must download for the deihard Winamp fan.

Original Design by Lajos Nincsics.
WA5 update by T Mrym.
Comments
Beautiful! - Intricate style, not a bad concept, some fine details. Sure it would've been nice if the media library was skinned, but if wishes were horses, we wouldn't have anywhere left to live. Thanks for the visual pleasure. Peace! - March 26, 2006 by Henry Kalvin
Really cool skin!!! - I think it's one of the best "classic" Winamp skins in the World!!! Respect to designers! If it were possible, I could rate it at least 13 stars :). - September 9, 2005 by Dimitrius Pinakov
Very nice one - Nice one, the only problem i see is the current playing time font is little bit unclear - July 19, 2005 by Solution Vega
Wow Is Right - Skins don't get much better than this. Great work. - June 27, 2005 by Arch Angel
Ehh - Well executed, but I'm not a big fan of the idea. The digits in the main window are really ugly when flashing. - May 25, 2005 by Lake M.
About Update - Hi! I'm Lajos Nincsics. I made this skin 3 years ago to Winamp2.8. The update (winamp library window) was NOT my work! When i saw this update i was very surprised! I'm happy about update, but.. I dont know.. :( - May 10, 2005 by Lajos Nincsics
shape? - Still square. Someone changed my rating. - April 30, 2005 by arikamu ji
Ho Hum - Sure it's a pretty skin but completely uninspired. Nothing amazing about it in my opinion. - April 29, 2005 by Jackson Sorrentino
theres just something about it... - theres just something elegant about this skin, its nicely done... - April 21, 2005 by Benjamen Brown
Wasn't that winamp 2? - Nice but... square. So square... - April 17, 2005 by arikamu ji