>
Skins

>
Transportation
Motorcycle
.
.
.
Download skin
| | | |
| --- | --- | --- |
| October 1, 2003 by Dennis Scheffler | 370423 downloads | |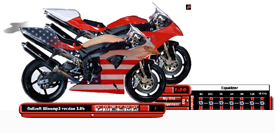 Staff review
Don't play with this.....
While riding your motorcycle.
Comments
negative - i think it is negative - June 2, 2005 by Mikus Preinbergs
no - j - March 31, 2005 by Jasmine Moore
motorcycle - its sexyyyyyyyyy - December 2, 2004 by anshu atreja
hey - wtf? r u ppl retards? had this bitch mastered in 5minutes! it IS a bit big,but its cool.espesh the animated bits,n the motorbike seeker-maybe itz cuz im a moto freak?! any chance u guys can hook me up with a Valentino Rossi repsol honda v5 replica?im lookin for it and it would make my life beautiful-because vale is god..y'all agree? thumbs up on the bike-keeping me sane for now. love y'all x - October 9, 2003 by Yasmin Ali
Hmmm - It would be nice if the people actually reviewing your skin were to download it, and check the stuff huh? Because I noticed that the motercycle is animated (the wheel that is) and I thought that was cute. And I liked the volume. I didn't like how long it took me to find the equalizer. Around the edges were very choppy. The whole thing was HUGE, and you couldn't make it very small. It was kind of annoying. I think it would have helped if you would have made it smaller and with a help file to show where the stuff is since people don't want to look and they would be too stupid to find it anyway :o) - May 30, 2003 by Miss Deceptions
iight - look dis skin is iight plus it reminds me of biker boys - February 21, 2003 by Raca4rmDa209 209Raca
This is a new version - Have fun with the new version. - February 16, 2003 by Dennis Scheffler
Thumbs down! - No eq, thinger..... No nothing - February 14, 2003 by Stacey Marler
It's a motorcycle... - Yep, it's a motorcycle. A stationary, unanimated motorcycle. No other color themes...no volume controls...no thinger...um, and I couldn't find the equalizer! - February 14, 2003 by Father Time
nice motorcycle doesn't make a nice skin - Don't put such a large motorcycle without any functionality in your skin. This skin is totally unfunctional and not goodlooking. The one good thing on the skin is the animated exhaust. My advice: don't download, unless youre an absolute motorfreak! - February 14, 2003 by Amnesiac ........