>
Skins

>
Retro
-Modern-Classic-
Classic retro skin with Modern functionality
Classic retro skin with Modern functionality
A Modern skin designed on classic style. Fully functioning VU meters enhance this skin. VU meters are adjustable. Features a separate Crossfade Control window.---FIXED--- Transparency problems for some users. Your desktop Alpha was not activated in Options/Preferences/Skins/Modern Skins/Alpha Blending/Enable Desktop Alpha Blending (should always be set for better graphics). Will work for all users now...sorry for the inconvenience!!! Hope you enjoy this skin. ---FIXED--- minor button functionality, ADDED 'open file' button to main window.
Download skin
| | | |
| --- | --- | --- |
| March 31, 2009 by Michael Ludwig | 374155 downloads | |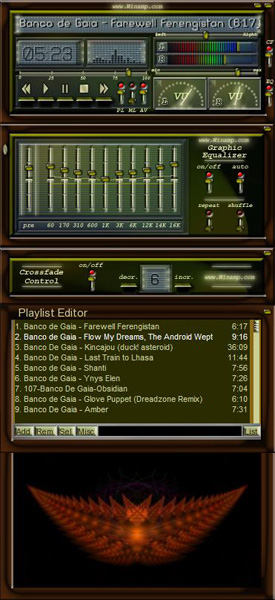 Staff review
Classic flavored modern skin.
Nice piece of work, I like those VU meters.
Comments
great - loving it - May 8, 2009 by Ruel Forbes
Very Good Skin - Wow, this is a funny looking, good to use skin! Really like it. - April 22, 2009 by Buddy R
Wrong file..it's just the classic skin - I don't know what happened but this isn't the skin that is fearured in the description. Get the right one up, guy. - April 21, 2009 by Joe Geek
Reply by author - Would someone please send a screenshot to [email protected] so I can fix the problem? Please include the browser you use, and anything else you think might be causing it. I tested on 2 computers and haven't seen any problems. - April 4, 2009 by Michael Ludwig
Looks good - For some reason the equalizer and the crossfade windows become transparent when they are activated. The ML and main window don't have this problem.As far as i can see it looks that with those 2 windows the background color is defined. Unlike the other windows of the skin. - April 4, 2009 by jr Heuwing
good - the equalizer part of the skin goes transparent if i'm running InnerSpace, not sure why. - April 3, 2009 by William Harris