>
Skins

>
Compact/Utility
Minima
Featured Skin, April 3, 2003.
Winamp3 build 488 skin.Again updated! Thanks to all Winamp3 users for comments, criticizms, recommendations and suggestions. I tried to make this with as less as possible bitmap for minimum size (no bitmaps, no animated layers, no extra scripts) and simple but useful. I tried to force Winamp3 skining machine. A good effort to show what can Winamp3 skining machine does.
Download skin
| | | |
| --- | --- | --- |
| June 15, 2003 by Pertev Erenberk | 1366859 downloads | |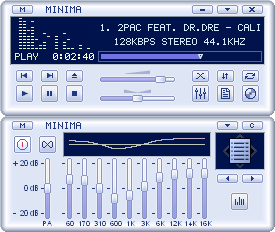 Staff review
Simple, but effective...
basic, yet appealing.
Comments
not working with v5.21 - it looks very nice but i can't use with winamp version 5.21 - April 12, 2009 by hakan engin
Fantastic Player - I have loaded this skin over the years whenever i loaded Winamp on my system and this skin was always my first download. Very clear and easy to use. Nice looking and very well built.Other skin designers should note the effort that has gone into such a usable and nice looking skin. There are many that are too over the top with graphics and are unreadable.Nice going Pertev.:o) - December 23, 2008 by Chris OBrien
The best... - The best, cleanest, smoothest, coolest compact player EVER!!! - Bad_Mojo88 - November 22, 2008 by E Dahms
Perfect skin - My screen resolution is only 1024x768px and this skin makes it possible to feal like having a greater resolutionTogether with this skin for xp; 155_milkydreams-1.0 it's double up on great :DChill and thanks again. - April 17, 2008 by Jonas Rasmussen
Small and light - Small footprint good for all size screens and full winamp setting and view. - September 14, 2007 by Sam Morris
almost perfect. - A damn near perfect skin, if only the rightmost of the second indicator digits in the main window didn't get half-hidden behind the progressbar when in time-remaining-mode. - August 19, 2007 by Johan T
I like it very much - - May 5, 2007 by Oleg Gumennikov
MINI BUT EVERYTHING - I really like this skin because it's very small on the screen. However, the function is complete. I like it! - January 15, 2007 by Basil Chou
clear and complete - The skin has got everything I need. It is straight forward and looks really nice. Thanks! - September 28, 2006 by Peter Kaune
very nice - very good :) - July 13, 2006 by Caudy Caudak
Minima: simply the best - One of the best skins ever. - July 1, 2006 by dIEGO P.
Simple, just how I like skins! - Nice, clean look without sacrificing functionality. Scaling and opacity functions are also very nice. However, I do wish you could customize the text on the windows to display something other than "Minima". Also, I miss the "File, Play, etc." menu. Other than those tiny gripes, it's a great skin! - June 2, 2006 by Melted Banana
My hunt is over - This is the best skin I've ever found, in all these years. I'm never changing it again. God bless you Pertev. - May 29, 2006 by Ricky Cornell
Simply Perfect! - Ive been looking for a skin like this, amazing I havent found it before. Its simple, readable, understandable yet stylish and functional! This one is going to stay on my player for a while. - February 24, 2006 by Dekoth _Smith_
Smart and stylish - It looks smart and easy to use. I don't like gussled up things. - December 17, 2005 by Alexey Klyukin
Smooth - Best skin the Internet has to offer. - December 13, 2005 by J H
Great stick mode skin. - With the equalizer and player side by side at the top of the screen Minima takes up less desktop space than MMD3 in stick mode and takes no more clicks to open anything than does MMD3. Very functional, easy to work with and nice looking. Super skin! - October 20, 2005 by Ray Evans
An excellent minimalist skin - Just what I was looking for -- a professional-grade skin with easy-to-see, easy-to-understand buttons. A lot of the skins are pretty gaudy, so I definitely appreciate it when developers go the other direction and make a quality minimalist skin. The only improvement I might suggest is changing the PLAY/STOP buttons (to the left of the play time) to red- and green- colored icons. On my current monitor's settings, it tends to get too crowded.... but besides that, I wouldn't change anything. - July 21, 2005 by DeathTo Spam
Great! - Some of the best skins i've seen! But the current position slider looks different than in the screenshot!? Very dark and no triangle at the end... Why? - July 20, 2005 by Solution Vega
Perfect - I love this skin. - April 26, 2005 by Scott Byrnes
extremely nice - like compact, it's a nice simple skin with everything going for it due to it's simplicity and clarity. The only thing that bugs me is that i like having a seeker in the windowshade of either the playlist or main window, which this aint got. but it's still very nice :) = = = despondentrock.tk - January 23, 2005 by despondentrock_tk __skatepunk_mp3s
Great! ...sort of - It's true, this is the only skin I ever use, I just think it's so damn sexy. I have however, noticed a glitch that bothers me to no end: I can't scroll the playlist with my mouse wheel. Ugh. Any other window works, but when I click the playlist it just works the volume. Oh well, I'm just anal, I'll keep using it anyway. thanks for the skin Mr. Erenberk! - January 2, 2005 by Daniel Malony
simple....yet Perfect - sometimes people do tend to go a bit overboard and this is simple and yet so sweetly constructed and visable "name of song" times of track and bitrate which can be a huge issue with alot of the theme i have gotten here.....ya put focus on what mattered now "your name o fancy trays and gadgets that are for extras ya can get thru menus anyway and made a very nice project :) ty made you my night - December 20, 2004 by Damien SatansSon
Absolutely perfect! - I'm certain that many people spend countless hours creating complicted skins, but for me, the beauty of this skin is it's simplistic, yet elegant design. Functional, compact, uncluttered and easy to read, this skin has quickly become my skin of choice. Kudos, and thanks to the author for sharing this masterpiece! - December 17, 2004 by Jeffrey Kreth
Small and fully of function! - When most of us listen to music on our computer, what are we doing? Usually something that doesn't involve looking at our media player. So why get a player that's all form and no function? This skin keeps my player taking up the top row of pixles along my screen. It's there when I need it, but never in the way. Yet I don't have to go hunting for the simplist buttons. It's all there in a simple, easy to use, easy to find manner. I can hack it up and move the parts around if I need to, I can resize the playlist window to my heart's desire. I don't need a fancy skin. I need something small and functional. That's exactly what I got with this skin. My only complaint is that there aren't enough colours. - December 13, 2004 by Deramin A
almost perfect - perfect for those looking for a fully functional skin while giving a minimum of screen real estate. the only thing I'd like to see is the file info take up the entire width of the window if visualizations (spectrum or osci) are turned off.. - November 19, 2004 by ivar v
Minima is Maxima - PRIMA!!! - October 27, 2004 by Alte Ente
Small, nice and effective - Great size, color and looks! - October 7, 2004 by ruben langerak
Super - It\'s AMAZING skin!!! It have my favorite size, my favorite color!!! (Sorry for my English). - September 18, 2004 by Aleksandr Korolev
small and cool - ; ) - July 7, 2004 by Durgonics J�nos
Damn Near Perfect! - ...BUT... the 'Time Remaining' feature doesn't work. As a frustrated amateur DJ, that is REALLY important! Still a sweet skin, tho! Keep up the great work! - July 6, 2004 by Rev. David Clark
Skin of the future - I've love it immediatly! - June 24, 2004 by Jessica Rattini
Wow - Just found this. Love it. Will be used as primary skin until the end of time. - June 9, 2004 by John Gill
AWESOME - The best skin out there, in my opinion (and from the skins I've seen.) This skin has it all, even the media library. And not only is it extremely functional, it is very well laid out and easy to use. On top of that, it looks good! what more can you want? - May 17, 2004 by Jack Attack
Make the main window look good if enlargened! - This skin sure looks great, and I understand it's made to be as small as possible. Anyway I'd like to be able to enlarge the main window without getting all buttons etc enlarged too - as it is now they look like "zoomed in" which is not very nice. As the other windows can be enlarged without problems I suppose this issue should be easy to solve. - May 4, 2004 by Love Eklund
perfect compact skin - great skin, very compact. functional, good-looking, and easy on the eyes. works for me! - March 3, 2004 by Mike Laflamme
Best skin ever :) - Great skin, exactly what is was looking for! No fenzy design just simple buttons, but still nice to look at. Great work! Thanks! - February 27, 2004 by Peter M�ller
Simple As It Should Be - Lovely simple, clean, and complete skin. Great work! - February 23, 2004 by Malte S
Good - Simple and cool - January 12, 2004 by Domas Dumse
Sweet - This is the only skin I prefer to use! Very functional and straightforward. One criticism: it needs a total play time indicator for playlists as well as the individual track times! Beyond this, simply excellent! - January 10, 2004 by Robbie Gregory
The Best ? - This is a good skin, except for one thing... You need to enable a double click for windows shade mode in anywhere of the skin, not only this button. - December 23, 2003 by Zatanus_Matrixx 666
Simplicity at its best - Very effective in keeping things simple. Overall it keeps the theme of keeping things to a minimal.. Great stuff. - December 19, 2003 by decrypt d
clean, simple, beautiful and awesome! - this skin is really nice. I've never see such a simple skin like this. It is better than MMD3 or other skins. Nice work! Keep it up! - December 14, 2003 by Ahmad Naim
VERY nice - wow, 52k and it looks great and everything. awesome job. - December 1, 2003 by jeremy gates
Perfect - This is a great skin, it looks sweat, it has the same features as the normal one and its size is perfect :) - November 3, 2003 by JoWie _
Simple and effective - Very Clean and yet is stylish. - October 18, 2003 by Joe Burns
Simple and Stylish - Great creation! - October 3, 2003 by linda scotti
Simple but great... - This skin is very simply but very effective. You can see all important functions at a glance. - September 25, 2003 by Ronny Siegert
Nearly Perfect Simplicity - This skin is great for users who don't want "All that jazz" and just prefer a very simplistic yet styled skin. The only thing I noticed that doesn't work is I cannot minimize/maximize the screens by double clicking as you can in the basic skin. - August 24, 2003 by Thru Cat Eyes
G R E A T!! - It's a GREAT and compact skin for Winamp3! It's VERY easy to use & it has a NICE look! - August 19, 2003 by Bernd Erbert
Simple, but effective - The staff reviewer said it best. One of my favorites. - August 17, 2003 by Eric Hysen
practical but nothing special - its easy and pleasant to use, but theres nothing special in the design. a little more imagination would be good. - August 14, 2003 by N. K.
Cool Like A Cucumber - This is one of the coolest mini skins i've ever downloaded - August 12, 2003 by Ricardo Heirs
WOW - looks amazing, can see all options. WOW - August 4, 2003 by traci ketchum
Simple and beautiful - It worked great, everything's easy to find and I love the different modes. It doesn't take up much space in your desktop. A must-have. - July 30, 2003 by Diana Arreaza
NICE - Simple and very nice - July 11, 2003 by Anish Kumar
Stays Crispy...EVEN IN MILK! - A smooth, crisp, well layed out skin. Doesnt overdue it. A must for functional skin fans! - July 9, 2003 by Blue Eagle
Tebrikler - Basarili bir skin olmus.Yndirdim ve kullaniyorum,tebrikler. - July 6, 2003 by Bulent Donmez
Simplistic yet Elegant - If you looking for a perfect skin to hide in the corner of your screen - this is it !!! Simple, intuitive, not-too-small yet small enough... What else can I say... I guess PERFECT - June 26, 2003 by Jerry Zak
minima - is fantastic the best - June 21, 2003 by mario rodriguez
My favorite so far! - I love this skin it is my personal favorite. It was the first I've downloaded so far & I came back to try out a few others, to see which is best and I kept coming back to this one. I looked at them all and I liked this the most. The coloring is very nice, everything is clear and functional. Everything is very smooth and efficient that I've noticed. And for people thinking it is too small, they need to set it to 150% or something, or get some glasses, cuz this is just the right size. - May 29, 2003 by Miss Deceptions
Where's it gone??? - When i first downloaded this skin I absolutely loved it, clean, functional, just the right size, and looks amazing, i thought i'd found the perfect skin. However for some reason it now refuses to show itself when i switch to it, I don't know if it's only me who has this problem, if not i hope it's fixed soon as this is the best skin i've seen yet. Had it not been for this fact, it would be a definite 5 plus! - May 29, 2003 by Colin Peden
Nick - its alright..but a little too small...other than that its pretty good - May 25, 2003 by David ensinger
and in this corner... - weighing in at 63kb...the best bang for the byte...in a very simple and compact mode...easy to use with no flashy,complicated or confusion...the new contender for all the "mini's"...let's give it up for "Minima". - May 22, 2003 by jerald deal
Clean, simple, - Big fan of minimalist skins and, in full mode and minimised, this sits nicely in the corner. Functional, clean, simple, unostentatious - everything a skin should be. - May 14, 2003 by Bob Boob
I LOVE THIS SKIN - I never EVER rate ANYTHING, EVER. But I HAD to tell you that I LOVE THIS SKIN! We definitely need more 'simple' looking skins without all that fancy stuff and messy colors. GOOOOOOD JOOOOOOB - May 10, 2003 by Jon Raven
Best Gawd Damn Skin Ever! - This skin kicks ass! All the features and buttons are easy to find and use. Minimized mode not only looks cool but give you all that you need. This skin is a class act and wont make your desktop look like some Win98 lamer ;) - May 10, 2003 by gakker .
GOD AMONG INSECTS - This is the best skin i've seen since the basic...or "default"...that's all...it's just the best! - May 10, 2003 by Ben Langworthy
Simply Pleasant - Pleasantly Simple. Functional and easy to read. Comes with a few nice colors too. - May 7, 2003 by Jennifer Bowers
Simple - Sometimes I need a break from the other skins. I don't want to go back to the classic skin. This provides an alternative. Thanks! - May 5, 2003 by Planet Abyss
gratulations - the best skin i ever had ... thx - May 5, 2003 by Michael Hilscher
simple and bright - the skin is so simple and the color is bright, so it is easy to use anyway... - April 29, 2003 by david talalo
Simple & NICE - This is something simple BUT nice ! Everything you need is here. And it works perfectly. It is light. If you want something clear ... That's what U need ! - April 27, 2003 by Julien Lois
Minima - Will there be a Minima skin available for Winamp 2.91. I don't like 3 beacause a couple of features I use are missing from it. - April 26, 2003 by Brent Marginet
The easiest solution - As everyone else has said: "Round and simple". The blue color scheme matches well with my other programs and blue themed-Windows. You truly do deserve my five stars and a "Recommended by Polho" -stamp *insert smiley*. - April 25, 2003 by Henri Nykanen
greatest solutions combined!! - It's build like the ordinary winamp, but much more functions on display - but still very easy, and of course....VERY NICELY done!! I'm impressed* I've been looking for something very clean (not the rectangular types of skins that won't fit in to the screen anywhere!!!) And this...I'll use this for a very long time.....very clean - soothing and all...thanks man!!-whoever made it* - April 25, 2003 by chris just
SUPER - thank you - April 22, 2003 by URY URY_L
good - thank you~~ - April 18, 2003 by Su Karen
Minima - Slick, clean, smooth. Easy to find the buttons, it's very ergonomic. Something to replace the original skin. - April 18, 2003 by Max Payne
Very Nice, Very small - As a [email protected] user, I like skins that don't get in the way, but that I can use in "Always on top" mode. This does both. - April 16, 2003 by Damon Toal-Rossi
5 stars, dude - Pertev seems to have gotten hold of some kind of time travel technology. Pertev, bring some more of this futuristic stuff back with you next time. :) - April 16, 2003 by Adam Sinclair
greeeeeat!!!!! - Best skin which I've ever seen! congratulation - great job! - April 10, 2003 by natalie ladwein
Excellent - Absolutely brilliant. Crisp, clear, functional, solid and what I most want from a skin, minimalistic without compromising functionality. Well done. - April 10, 2003 by Bruce Swiegers
Very good! - This really is a good skin at all. It's simple and effective, with no capacity-trashing features. Why I ain't giving it 5 stars? Because there are too less colour themes between which you can choose. But great work, though! - April 7, 2003 by Michael Arnold
yeah, another kewl skin - smaller than Compact and just as cool! - April 7, 2003 by C H
Cool - Sorry, I'm wrong just now, it should be 5 STARS! - April 6, 2003 by Peter Pan
Clear, small, simple... nice! - Another clear, small al nice skin from Pertev (very similar to "Compact" skin). - April 4, 2003 by Ignacio Poletti
Good...Very Good - really love it... ordinary...but good...i mean very good....been looking everywhere for this type... - March 29, 2003 by Shin Wong
Dudsy! - Dude, you made it there where only MMD3 came... Excellente job dude! - March 29, 2003 by Alja? Dvor?ak
I love this - Will you have my children??? I love you but i am not gay - March 28, 2003 by James Chapple
Shiny - I don't know why I'm drawn to it. It's so minimalistic, so clean, so perfect. Great job! - March 27, 2003 by Tweak Bionic
Perfect! - PERFECT! just simply perfect!!! - March 25, 2003 by Debra B.
Don't like it, but love it - The skin is very ordinary. I mean just look at the screen shot. Ordinary. But strangely it's very good. Strangely it's very very attractive. I recommend this skin :) Try it. It will grow into you. - March 24, 2003 by Clanss :p
Awesome - Cleanest looking skin I have ever downloaded. Way to go man. I like the classic look and it looks great sitting in a corner. Only one thing Id like to offer up, make the scroll bar boxes a little bit bigger. The larger ones in the default skin are easier to grab. All around an excellent skin. - March 23, 2003 by marco polo
Not very creative - OK, it's clean, functional & appealing... but it looks more like a Winamp-2 skin than one for Winamp-3. Maybe a five-star skin it it was made for WA-2. - March 22, 2003 by Prashanth Srinivasan