>
Skins

>
Entertainment
Mein-Teil
A skin about the Rammstein single
A skin about the Rammstein single
This is my first skin, it is based on the Rammstein single Mein Teil.

The code was written by Vica.

This skin requires to enable desktop alpha blending to get nice graphisms.

You will find, in the about window, a special button to enable it.

Click on the fork to toggle the eq and on the knife for the thinger.

I hope you will enjoy. Send reviews, I would like to know your opinion.
Download skin
| | | |
| --- | --- | --- |
| December 22, 2005 by Laurent L.M. | 90336 downloads | |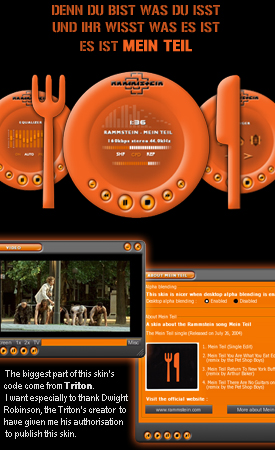 Staff review
Denn,du bist,was du isst, und iht wisst, was es ist. Es ist mein Teil!
Rammstein's my favorite band, but I'll be objective on this one. It's too simple, the idea's very nice, but the execution's not too good. The borders on the knife and (especially) the fork look shoddy, and it could use more details. The volume and posbar are implemented nicely though, amd so are the EQ and the Thinger (would be nice if they were easier to find), and the animations (when you switch to the EQ or the Thinger) are good. Cold use far more work, but download it if you're a fan.
Comments
Mein Teil is a messed up story about - a very sick man - October 21, 2007 by Karolina Dobrowolska
Great job! - Great idea. I'm a fan of the band, so I'm going to download this skin.Good job. - July 26, 2007 by Dee VanStorm
Rammstein - herzeleid - January 12, 2007 by Lara Ishmurzina
Original - Original skin, thanx! - December 27, 2005 by Steve Darken
wtf ?! - I've downloaded this skin about a year ago and it has the same staff comments!? anyway nice one - December 24, 2005 by De_Bie Pieter