>
Skins

>
Compact/Utility
Media Whore
Featured Skin, September 26, 2002.


Be a Media Pimp!

*Version 1.2*the first truly customizable skin for Winamp 3. Media Whore allows one to insert whatever picture they please into its transparent glass window. Combined with color themes, the user is empowered with the ability to quickly create a classy W3 skin perfect for his desktop environment.

For further detailed instructions on how to customise this skin, select the "customise this skin" option from the main Winamp3 menu.

MediaWhore was carved from an original PSD file and turned into the skin you see before you today, using a large slab of XML, A dash or two of MAKI and a pinch of graphical tweaking by Mr Jones. For more original works visit Jonestown today, bring your own KoolAid.
Download skin
| | | |
| --- | --- | --- |
| December 13, 2003 by Alex Jackson | 506964 downloads | |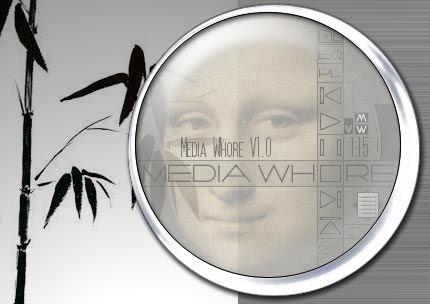 Staff review
New concept in WA3 skinning.
with windows 2000/xp, customize this skin with the photo/picture of your choice. Is this the worlds first talking skin, I bet it is.
Comments
A neat idea, - but complicated to execute. It's also a little big as skins go; I generally prefer something smaller.I do enjoy experimenting with my images and the colour themes, though. - March 20, 2009 by Jack Greenwood
loads of potential - at first I was lovin the whore but, (with the exception of the deleted playlist/singing-intro error) I seem to be having the same issue that some of the other users have experienced. has ANYONE figured out how to download the 'user png' that just shows up as a squared-in X?any help would be appreciated BEYOND expression! [email protected] - October 1, 2008 by skye bennett
Something appears to be amiss! - The number one complaint people had, about the sound thing erasing your playlist didn't even happen to me. But the reason I downloaded this skin was so that I could put in a picture of Hugh Laurie and Stephen Fry, and there appears to be something wrong with user.png. What I mean is -- is it supposed to show up as an 'x' graphic in the how-to box? Because when I then click that 'x' graphic, I'm redirected here: http://edit.europe.yahoo.com/config/login?.intl=uk&.partner=bt-1&.done=http%3a//bt.yahoo.com/%3f I thought, maybe it's in the skin's folder, or some approximation of it is, so I checked that, but I'd forgotten that this new version of Winamp doesn't make those, so it's just a .wal file. I\'d be happy if someone had advice, but as it is, this skin is useless to me. - October 31, 2006 by starr _
Up-date it, please - In my PC it works great both in 98 and Xp. But, for the unsmooth edge and the only one user's image, I'm so sorry to take one star respectively. Of course, I can get four other images by renaming monalisa etc. ; but that's not the way around I like to do. There should be the an easier way. - May 29, 2004 by Early Morning
Creative! - Every negative review on this skin is honestly a result of the user, other than the intro song thing (which never happened for me...) For the people who are complaining about losing their playlists - There's a built-in feature to winamp called the "playlist saver". Learn how to use it and shut the heck up. For the people who couldn't get it to customize, read the whole manual that's included IN THE SKIN! That explains the whole process. The guy who said the image came up in quicktime - Yeah, you're an idiot. You know nothing. That's on your end, not his. If you can't figure out how to edit a png file, you shouldn't act all high and mighty. So shut up. This skin is pretty good. Humor, customizability, usability... The only negative thing here is that people don't like to read manuals. And they're idiots... - May 24, 2004 by Robert Rees
help!? - When I saw this skin i thought yeah what a great idea (the 1 star) so i download it of course nad it loads up only to replace my entire playkst with an irritatatingintro for the skin(grrr). so i thought never mind and tried to customize the skin. so i go to the menu and click on customze this skin and it brings up that window telling yme to download this image file so i click on it and it takes me to some random web page saying \"this space for rent\"! ?? wtf do i do now? does anyone else have thisproblem? If i can sort this out it could be a five star skin anyone knows what ive done wrong please email me at [email protected] thanks - January 29, 2004 by Graham Snyder
GRRR!!!!!! - This was a great skin at first until i downloaded it and it cleared my entire list to play some stupid intro mp3!! Its going to take me 30min to get all my songs back in order!! GRR!!! Alex! I could kill you ( the skin isn't half bad but say byebye to your playlist ) - October 9, 2003 by Delian Jon Ventis
so round - it's cool that it's clear. ..and it's relatively easy to understand once you play around with it. a spectrum analyzer would've been nice though. and perhaps an option of choosing nothing as the background... - October 8, 2003 by kko n
Auto-play intro sound SUCKS! - YOU INTERRUPTED MY FAVORITE SONG! You get a zero for 2 reasons - 1. not sure if I mentioned this, but you interrupted my FAVORITE SONG 2. I can't see any of the controls...its not even useful and is only marginally funny...actually no its not funny at all when it interrupts my FAVORITE SONG - September 16, 2003 by Chris Becker
xX You Have No Clue Xx - I say this Skin is the shiznit, I've used it to this day! !!!Thanks To Alex!!! - March 17, 2003 by Ryan Gyles
Pretty good. - But not the best. - March 16, 2003 by Kevin Mondoux
Great skin - This is a great skin, it was a bit tricky at first to get the 'user define' image to work but once i got it, it works great. If anyone needs help with getting this skin to work you can IM me on the name 'ibanez' (omit the ' ') with any questions. Great idea Alex. - March 1, 2003 by sk8 ville
DO NOT DOWNLOAD!! - Crashed WA3 and my computer in the process. Deleted playlist. Customization would not work. DO NOT EVEN THINK ABOUT USING THIS SKIN, IT SUCKS!! - February 17, 2003 by Adelaide Nevada
Customization Glitches - Gawd, I loved this skin, until the customization wouldn't work. Does anyone have any clues that did get it working? Author is incommunicado,web page is a year old... And I even moved to Winamp 3 because of this skin. I'd even suffer the intro blurb and the error every time I close the skin. Call me if you ever get it worked out.... [I'm holding four stars here ;^P] - November 30, 2002 by loden muse
Good Idea, Problems With Customization - Although the idea of being able to customize the background graphic, unfortunately, it (with my many tries) has been unsuccessful. The user image is never found. Possibly a more detailed how-to or an easier way to modify the graphic would be nice. Finally, one cannot download the graphic as suggested off the web site as it comes up as a QuickTime, therefore not allowing a right-click save as command. I would love to see improved versions of this skin. - November 21, 2002 by Aural Muse
Bad Chi to Prostitute MP3s - NO. No. - November 11, 2002 by Will Bradley
Destroyed WA3! - Cute skin, but it took over Winamp so I couldn't load any other skins. Then, Winamp would hang every time I tried to run it. Deleting the skin file didn't help. I ended up having to uninstall and reinstall Winamp3 to get it running again. Great theme and execution if it can be tamed. - November 11, 2002 by Philip Roberts
!! - You cant even be an eye of Mona Lisa!You have to becarefull for your words about a work of art! - November 1, 2002 by Angel's Love
Good idea - but why not write in the info on the download page that it only works on XP?Since I have Win 98 I deleted it after discovering that it couldn't be customized for any other OS than XP... - October 31, 2002 by Cecilia Bergkvist
Great but 1 cons - Great..good idea of putting pictures inside..i just hope there is a better and much easier way of puting pictures inside then making me confuse can causes my computer to hang...hope u solve that problem.. - October 21, 2002 by Veng Keong Madcat
Customizable and yet... - Great idea for a customizable skin. Now if the color schemes could change font color to make it a little more legible in the prefs and playlist it would be perfect. - October 20, 2002 by Paul Joiner
awesome - Great job, i love it! - October 17, 2002 by Squell Dinchthart
very good, but makes crash - sure that's a very well designed skin, and I liked it a lot, but it crashes winamp3 on WinXP everytime I close it, so I'd have to reload the skin on the next time I start winamp. - October 17, 2002 by Guilherme Capile
Great Concept - I love the concept cos it's just so vain. I assume most of the users would use their mug shots for this skin. The edge of the skin could be much smoother though. - October 14, 2002 by Karen Ang
excellent - very very good skin I just don't like how it says media whore in the middle cause I put my girls picture in there and well... she is far from a whore - October 13, 2002 by juju bean
witchblade - cool - October 9, 2002 by niko piotrek
That last comment was harsh :-\ - This skin is obviously well designed. Whoever put that last comment was way too touchy, lol. Good Job Mr Jones :-) He's a good winamp3 skin teacher also... - October 5, 2002 by James Nikolai
Boffo Idea!!! - its wicked and groovy!!! I love it!! I mean its like one of those crossword puzzles, no one knows the answer till the weird anti social friend who sits in the corner on the other side of the room stands up and blurts out the answer and everyone hits their head with their hand wonder "why didnt i think of that?" But as i said before this skin rocks!!! - October 5, 2002 by Andruid Selbius
Customize?! - OK, this kinda pisses me off... I downloaded this so I could-- you guessed it, "create" the first decent F-16 skin, thinking it would be bundled with some kinda software to let me do so. I open it with music playing, and instantly it stops and is replaced by a ridiculously quiet "welcome to mediawhore, the last skin you'll ever need" message. Kinda annoying but I can get over it. Then I see the "Choose your Whore" button, so I click it, expecting a "Pick your JPEG/BMP/GIF image" dialog box-- no such luck. Instead I get a fixed set of super-sh*tty-looking pictures of celebrities(?). I get to work hacking the code. I do the wal->zip->folder thing, find the "layers", open photoshop, find my picture, crop/resize/Circulate it, then add the buttons (AAAAA), save it, and head to the code to edit its message (I like "Dodge This" but "Look at the pretty jets - BOOM" is a bit better). When I get to the XML, I find one called "Customize", so I open it, only to find messages relating to creating your own custom one. I TEAR MY HAIR OUT. WHY is there no Readme for these things?! Where do I get to it from the skin?! UGH! Oh well, my pic got inserted anyway (on mine), and it looks cool. Make a readme and I'll enjoy it more. Better yet, how bout a 500-page manual?... ... ...later found out that it /is/ impossible to completely create your own menu entry, you DO have to do the above in order to create your own message, skin, etc... better start practicing your XML!...how do you edit a .maki file?! - September 28, 2002 by f16 nut
Don't Download - I have to give this skin one star for the effort, but what really turned me off was the fact when you download this skin it replaces all music currently playing in your playlist with a quick soundbite about the skin. Because of this I refuse to download anymore skins from this author. - September 27, 2002 by james oliver
Awesome!!! - I dont care what anyone else thinks...i thought it was awesome. I give it 5 stars and 2 thumbs up!!! - September 25, 2002 by Alex Jackson
I dont get it... - what is so cool about it to give it 5 stars... some ppl don't get the point about the rating feature... the other windows look horrible cheap, you always have to look for the right button, it is way too big even on 1280x1024 (is there a shade mode? can't find it) and the non-alpha mode has ugly black edges.. for the originality... it is a circle.. how many circles did we already have hum ? is your monitor a circle ? mine isn't ;) - September 22, 2002 by sputter supper
Good Skin! (but not quite 5-Star) - ---Pro's: Great fonts and buttons. Fantastic layout with a clean look. Allows you to chose the background you like, and whether you want it faded behind glass. I've always wanted a skin with a Richard Nixon option! Fully skinned components. Nice mute button! ---Con's: Customize this Skin window doesn't seem to contain anthing. How do you add your own images without pulling the skin apart? Hmmm.. where did I leave those shuffle and repeat buttons? Timer seems suck in negative countdown mode. There is a certain distance where you are a bit TOO close to someones face, and this seems to be it (though I suppose it goes with the theme). A smaller layout mode like with Zygote might be nice. Speaking of Zygote, the crescant border seems very very similar between the two. Menu items and other windows are very faded and hard to read. With a couple of refinements this skin could be fantastic! - September 21, 2002 by Mike McCaffrey
Good Skin! - Glad to be the first download it,it`s really nice:) - September 21, 2002 by eknight eknight