>
Skins

>
Computer/OS
Media Player 11 v GIN
by Gince80
by Gince80
Windows Media Player 11 skin
v. GIN

by [email protected]

Enjoy :)

Download skin
| | | |
| --- | --- | --- |
| April 8, 2007 by gince 80 | 616476 downloads | |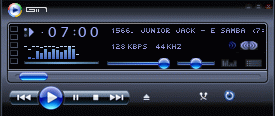 Staff review
Here's another version of the Media Player 11 skin, enjoy.
Comments
WMP!!! NOT AGAIN!! - Wtf people are u thinking giving more fame to microsoft with those Reviews in a page of Winamp, did u see the Staff Preview, (heres another WMP skin)they dont want that u make famous WMP in their page, Jesuschrist!!, dont waste ur time Downloading this skin and better use WMP and leave us with our beauty Winamp!!im depressed for this!!...so I'll use wimanp classic skin to revive my mood - September 8, 2009 by DraineD
yes - im very very like this style - February 1, 2008 by alfaro bi
Excelent fit in - Very nice done, this almost integrated WinAmp into Windows as if winamp has become a / the standard. - January 24, 2008 by Wilbert Maximus
Cool - I really like this skin, it's sleek and modern without being fussy. Great job! - August 13, 2007 by Timothy Kiah
looked flashier than i thought at 1st - still nice - July 30, 2007 by simon walker
Hmmmm... - Why would anyone want to soil a device that completely bucks windows media player, with a skin that mimics windows media player??? Either I'm going insane, or Microsoft is putting something in the drinking water that is making us all love Vista. Man, all this talking about Vista makes me want to go out and buy a copy of Vista! No wait I forgot. Vista is CRAP. - May 18, 2007 by Parker C.
Omnix - Hi! Really COOL skin!!! I hope, that you'll give us more such skins, with the same quality!!! Best Regards, Omnix - May 6, 2007 by Wato Machabeli
Very nice! - I like it! - May 3, 2007 by Andy S
Perfect Combo - The Quick Running of winamp with the Beauty of new MP - April 28, 2007 by Jose Dias
=) - I't's really very good, calm & modern! I like it! Thanks! - April 21, 2007 by Ekaterina Maksutova
Looks REALLY familiar... - I love it. Great skin of the all familiar WMP. - April 17, 2007 by Aidan Lee
good try - i like dark colours - April 15, 2007 by zulya yyy
Pretty good emulation. - I like the idea, but in a way, I don't like it, because it's exactly what I want to get away from. I want to use Winamp, and therefore I wan't to see something other than WMP on my screen. Still, pretty sleek. - April 15, 2007 by Chris Down