>
Skins

>
Stylish
Maximum Velocity
Fuel My Fire!
Fuel My Fire!
This is my latest skin called 'Maximum Velocity" or "V-Max". I would personally describe it as 'retro-futuristic'. In this skin I have succeed in achieving my goal: To push my own limits. Furthermore...well, It has some pretty strong colors and imagery and I think it speaks for itself...;P
Download skin
| | | |
| --- | --- | --- |
| July 22, 2006 by Nullsoft Classicz | 136803 downloads | |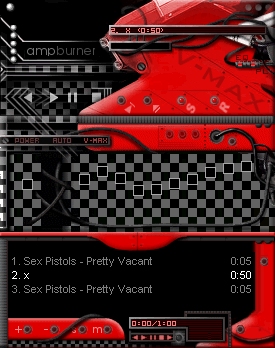 Staff review
To the max!
This is well worth a download. I'm personally blown away by the composition of design and color, as well the manipulation of 2-dimensional space to appear 3-dimensional. Great continuity throughout each window design Stephan. Awesome work here.

Original Design by ampburner (aka Stephan Hoekstra).
WA5 update by Jones.
Comments
Wow! - I love the pannel design! It's amazing! ^^v Ganbatte yo! - August 9, 2006 by RuRu Tang
Great Skin - It is a great skin specially a great composition of colours. - July 24, 2006 by Rahul Mehta