>
Skins

>
Games
Matrix Online
The Video Game!
The Video Game!
The Matrix Online Winamp 5.08 skin brings you into the world of The Matrix Online video game. A new Massively Multiplayer Online Game where you will jack into the Matrix world and take an active role in continuing the saga of the Matrix movie trilogy. Gameplay includes exciting wire-fu combat, an extensive mission structure, ongoing story development by the Wachowski Brothers and a completely customizable skill and ability system. Pre-order your copy now. The game is in stores March 22, 2005.
Download skin
| | | |
| --- | --- | --- |
| February 17, 2005 by The_Matrix Online | 1363829 downloads | |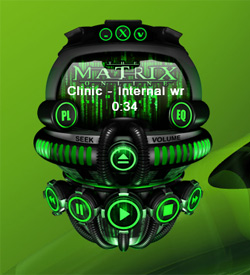 Staff review
Whoa
So I'd be playing a simulation of a world that's a simulation? Oh and check out the skin, it's pretty tripped out.
Comments
THX - L:OVE IT!! - August 6, 2009 by golephish
Great Design - Quality. One of the best I've seen... - June 27, 2008 by paul southan
matrix - dowload now - December 17, 2007 by benard steeve
Amazing - The Matrix is a cult film and this is the first skin for anything that has done it justice, Well done. - August 31, 2007 by James McManus
i found it!! i found it!! - and i never ever gonna get it away!!! get off!! - August 5, 2007 by Ramon Sturzenegger
Winamp-tastic Skin! - If you're a true fan of the original "Matrix" movie, you have to love this skin. Simple and elegant! The colors are perfect for those of us who like dark desktop backgrounds. All in all, 5 stars is all I can give, but I would give it a 10! :) - April 9, 2007 by Gary Beckman
my favorite skin - its the best skin - November 1, 2005 by umut numanglu
cool - great skin - October 17, 2005 by Max Kondratiev
The Truth is This Skin Rules - I love this skin. Speaking as a Multimedia student in college, I can appreciate the nice designe and color choices. The buttons are easy to find and use (a muchly abused aspect of many a Winamp skin) although I would apply a glowing green roll over for them. I'm a total Matrix addict (I own everything that ever had the Matrix written acccross it lol) so naturally I love this skin. To whomever is reading this review, The Matrix Online rocks, and if you don't play it, you should! http://thematrixonline.warnerbros.com/web/live/index.jsp - July 17, 2005 by Josh Pappano
...but much too green! - Sorry, not my color! - July 16, 2005 by Andreas Blaschewski
kool - one of the best skins - June 10, 2005 by anshul w
THIS IS SKIN ROCKS! - this is by far one of the worst skins i've seen! its would have been cooler if you had the menu turn. Im a big fan of the matrix and am very dissapointed. I dont like the playlost being close to the link so i kept on by accidentely clicking on the link... in other words this skin absolutely SUCKS!! - May 10, 2005 by Shane Lieberman
not bad - the movie was better ;-) anyway, it looks nice the additional windows are not very special - May 9, 2005 by rxq 05
wow - One of my best!! - April 30, 2005 by nick nitro
Amazing! - Definitely Cool!!I really like it. Download and enjoy it... see ya - April 10, 2005 by christian pesantes
Cool Skin!! - Matrix + Winamp = A stylish looking skin, But, there are 2 problems, first, it's missing a few buttons, like the media library button, & the avs button. Second, There is only 1 color theme!and it's default! But This is still cool. - April 9, 2005 by Robert Macdonald
;) - goooood - April 9, 2005 by Pablo Meza
3e - egseggaewgw - April 8, 2005 by Dj Sirus
it's THE matrix... - I can't find anything to complain at... It's just simply awesome! The ONLY thing to complain a little about - if I have to be reeeally whiny - is that the other things looks so ugly... (for example the playlist) But I noticed if u lowered the size on the playlist and stick it on the main-frame (the hot 1) it looks really cool as well :) REALLY AWSUM SKIN! A MUST-DOWNLOAD!!! - April 5, 2005 by Johan L
Its ok - I think it would be nicer if you actually had the option of the shade mode, but one that could also dock to the top/bottom and even use the options like "auto Hide" and Always on top. Because people like to have the most free space on theyre desktop, as I do.. so the Auto hide/dock to top, would be great. I use a skin because of that option and i bet other people do too! Anyway! nice design! - April 4, 2005 by Fred D
Matrix - V. good! Veyr easy to put songs on and stuf and well laid out. Plus... MATRIX RULES! - April 3, 2005 by nikki p
d - d - March 28, 2005 by werner h
Outstanding!! - Outstanding skin! Keep up the good work! - March 23, 2005 by Jay McKinney
Good skin, crap game. - Good Skin, shame about the shabby game... I beta tested it, and I wouldn\'t bother buying it. - March 22, 2005 by Stephen Allred
Greaaat - wow, this is awsome. A true Matrix majiky. - March 16, 2005 by Richard Park
ghg - ghhhhjh - March 15, 2005 by wufeng01 wufeng01
555555 - 555555 - March 15, 2005 by SKY WOLF
cool - this skin is kool - March 7, 2005 by TorsionVtensioN .
it's so cool - it's so cool - March 4, 2005 by haung naien
Green is for the money - Green is for the money and gold is for my honey. Nice ones. xoxo-Lady=Fitz-xoxox - March 1, 2005 by Turnz Fitz
w?namp - w?namp - February 24, 2005 by ramazan esmer
I love this. - It really has a Matrix feel, I love it. - February 24, 2005 by David Spencer
Awesome but vis sux... - I think its a great skin just confuses me as to why the white letters for title/time and what that vis is I have no idea, an attempt at creating Matrix Code? I might be able to see it if the default back wasnt in the way. I look forward to an update, keep up the good work! - February 23, 2005 by Kanjizai Jinzou
Cheap bastards. - I love the Matrix. I love Big Brother. I hate this skin. "Still using all the muscles except the one that counts?" - February 22, 2005 by Benjamin Keller
Very nice work - Good work man kipup (Egypt) - February 22, 2005 by Adel H
wOOt! - wOOt! - February 21, 2005 by zybir Blade
Bad skin - Hmm, I think i've one of the biggest matrix fans arround the world, but this skin is really dissapointing. No nice layout, the playlist editor/media libary is really boring, and also wat dlinking says: "No cool animations, no double click features anywhere (shademodes/switch modes). " Too bad! - February 21, 2005 by Diego Vaquiro
OuterQuest.com - Damn. We at www.outerquest.com give it two thumbs way up! - February 20, 2005 by OuterQuest Vincent
great design.... - damn boring. nothing new, even no custom vis. :D 5 starts for the design - 2 stars for coding - February 19, 2005 by CarlosP Interactive
The movie sucked... - and this skin isn't much better. Eye candy manily. Easy to use, but that's bout it. No cool animations, no double click features anywhere (shademodes/switch modes). Graphics seeemd a bit choppy also. - February 17, 2005 by dlinkwit 27
I feel like I am in the Matrix! - This is sweet it is like a cross between one of theose spider things that hunt NEO and the matrix sceens. Can I play the game in it? good job - February 17, 2005 by Bobby Field