>
Skins

>
Retro
Luxor Amp
Luxor Amp
Luxor Amp
Features:
+ Authentic Egyptian Designs- All hieroglyphs
are intricatly and painstakingly hand-done and
recreated here for your enjoyment. Familiar
glyphs and designs are present - such as the
Ankh, Eye of Horus, and the Scarab Beetle.
Also included are the more mundane glyphs such
as the double reed leaf, quail chick, Seated God,
and others. See if you can figure out what they
mean!

+ Special Equalizer "Instant Mural" Feature-
Truly a one of the most unique equalizers in
WinAmp history- as the bars are slided up and
down hieroglyphs will cycle as well. This means
that you get a different new look time you
change the equalizer settings!


Enjoy!
Download skin
| | | |
| --- | --- | --- |
| August 5, 2006 by Nullsoft Classicz | 20139 downloads | |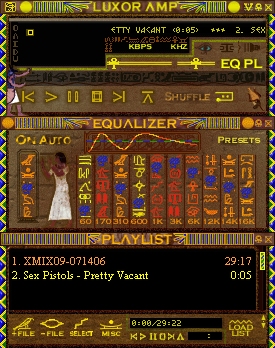 Staff review
A well thought -put and meticulously rendered piece.

There's not much more to say beyond that. Adding a relief effect would definitely garner a five rating for this construction. -jdf

Original Design by Alex Jackson.
WA5 update by Jones.
Comments
Wonderful :D - An Egyptian skin! With hieroglyphs! It's wonderful! And I'm fun of the "Asterix & Obelix: Mission Cleopatra" movie so I like this skin :D - November 19, 2006 by Monika Z