>
Skins

>
Animated
Love Hina by LuigiHann
That's a lot of girls.
That's a lot of girls.
A bit different from my Trigun skin in that I used graphics right out of the anime for this one. However, I pieced this layout together from deceptively small chunks, to get everything to fit Winamp, sort of like I do with my game skins. Hope you all like it! Oh, and Happy Valentine's day.
http://lovehina.bandai-ent.com/regular_version/

Download skin
| | | |
| --- | --- | --- |
| February 6, 2005 by Luigi Hann | 183885 downloads | |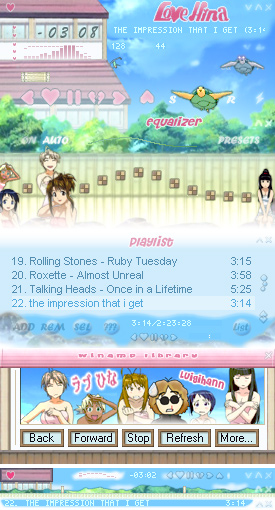 Staff review
Beware of low-flying turtles!
Another excellent skin from LuigiHann. Great animations, excellent design. All great! -fm
Comments
fayya - thanks ka - August 28, 2008 by nantana punguthaisiri
Hina.... - I can't call myself a real Love Hina fan, but I've been using this skin for years... It's practical, colorful, and cute ... - July 14, 2008 by Visi Imre
genial! - aunque me encanta el anime y el skin, encuentro que tiene demasiado rosa, pero esta muy bien!! - September 18, 2007 by M B
Love Hina - One of my very favorites. Terrific utilization of the Hinata Sou onsen. - October 19, 2006 by Robert Smith
Lovin' the Love Hina - As a big fan of this Anime/Manga I'm very impressed...the only thing missing is a pic of Keitaro... - August 2, 2006 by james Laforme
Awesome. - This skin really, I mean REALLY looks good. The way the timer sits in the windows and the EQ thingies on the fence.. This is a very good skin. - June 7, 2006 by Brad Shaner
i like this - i love it everything is great.! and it so pixel and compact but can also resize! its a plus. download this. its better than the rest. - May 4, 2006 by patricia pierre
Awww... - Thats the sweetest Love Hina skin ever! My lil'bro loves it. ^.~ - March 23, 2006 by Tiia Forsman
Love it - Naru Ftw tbh ;) Love this Sink, Very Colorful and Bright, Love it, Tho the Buttons are a little Light color its a very good Consept and desing ( please excuse my Spelling ) I love this skin Very much Phillip - December 26, 2005 by Phillip Sergeant
Nice - Very colorful and cheerful skin. - June 26, 2005 by Arch Angel
haha - though some of the buttons are hard for me to see, its nice, and im a major fan of love hina so. . . - May 11, 2005 by Yokai ONI
The best love hina skin i have seen yet !!... - i found nothing wrong with this skin excellent thanks very much, im a big fan off the anime now to have a skin that does it justice is brilliant. : ) - March 4, 2005 by Richard Dickson
Que bonitinho... - One japanese anime and one great idea! - February 28, 2005 by Paulo Antunes
woot - turtles rock! (and screw that troll) - February 11, 2005 by dlinkwit 27
yeah - ich find des voll sweet - February 9, 2005 by jennifer kuhn
Thumbs up! - This is a great tribute to a great anime. The play buttons are the best thing about this skin. Overall this skin is about a 4, but since im a fan I give an extra star. ^_^ - February 8, 2005 by Brandon Shira
It - It sucks so hard it bleeds - February 7, 2005 by p cve
Review - See you would of gotten the full 5 stars if you used my equaizer idea. - February 7, 2005 by David Davis