>
Skins

>
Retro
Lounge V5
The return of a legend...
The return of a legend...

While moving offices recently, we discovered this original Winamp3 skin 'Lounge' lurking at the back of a cupboard.
So it's been dusted off, given the kiss of life and generally prodded until it came back to life.
Now finally after nearly 4 years away, you too can enjoy this slice of Nullsoft history, a tasty reminder of where all this modern skinning lark started

Original Design by Morgan 'Splif' Thomas.
WA5 version by Mr Jones.
Open Source Notifier component by iPlayTheSpoons.

Updated 29/06/04
Download skin
| | | |
| --- | --- | --- |
| April 23, 2004 by Nullsoft Skinz | 1244745 downloads | |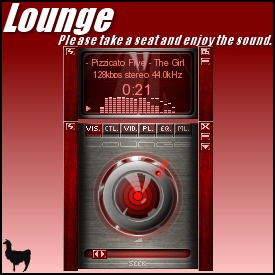 Staff review
The continuing saga of "Where did that one come from".
Well, it came from the very early dayz of Winamp3, and now it's a brandnew "spiffy" Winamp 5 skin.
Comments
THE Most Excellent Modern Skin - I've been using this as my main skin for years now. Visually and functionally it is quite simply perfect. I have tried many times over the years to switch to a different skin but for various reason I always end up retreating back to this one. It's just too perfect to not use. - February 18, 2007 by Outpatient oeyec_com
megaskin - megaskin - October 31, 2006 by kian kian
Nice - Really, really nice skin. It has the coolest design and the most delicious details. I like the little fading info-box with the song title and all the informations you need. Just one word describes this - awesome. - August 5, 2006 by Rasmus Frederiksen
Relaxing... - Cool. Very cool. Small dockable parts, doesn\'t take much space on the desktop, futuristic design, easy to use... what else do you want? It makes me sit back, relax and enjoy the music ;) I like the volume knob and the visualisation inside it, it\'s like a heart beat or somethin\'... :) - March 8, 2006 by Secret Verybigsecret
Se pasan - Esta muy bueno facil de usar y no ocupa espacio ademas de ser muy lindo - December 9, 2005 by Claudio Sanchez
An Awesome Skin! - This skin is simply the best! I've used it since it came out and have yet to find one so easy to use and as good looking to replace it. Anyone up to the challenge? - August 25, 2005 by Ben Clark
O______________O - Nice, compact, and effective. The (PST); Perfect Skin Trifecta. - March 20, 2005 by Cary Summers
long time user 1. time rater - hi i just thought that this skin is so cool and compact that i just needed to rate it though i just downloaded it i think it looks cool and is small and all that. mvh Ferociou - March 19, 2005 by philip fjgjgjgj
azerty - good - March 15, 2005 by azerty uiop
pffft. i like color themes >:( - pros: -it's compact, yet all the buttons are still visible and easy to use... -...and those buttons are readily available. -you can freely move the cabinets around, kinda like classic winamp. cons: -NO COLOR THEMES :( -might be too small for those who have really high screen resolutions. - February 8, 2005 by derick DAMMIT
Good skin - After using winamp slightly in the past, I recently decided to begin using winamp almost exclusively for my media needs on my computer and I wanted to find just the right skin for it. The Lounge skin definitley does it for me. It's subtle, clean, functionally practical, and very pretty. I also like how the light in the middle of the volume control button blinks to the beat. Overall, of all the skins I tried I prefer this one the most. - January 4, 2005 by Manda Lawrence
Great - This is an amazing skin it's so easy to use, everything is visible. This is one of the best! - December 15, 2004 by Randi Alvarado
Lounge - the lovely old days - Lounge is a great skin, but I'd prefer it in a more brushed steel only. Loose the red edges and you've got my dream skin :) "Sorry Dave, I can't let you do that." - Tore - October 28, 2004 by Tore Hermansen
allegra - hey this skin is beautiful. the "colour themes suck" comment was hillarious, but you know what? if i had the option i would make it red anyway. this skin is beautiful. and.. i agree with everyone else: it is really laid-back - which is awesome. again, i agree that perhaps a few more buttons would be cool. this skin is really complete, but how about graphics? (just a suggestion for the next time, in case its being re-done) - September 5, 2004 by allegra fetuccine
w - what else to say than IT F***ING ROCKS !! One of my favourite (just behind MMD3) - September 3, 2004 by Vincent Garnier
Nice... - Very nice skin. It has everything that you could want and need, I think, but... the design just isn't really "for me." It's still a great skin, though... just not really my type. Keep up the good work, though, nonetheless. - June 13, 2004 by Liv Kavaliauskienďż˝
THIS IS THE OLD 2001 HAL9000 SKIN!!! - I?VE HAD THIS SKIN WHEN YOU WERE RELEASING THE (AT THAT TIME) NEW WINAMP 3!!! MY COMPUTER CRASHED, MY HD WENT TO HELL AND WHEN I GOT BACK TO YOUR SITE TO GET THIS SKIN, IT WASN?T THERE ANYMORE!!! WEEEEEEEEEAAAAAAAAAHHHHH THIS IS THE BEST SKIN EVER! TO SEE THAT I?M NOT LYING, LOOK AT THE ROUNDED RED EYE AND COMPARE IT WITH THE PICTURE OF HAL9000! AREN?T THEY REALLY ALIKE? THE WHOLE SKIN IS ABSOLUTELY IDENTICAL TO THE ONE I HAD!!! THANK YOU GUYS FROM WINAMP TO HAVE FOUND THE BEST SKIN AND RELEASED IT TO PUBLIC ALL OVER AGAIN!!! - June 11, 2004 by Gus Monteiro
I love this one! - Hi, Great Design, very cool fresh ideas like the big volume beat button! Very chilly theme. But one litlle nasty bug: If you change the volume by mousewheel the vis windows doenst change backt to the title view. It keeps "Volume: 77%" p.e. You have to close and reopen the vis windows to fix that. - June 6, 2004 by Wolfgang D_
Great! Just one thing... - The only thing I can honestly complain about on this skin is that it doesn't match my desktop. And the reason? Lack of color schemes. But that's just because it doesn't match my desktop. Very well done, tho! Winamp, RE-RELEASE WITH MORE COLOR THEMES!!! - June 6, 2004 by Robert Rees
yeah not bad - not a bad skin, the mmd skin is still the standout i still use it, lounge is ok bit too small and also would like to see sum more colour themes the red is nice tho! - May 27, 2004 by Robbie Weller
I love it!!! - This has to be one of the best skins out there. I'm a fan of the more compact style skins and this one is very compact, but very functional. While I love the color scheme provided, my only complaint is the lack of color schemes. Whoever created this, keep up the great work. - May 25, 2004 by Mark Blackman
opinion - Just beautiful!!!!!!!! - May 25, 2004 by Maciek Dz
Not the best in the world - This skin looks pretty cool, but that's just about it. It would be nice if there were some other colours to choose from. Overall this skin is a good one which I have been using for a couple of days but it kinda looks like a classic skin bundled up in 3 peices. Check it out non-the-less. One - May 23, 2004 by Lance Cherubin
winamp skin - RaKIIm - May 22, 2004 by rina Sava
No alpha - I have just 2 problems: 1. Alpha doesn't seem to work! Maybe it's because of my PC, I don't know; but it surely makes my Amp "not beautiful"! 2. The whole player is smaller than I first thought: I can barely see the buttons; and for the volume: it needs a serious "editing". The skin seems to be fine, but more forming could make it the BEST! Cool red color :) - May 20, 2004 by Robert Toth
Lounge - This is one of the best Winamp 3 skin I see yet! Can't believe we over look that. - May 16, 2004 by John Jiang
s - nice - May 15, 2004 by anna g
Totally asskicking! - I'll lounge you! This is a really laidback skins for all those chillout fans ou tthere. But how about a little more buttons? - May 14, 2004 by Peter Manning
My Music - My Music - May 8, 2004 by ken huang
ok - Very interesting project. - May 1, 2004 by mixagi mixagi
Really nice! - The mood of this skin is excellent! - May 1, 2004 by Matthew Johnson
IMHO, the coolest Winamp skin of all time! - This was my favourite skin of the Winamp 3 era, great to see it updated for Winamp 5! - April 29, 2004 by drG .
YAY! - Finally, after so long time, this skin was re-released! Back when W3 was beta and this skin was here, it was the best skin ever! Then, during some re-install of the full W3, and movement of skins, this got lost. And I've missed it alot. The best part is that it's red, but I also like how you can windowshade it, and show almost whatever info you want. GREAT! - April 28, 2004 by D Ottesen
WOW - Very Wonderfullll!!! :D:D:D - April 28, 2004 by Alessandro DeMarco
. - good to see this nice old skin updated :) - April 27, 2004 by i rontz
At last - A few days ago I remembered there was a Winamp3 beta2 really cool skin that looked like HAL 9000. Just what I needed. - April 26, 2004 by Emil Butiri
Close to perfection - This skin is probably the closest to perfect of any skin I've seen. The combination of retro styling and modern features is right on target. The separate Vis. window? Great idea. The windows can be arranged in various ways and still match up to one another. (Many other skins seem to make no consideration for folks who keep their Playlist and Media Library open.) Possible improvements? I've got a few, but that's simply because I'd like to see this skin go all the way. I'm sorely tempted to learn how to tweak it myself. 1. Size. At 1024x768 this skin is quite small. The height is nice, but the with isn't. And the Main, Ctl. and Vis. , and Component Launcher windows can't be resized. As cool as the Vis. window is, it is simply too small and narrow to read the Title information. The fixed size for the component Launcher makes it out of place in most window configurations. 2. Vis. Window Readability - remove the two "glints" at the top of the window. They make the text even more difficult to read and don't add to the visual effect. 3. Winshade mode - It's almost non-existant. No song title. Annoying visualisation in the Vis. window. No winshade for the playlist! Again, they don't allow the width to be resized. 4. Colors - I really like the brushed steel & wood grain look. The background color is even okay. But pink as the font color? And the brown menu-bars in Media Library highlight to orange! Yuck. How about some options? 5. Notifier - Doesn't seem to work quite right with Internet Radio. No track titles show up. Also, it doesn't fade in. I'm also not sure that the wood sides are a good look for a notifier window. Further, why does the brushed steel in the notifier have different shading than any other window? 6. Steel Borders - First off, the shading on the sides of the steel parts is too dark. If all of the windows looked like the Notifier (except the notifier) it would be a bit more attractive. On the smaller windows (Main, Ctl., Vis., Eq., Component Launcher) the center "metal" part is shorter in height than the wood sides. Maybe someone though this made for a neat, component-type look. I don't particularly care for it. Especially since the other windows (Vid., Pl., ML., and the Notifier Preference) don't have the same gap. They, on the other hand, have metal bands at the top and the bottom that are too large. Okay, so this is nit-picky, but the small windows are beautiful and minimalist. Why then are the metal bands in the larger windows so wide and clunky? I'd loose the gap between the metal and the edge in the small windows, then make the larger windows look as similar in style to the small ones as possible, with thinner tops and bottoms. Like I said, a lot of "wish-list" stuff, but only because I REALLY like this skin. With a few fixes this will be the uber skin. Good enough to come standard w/ Winamp. - April 25, 2004 by Epsilon Ori
One Sexy Number - I love the look. Its like a cool '70's lounge-type thing, the kind of place The Ladies Man from Saturday Night Live would hang out. My wishlist is short with this one: more color themes and a scrolling song title in windowshade mode, although on my 1024x768 monitor, it is small enough to leave always on top with full size main window and vis display and a windowshade control panel without taking too much screen space. However, not all of us use that high of a resolution, so a more comprehensive winshade mode would be appreciated. Overall, this skin is still a must have for its pure sexiness. Thank you, Nullsoft, for digging up this beauty! - April 23, 2004 by toejam 07
Lots to like here - I love the detached Vis Display window....very cool. My only real negative issue with this skin is that it is a bit difficult to read. It would be great to see more color schemes too (how quickly we become spoiled)! - April 23, 2004 by AE 4713