>
Skins

>
Entertainment
Looney Tunes Back in Action
The Looney Toons are back with a new film!
The Looney Toons are back with a new film!
Set in a live-action world in which Warner Bros beloved assortment of irreverent animated entertainers interact with human characters for maximum comic effect, the story unfolds on the Studio backlot and careens all over the map in time-honored Looney Tunes style. Our celluloid heroes embark on a hilarious adventure that takes them from Hollywood to Las Vegas, Paris and the jungles of Africa. Starring Brendan Fraser, Jenna Elfman, and Steve Martin this is a must see movie. Get the new Winamp skin now. It features 4 character modes and cool links to the video trailer. Movie opens November 14th only in Theatres.
Download skin
| | | |
| --- | --- | --- |
| October 30, 2003 by Looney Tunes | 115911 downloads | |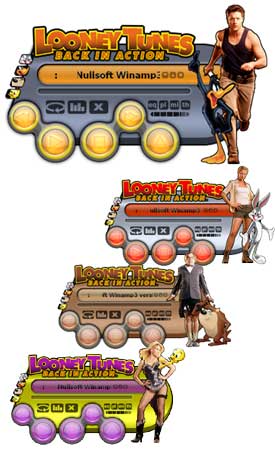 Staff review
Remember that wascally wabbit?
He'sback!!! go see him soon in a theater near you.
Comments
Horny toons - cuite nasty (speldt wrong).... ok english is ok, but a litle kind of.............. ugly at a funny way...... cool - November 20, 2003 by Martin Jensen
nice - Its pretty good...Cant wait to see this movie - November 2, 2003 by jack daniels