>
Skins

>
Nature
LiquidParadise
Heaven is here!
Heaven is here!
This is my latest skin called "Liquid Paradise". IMHO it's fresh, cute and smooth, and I hope you will enjoy it. Peace!
(Btw: Got any jobs? You need a unique winamp skin to match your website? Contact me at alkoholik(at)hotpop.com and spare some change for a poor skinner...LOL)
Download skin
| | | |
| --- | --- | --- |
| July 22, 2006 by Nullsoft Classicz | 345792 downloads | |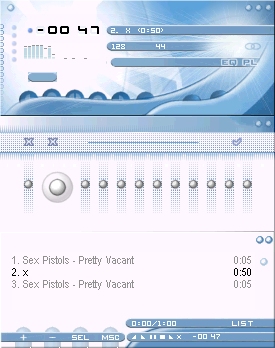 Staff review
Wow, so beautiful!
This is really calming and light. Really great skin!

Original Design by ampburner (aka Stephan Hoekstra).
WA5 update by Jones.
Comments
Dear wy - I like it. - April 12, 2007 by Nikolett Antal
Nice - Nice design and colour scheme, for a classic skin =o) - April 8, 2007 by Nick Zammit
12222 - This is great!!!! - December 7, 2006 by Alexandra Sorokina
pretty good - LOL - August 14, 2006 by Boris Karaivanov
Yes but you can apply some more border layouts - Yes this looks great scheme. Good thought made an great artistic thought. But i hope that you can mix up some more border with the same concept in equalizer like i did in my Heat_red check this out you can get an idea. Well i can give only 4 - August 1, 2006 by praveen kumar