>
Skins

>
Games
Lenne from Final Fantasy X-2
I don't like Lenne very much but I like this skin
I don't like Lenne very much but I like this skin
This skin has the same base as my Paine's just the colors are different. I like blue. In the US blue means sadness but in my country (Brazil) blue means happiness, isn't it weird?
Download skin
| | | |
| --- | --- | --- |
| September 21, 2004 by Chun Mai | 242538 downloads | |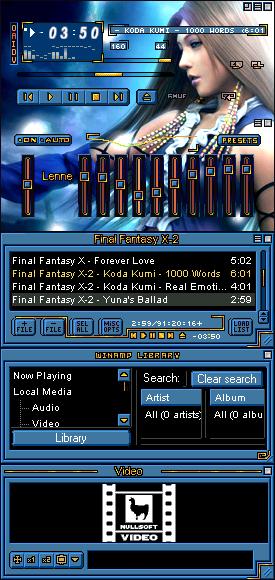 Staff review
Well, I don't know who Lenne is at all....
....but this skin is ok,there aren't many details, but everything's done properly. The text on the skin could've been done a bit more clearly (not the song title text), and it's also missing the balance bar. The reason why is obvious though.
Comments
Cool - Is very unque. Beautiful. Kinda looks like me. - November 23, 2007 by Ranuka Patel
YOU COOL!! - No another comment, YOU COOL!! - August 19, 2006 by Zary Jack
Very nice - I like blue color in contrast with yelow buttons. - May 30, 2006 by Mario Kresic
Nice!! - it had a clear view. Color is matching with the fronts.... and it's user friendly - August 13, 2005 by Kate Zhong
Skin : Lenne From FF X-2 - Smooth & good looking. Many skin make me feel dizzy but this one...yeah 2 thumbs up man!!!! A masterpiece!!! Just download it dude!!!! - May 19, 2005 by Peter Alcamuz
good - I think this is good. I like the buttons and the colors. I like Paine's skin also - May 13, 2005 by Yuna Heartilly
hallo - hallo - March 21, 2005 by xxxx yyyy
lenne - hey!!!! dis is lenne!!!!! lenne is soo pretty!!!!! well,i rated her bcuz we're almost alike!!!! i'm watin' 4 my love and she is watin' 4 hers!!! bye!!!! - January 11, 2005 by hahnue her
Best... - firstly is tat i love LENNE tis charater... cos she's very pretty... and tis skin looks very cool.... - January 2, 2005 by andrew liu
programs - The skin won't work for me A.K.A: I can't download it - December 31, 2004 by Ken Jo
Really Like - Really good design. Good job! - December 29, 2004 by Killa Assassin
good - im a an of final fantasy so i like it. - October 31, 2004 by felix kytt
hi~ - good~~~~ - October 25, 2004 by ken1437 ken1437
very good - beautiful colors - October 20, 2004 by Sebastian Starke
THANKS!! - Thank you so much for your opinions! you have no idea how important it is to know if the people will or will not like my skins, and positive opinions just gives me reason enough to make another!! and again THANKS for downloading it!! - October 17, 2004 by Chun Mai
Final Fantasy - A very pretty gel, and whatever blue means it certainly gives an excellent effect. I don\'t give a damn what this game is but it seems impressing (talking about pretty gels) - October 15, 2004 by Nick Silikov
***** - Good skin, love the colours and the picture is amazing! Very clear and easy to use! - October 7, 2004 by Twisted Sanity
good - beatyiful - October 5, 2004 by kung fiona
Very nice! - i also dont know Lenne, but i really like to use this skin a cursor would be nice but its still a good skin - October 3, 2004 by Amir Mimon
Congrats! - Beautiful and usable skin. Me likes. And I think it's great you took the time to skin the video window also. And I think if you'd just do something little with the cursors it would really be the icing on the cake, as they say. - September 23, 2004 by Katri Anniina