>
Skins

>
Entertainment
Lara Flynn Boyle barless devil
Its lara, sans bars
Its lara, sans bars
NOW UPGRADED FOR WA2.9

This is the EQ bar free version of this skin, full version is also available on winamp.comThe devil made me do it.After using Lara Flynn Boyle after dark, the best image skinever by the way, I thought I'd do this and give it back to my buddy Duk. Something bright, crisp and fresh to sit on your desktop.Skin contains all the usual stuff, mikroamp, custom MBinnerblah blah blah.There is a matching DFX skin to go with this Winamp skin, alongwith matching desktop wallpaper. If you want it, just mail me :)Anyhow, treat her with respect, this is one classy lady.
Download skin
| | | |
| --- | --- | --- |
| March 27, 2003 by Jones Owns | 288104 downloads | |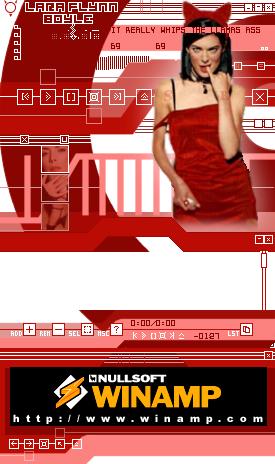 Staff review
Your choice, folks
Devil pure or devil on the rocks http://www.winamp.com/skins/detail.jhtml?componentId=76232 ... I for myself love the extra sparkle of the eq sliders ;)
Comments
Got Laid? - Why does these cookie-cutter skins keep getting high ratings? This chick is ugly anyway. - March 24, 2006 by Steven Woolard
blah - this has a horrible setup - December 2, 2003 by joe cary
hot babe - this baby is ready for action!!! it deserve a 5 stars:0 - January 12, 2002 by Jaycee Villar
Nice Girl - Great skin. Its really sexy, but what the hell is up with the clothes? Where are the titties? - January 6, 2002 by porn freq
really!! - hey... really...like whoever said..lose the chick...but its a nice skin without, just not worth dling with her on it...bsides, if u had to pick a chick, y didnt u pick a better lookin one..i mean, if i were a guy, id try to have better taste - she looks like she has a hangover! - December 28, 2001 by ! ! !
But ... - ... snag the one with the EQ Bars for an extra special treat. Superior work. - October 17, 2001 by Duk ...