>
Skins

>
Stylish
Kylie
Fever Amp
Inspired by the vibration of Kylie...
Inspired by the vibration of Kylie...

Tried to give a feeling of High-Tension Power, smoking under a surface of restraint, just waiting to shake your soul with some good love!

This skin was made to be my regular skin, so sorry if you hate it. I have a black desktop and it looks fine, it may not be to your taste if you have a light/bright desktop.

Everything is skinned and cursors are included. The only functionality missing is: no balance animation and no track position bar graphics -- this is a deliberate design choice for aesthetics and because I rarely use them -- however, the hotspots are still active and easy to find with the cursor change.

This is my first skin.
Download skin
| | | |
| --- | --- | --- |
| February 20, 2005 by Steve O | 91555 downloads | |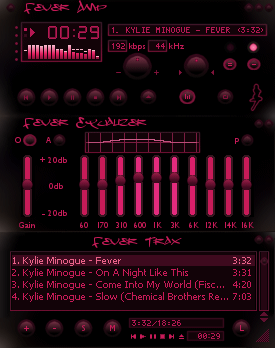 Staff review
Where's Kylie
Needs more Kylie for sure.
Comments
After all these years, I finally signed up just to rate and review this skin. I also have a black based desktop and love to accent with pinks, blues, and purples. Plus, at my workplace we run a Windows 98 based environment (stop laughing) and this skin works with the really old version of Winamp I have to use. Not a Kylie fan lol, but kudos on an amazing skin! Simplicity is best!Nice job,:) - December 11, 2009 by tykyte.fan
Feel The Fever - Just want to say thanks to all the cool people who took the time to give me a nice review for this skin. Thanx! - October 1, 2006 by Steve O
Love It! - Simple, but artistic. I love the black background with the pink. It looks very innovative. I would love to see more created by Kylie. - August 19, 2006 by Kendra Pish
Cool - It's a very useful skin (not like the one who said that this skin is useless like kylie) need's more kylie Kylie is the princess - March 11, 2006 by Farcas George
Too dark - Too dark - pretty but useless. Just like Kylie. ;-> - December 23, 2005 by Winston Smith
Sen-Juste - sweet...:) - December 14, 2005 by Ira Teren
bla - Though I dont like Kylie the skin is wicked, nice job - April 13, 2005 by Benjamen Brown
RED - RED - April 9, 2005 by CYNTHIA C
Nice - I've been looking for a pink on black skin for the longest time. So needless to say I love this one. I really like the Kylie in the right corner, very very nice. The only thing I was disappointed with was no alphablending I had become so used to it with my last skin. But! I look forward to trying out more of your skins! - March 9, 2005 by Sara C
Cool - This I thought was a really neet looking skin especially since my favorite colors are pink and black and my name is Kylie. What a coincidence:) good job..especially for your first time..Only thing i was confused with was where the volume bar was lol. - March 8, 2005 by Kylie Nunya
beautiful colour - Good! - March 2, 2005 by Christy Christym
She's there but... - I did say 'inspired by' not 'featuring', however Kylie is in the bottom right of the main window! I'm gonna do a modern skin 'featuring' Kylie though, so calm down :) - February 21, 2005 by Steve O