>
Skins

>
Cool Devices
Kopernik
Copernicus Winampus
Kopernik.
"Kopernik" is the Polish name of the Polish astronomer Copernicus, aka 'the father of modern astronomy'.

In a way, this skin was an attempt to achieve a style similar to that of a skinner from yesteryear whom I admire: Marek Wojtal, another Polish skinner. Although, my skin is not as organic or technically impressive as Wojtal's skins - but it is more user-friendly :)

I hope you enjoy it :)

Also skinned is the AMAROK plugin.
Download skin
| | | |
| --- | --- | --- |
| May 12, 2005 by StillWater skins | 598023 downloads | |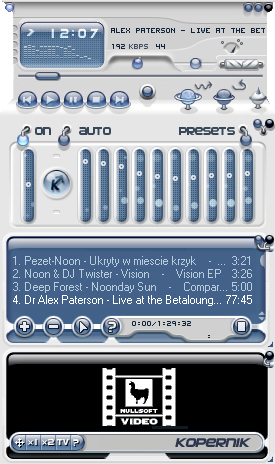 Staff review
Fantisimo.
Good skin with a number of good animations. Well worth the download, and with its ease of use it could very well be a keeper.
Comments
it's great! - Wow, this is a great skin! - June 25, 2007 by ichat maildi
The best skin! - This is the greatest skin for winamp ever made! - September 18, 2006 by Beser Beserov
Gumpmeister - AWESOME...simplicity yet original and well constructed...FIVE STARS....A whole lot of thought went into the making of this skin,easy to use all around...and again originality is paramount...nice job - July 16, 2005 by Gump .
?? ! - ??, ??????.. ????????. 100% ??????????. ^^ - June 25, 2005 by sung hyunho
:) - extrea - June 22, 2005 by Grzegorz gpx
winnap - nada - June 21, 2005 by claudio pivatto
Good SKin - love the shades of blue and white.. kinda like snowy blizzard.. definately one of my top 3 this skin works great on my TV (i have tv out on video card). so i put winamp on TV while game on monitor.. .and ver few skins can you acually READ the playlist! .. ty - June 14, 2005 by kevin shorty
=) - I really like this skin, it looks like the maker took a long time to make it, but its pretty worth it. - June 12, 2005 by karley samsonite
Great Skin - I'm gonna be using this skin for a while. Great job! - June 10, 2005 by Brandon Self
Love It! =P - I really like this skin as it has a kool, sleek, stylish look going and the blues and silver used mix well together! Easy to use aswell, its over-all really nice! =) Xx - June 9, 2005 by Stacey Crosby
Nice One - Looks as if I have another operating system such as Apple OS, but I don't. Nice one by fooling me - June 6, 2005 by Ahmad Hassan
Kopernik - Copernicus Winampus - Kopernik - Copernicus Winampus - June 4, 2005 by raminta raminta
excellent - I really dig this skin, you did a great job! It's a nice, simple, clean interface - which makes it very easy to navigate and use. - June 4, 2005 by Aaron Boswell
GOOD - VERY VERY VERY GOOD - May 31, 2005 by dodah dodo
classy - out of all the classic skins I have seen, I like this one the most - May 30, 2005 by Billy Boxer
loved it.. just one thing - theres somthing that is so anoying.. at the top.. the 2 sides are cropped can someone fix this and make it complete? tnx pepole.. - May 29, 2005 by tal darchi
Kopernikool - This skin is just what I'm after when I reformat my computer. Sylish, slick, and good animations. thumbs up! - May 28, 2005 by Sam incognito
As good as they get! - You have really done it this time StillWater! A very easy and fun to use skin! - May 20, 2005 by Jan Gjestad
Greate - Greate skin - May 16, 2005 by Meiko Lainela
Great! - An excekkent, useable skin! - May 13, 2005 by Jan Gjestad
Amazing - Time well spent - Very interesting and unusual. I love the animations. The illusion of depth was well executed. - May 12, 2005 by Ken Snyder