>
Skins

>
Consumption
Know-it-all
Project D.U.
Project D.U.
Get connected with the know-it-alls at Project D.U. This Winamp skin connects you to the ultimate bloggers at the ultimate blog site, so that you can be up-to-date on the latest news and events. With opinions on everything from music and entertainment to sports and technology, these bloggers have their fingers on the pulse. Download Project D.U.'s latest skin to get in the know.
Download skin
| | | |
| --- | --- | --- |
| September 20, 2005 by Project DU | 657475 downloads | |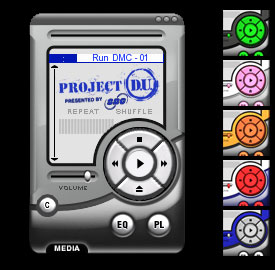 Staff review
Official Project D.U. check it out.
Comments
This would be a good skin if.... - The spam for SBC didn't exist. It's bad enough that you have a popup and an un-get-riddable ad, but the fact that it's the most evil company in the world, makes it complete trash in my eyes. Don't sacrifice your talent for endorsements. - January 4, 2006 by Megan Keith
Stylish skin! - Good skin, very uncommon... Thank you ;) - December 24, 2005 by Vima Alova
It is bad - I think that this leather is awful I do not like the form I consider its primitive. This skin has no good idea, and this main thing for a good leather - November 18, 2005 by Bahmet John
Love the colors - Loving the color themes. Nice designs and sliders. Smooth and well animated good job. SALLLLLLLLLY - October 1, 2005 by Lady GRRl
No more MB popups! - I want to like this skin, I really do. But when you couple a glaring MB popup window on load with really bad choices in color schemes that make the skin look flat, I can't recommed this skin to anybody. Otherwise, the compact size is great for those using 1280x1024 and less. It might be too small for anything higher. Because of the MB popup on load I'm taking many points. Another point or two for poor color choices. Overall I give it a 2 out of 5. - September 26, 2005 by DemonOuterverse Outerverse
User Review - Very Nice Compact Skin. Great Color Themes. I Give It 5 Stars After I Got Rid Of Those Annoying Ads. - September 22, 2005 by Mark Chambers
Kool looks - I like that it looks like my MP3 player. Will check out the info. How about an MP3 w/ it ! - September 22, 2005 by Bobby Field
One big advert - A nice skin, quite a good selection of colour themes, but unfortunately ruined by a mass of self-advertising! - September 21, 2005 by Matti White
Pretty cool - I like that it kinda looks like my MP3 flash player. How about some music to go with it! - September 21, 2005 by Bobby Field