>
Skins

>
Cool Devices
Kenwood eXcelon KDC-x959
a real deep look on a car audio...take your car audio into desktop
a real deep look on a car audio...take your car audio into desktop
base from the original kenwood eXcelon x959 car audio
Download skin
| | | |
| --- | --- | --- |
| June 29, 2003 by Eleazar \"Ely\" Ocbina | 197000 downloads | |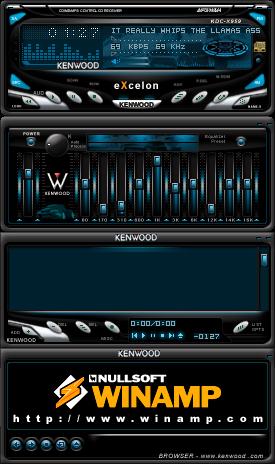 Staff review
Not too bad a skin,
But a bit on the dark side.
Comments
4 - PRACHTIG - July 8, 2008 by IET HUSKES
Cheer Up - All those people that are very hard. Why don't youmake a skin and upload it and get embarrased by me coz I know that you couldn't make one decent skin on WHAT i want - June 7, 2005 by Ahmad Hassan
Sweet - that thing rocks! - May 7, 2005 by Dylan Haehnel
cool - it`s cool - April 4, 2005 by Sylvia Kowalsky
JUST SO STINK'N AWESOME - Dude, this thing rocks. I have used this skin so much. My computer, friends computers random people i will add this skin to thier computer just casue its so stink'n awesome. I have tried so hard to find a better one that im bored with all of em just cause there isnt any as good as this one. Straight to the point interface, simple, beautiful, fully skined even the video window! It doesnt have any extra stuff that you dont need, no changing colors, no different menu systems or anything wierd and random. And its shade mode is the best around, perfectly viewable even on my 1280x768 screen. Perfection doesnt come any other way than this! - January 12, 2005 by Jamie Whaley
Excelent!!!! - Not bad At all I agree its a bit on the dark side but none the less its still trick!! - July 9, 2004 by Kevin Sanders
sweet - very nice and clean.. i love the colours, it matches my desktop perfectly.. [insert thumbs up] - August 20, 2003 by ray zian
Good Job - This skin is great.I love the buttons and the blue and black colors.The only problem i found was there was not a time bar on it.Other then that you did some fantastic work i hope to see more amps like this from anyone. - July 1, 2003 by Adrian ......