>
Skins

>
Retro
K-Jofol V5
A player so good we borrowed it's ideas...
A player so good we borrowed it's ideas...
...and staff and just about everything else!

Yes folks, we liked the K-Jofol player so much we employed its creators!

Now you too can relive those glory days with this Winamp5 skin emulation of the K-Jofol default base skin, swoon with delight at its elegance, gasp in terror at its slightly jaggy edges and squeal like a girl at its uber leet playlist editor.

We've tried to recreate the original skin as best as we can, but we've changed a few bits along the way to work better with Winamp5, and added a few bits as well. Good eh?

Original Design by Steve Gedikian.
WA5 version by Mr Jones.
Additional work & suggestions by Wildrose-Wally.
Download skin
| | | |
| --- | --- | --- |
| June 26, 2004 by Nullsoft Skinz | 431515 downloads | |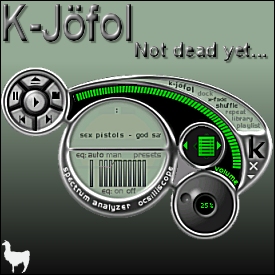 Staff review
Now I have to admit, I am biast.
This skin was hard to review, it comes from way back in the early days of Winamp3, and before that from a different player named, you guessed it, K-Jofol.

K-Jofol the player is no more, but it's legacy lives on in this suberbly handcrafted reproduction of the K-Jofol baseskin port.

From the main player to the playlist to the stick mode, all very well put together by none other than Mr Jones. And you thought it could not be done.
Comments
Almost as good as the original! - I love this skin, but it's a shame it doesn't have the LCD fading effect that the original player had - any chance of implementing this in winamp? - June 14, 2009 by winamp.ted209
Uh.. the old is the best. - As I enjoy antique cars I enjoy antique players.. I've used K-Jfol and NAD players for a long time.. winamp is the best but the others were the kings for a longs time for me.Thank you skinners and developers! - July 21, 2007 by arietha mockba
old skool - It puts the shazam back into the bling! bling! - May 23, 2005 by nequiem nonsuch
Brilliant - I registered with this site just to rate this skin. I have very fond memories of k-jofol from the old days - I used to love that player - shame it was never as stable as winamp. This skin is an excellent reproduction, and is a great design. It would be nice to have the k-jofol style oscilloscope visualization (with slow-fading lcd effect!), but I'm not sure that's possible in winamp. This is a great skin, and will remain my default! Thanks, Ed - April 16, 2005 by Ed Ronson
Excellent! - Brings back memories. Probably the only worth while competitor to Winamp.. back in the day.. - March 31, 2005 by Dima Braun
Fully impressed - I have never heard of, or seen K-Jofol. I downloaded this skin and was dazzled, so dazzled it is the only skin i've ever rated 5-stars granted it's also the first skin i've rated, but i went through the effort of registering just to rate this skin - that's at least worth something. - March 1, 2005 by Ian Perdido
Nostalgia. - I really loved K-jofol back when it was in development... Around the time that K-jofol 2000 came out I switched over to Winamp. But now I can have the best of both worlds. Long live the 'fol, thanks r0n :] - December 5, 2004 by Dima Braun
... - Looks sharp. - October 11, 2004 by Nigel Wimberly
YEEEEEAAAAAA!! - Finally, I've been waiting for this for years. I absolutely loved this player it's wonderful having it back again, so to speak. Thank you, Thank you, Thank you. Definitly takes me back. I was so sad when k-j?fol went out of development. It was the best player during that time. - July 23, 2004 by Nathan Doak
Stunning - Awesome. Too bad you couldn't add a pitch control. I still whip out this player every now and than. The only thing that would be cooler than this is a K9 skin for winamp. Nothing could hold a candle to that. Viva K-Jofol! - July 19, 2004 by Andrew N
good skin - the only skin i remember that has a corner mode was corner amp. and that was huge. I dont really care that that theres only 1 color theme. But it would make this skin so much better if there were. - July 17, 2004 by b silver87
Awsome dock =) - Theres not much more to say about this skin since you only have it docked to a corner of your screen =D The best thing is that it modifies it's form depending on which corner you put it in. *Havent found any flaw in this skin yet.* - July 16, 2004 by Johan Spade
good choice - not bad, a little small - July 13, 2004 by louis GUINGOT
Quite good - I give this one a 4 mainly because it's a 'lots of round alien-ish thingies potruding'-kind of skin, but without big empty areas making it too bulky. Minus for few (2) visual effects, and no colour scemes. But plus for a quite small stick (dock) mode. - July 11, 2004 by John Smith
Excellent!! - A true blast from the past. Great to see the old player "in action" again. - July 7, 2004 by Snowman Snowman
Kreat - J?fel - Great skin, easy to use and standard function are availible in the playlist. Finally there is an rotating volumecontrol that i can use( For some reasing i don't get along with it) The notifyer is an handy tool when WA5 is minimized. One point is that the playlist can't be resized. - July 1, 2004 by jr Heuwing
Pretty darn cool - I really like this skin. It's design is definitely unconventional, but I have found it fairly easy to use. The shade mode is unsurpassed. It automatically adjusts when you position it in a corner so that it forms an L shape to fit in that corner. Very cool. The notifications are very nice, with the option to include album covers (provided you are connected to the internet, of course). The only major thing that is lacking from this skin is a pause button in the shade mode. However, this is a very excellent skin and well worth the download. - June 28, 2004 by toejam 07
K-Jofol Lives - again! I used K-Jofol all the time in those days long gone. It was the first mp3 player with freeform skinning! Very well done! - June 28, 2004 by Hawk .
great skin............. - .........back from the old old days of freeform skinnig this skin is still great and worth to use. Special the PL is great. Good work to people who remade this skin. - June 28, 2004 by CarlosP Interactive
Lose the main window. - Just lose the main window and use the playlist editor as the main window. - June 28, 2004 by Bidit Mazumder