>
Skins

>
Entertainment
Jeri Ryan In The Pink
Hot steam and soap bubbles
Hot steam and soap bubbles
NOW UPGRADED FOR WA2.9

A meeting of minds, inspired by DUK, they said it couldn't be done, that it shouldn't be done, but here are the results. Introducing JERI RYAN - IN THE PINK This is what happens when two skins collide, the results speak for themselves ! This skin is a joint production by Cappy17 & Mr Jones, bringing together two great skins into one fantastic one :)Check out the original skins, bathtile by Cappy and Back to the wall by Mr Jones.Enjoy them all, but don't get your monitor wet...
Download skin
| | | |
| --- | --- | --- |
| April 3, 2003 by Capt Jones | 308303 downloads | |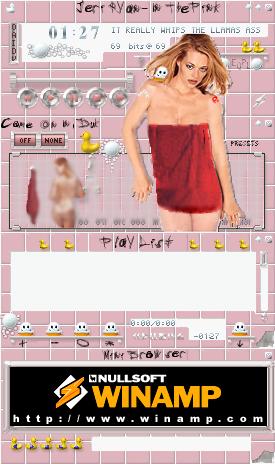 Staff review
First class skin...
Sleek and sexy audio enhancer
Comments
oops - i wet the monitor - December 20, 2003 by Nick Lamb
Sweeeeeeet !!!!!!! - oh my oh my reading the previous comments ... seems the people did not get the point GREAT !!! SIMPLY GREAT !!! A fantastic combination of two masterpieces from Cappy and Jonsey ... wish I had their skills .. - May 5, 2003 by cyana h
Mmmm bad copy paste job - Very blurry arms bad copy past job and no equalizer. - January 7, 2002 by Goku Kakarot
The borg never looked better. - One word ... SHWING! - October 6, 2001 by C S
rip off - This is a cheap rip off of the Jeri Ryan back to the wall skin, take a look, the arms are blurred and so is the midsection, where it was doctored to look this way. Cheap I tell ya Cheap. - September 7, 2001 by Flew tee
Crazy! - What an imaginative Skin! This is great! Is this one of a series or a one-off? - August 20, 2001 by Paul Lenkic
Its - Pink - June 1, 2001 by dark-wing ďż˝
cool - this skin is very neat,very cool effects - May 16, 2001 by Nini ~
a - good - April 8, 2001 by dean kang
O, ye@h!! - I think I?m gettin? an instant ****** dude!! Is it just me or is it absurd to think that she still could be a virgin??? (Mail me your opinion about that on laurensruiter@hotmail.com, but be warned: I?m duch!) - April 1, 2001 by Laurens Ruiter
hehe - great collaboration. the best of both worlds - April 1, 2001 by ampburner (aka Stephan Hoekstra)
Hmmm ... - Well, even tho I do hold a small grudge against this Cap'n Jones fella for the PL Easter Egg thingy, I'm gonna give this thing my seal of approval. Ok, maybe I'm just doin' so because I had absolutely no input into the skin but nonetheless got a mention in the credits. Yeah, that's it! Seriously tho folks, this is a sweet skin with some fance PSP work. Download it now ... but please ignore ANY negative comments about Miss Jenny, k?! :o) - March 31, 2001 by Duk ...
Jeri Ryan In Thee Pink - Anything With Jeri Ryan is a 5 star rating. In my opinion. - March 30, 2001 by Phillip Sisler Sr