>
Skins

>
Transportation
Jeep Wrangler Winamp5 Skin
Based off the Jeep MyGig Stereo.
Based off the Jeep MyGig Stereo.
Jeep® Wrangler Skin – Jump in and download this Jeep® Skin. Witness a revolution in the new Jeep® Wrangler, click the links on the skin to find out more. With cutting edge designs this skin is similar to the real Jeep® Wrangler audio system. Click around the skin to interact with the smooth sliding drawers and find out more about the 2007 Jeep® Wrangler Unlimited. Download it now!

Jeep is a registered trademark of DaimlerChrysler corporation.
Download skin
| | | |
| --- | --- | --- |
| September 16, 2006 by Jeep Wrangler | 1450083 downloads | |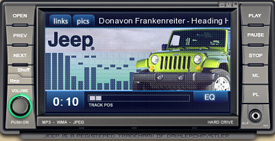 Staff review
Cool.
Back seat of my Jeep!
Comments
super supeeeeeeer - January 2, 2011 by [email protected]
cool - March 16, 2010 by [email protected]
Neat,Nice,smooth,impressive - hi there well i am a big fan of the jeep wrangler range and plus this skin is hot it looks that part especially with the main box on good skin - October 1, 2008 by Christopher Parratt
Bonanza:) - It's one of the best skins:D I love off-road and in my notebook is a place for skins like that:) GIT!!! - December 5, 2006 by Kasia Buchowiecka
Clean Cut,..bro - Great SKIN ,.. i tell you, very clean and original interface -- a 4 year old can use it. GOOD!!! Next thing -- i suggest ot built a small GPS - MAP feature from MAPQUEST.com to pull up maps and stuff. Extra stuff to play with,... i think... NICE - November 28, 2006 by Vitaliy M
Great skin..need some adjustments & enhancements - Great skin....few ideas, is it possible to change the pic in the background..if yes I cannot figure out till now. It will be nice to change the pic with other pics from the gallery! Also, I had some problems with attaching the main window with ML and PL windows. - November 22, 2006 by Salil A
yeah - yeah - November 4, 2006 by Dani Todorov
Hi - God - November 3, 2006 by Andrei Strelkov
It´s very cool - This is a nice idea - October 25, 2006 by Sandra Hackel
jeep - esta bonito pero como lo instalo - October 10, 2006 by cristian sanchez
cars - good skin - September 30, 2006 by mariana k
The Same Thing - It's close to the audio system on the actual Jeep Wrangler. Good Job. (",) - September 25, 2006 by Ahmad Hassan
vonderful - very good - September 18, 2006 by mehmet dilmen
Nice work - well it's nice and inspires attitude, and i like the buttons green light. - September 17, 2006 by Sonny Klinsmann
thanks a lot - functional, original, wonderful - September 17, 2006 by fatih akinci