>
Skins

>
Cool Devices
January 29
Featured Skin, February 24, 2004.
january 29 v.1.1 for Winamp5
Improved Graphic. Add about a hundred color themes.
Features: All components skinned, Resizable shade mode, Advanced Video Window, Easily access EQ's button, Double-click song title for access to file Info, 110 Color themes.
Download skin
| | | |
| --- | --- | --- |
| June 5, 2003 by SooYoung Kim | 868702 downloads | |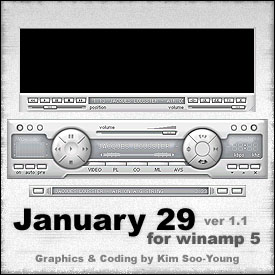 Staff review
Nice work.
Fully functional stereo skin.
Comments
Clear and crisp - Very clear design, no clutter, very functional; well thought-out stick mode -- just the right size for easy and quick navigation. However, the seeker in the stick mode might be longer (right now it's too short). - December 16, 2007 by Elena ___
What more could I ask for??? - I love this skin! I have been using winamp for a long time but never felt compelled to sign up for an account untill now. That is how much I love this skin. Soooo Clean! Sooooo easy to use! I love it. What more could I ask for???? I'll try to come up with something, but nothing comes to mind right now. - March 2, 2007 by Jonathan Hornberger
very good - It's very simple and superb skin. Great~!! - January 3, 2007 by Lee ho_seok
Favorite Skin - I've downloaded lots of skins for Winamp, and this one takes the cake. Easy to find the controls, minimizes to just the right size, and tons of colors to choose from so I can match my desktop. Definatly my favorite skin! - June 30, 2006 by Du Bird
Awesome - I have downloaded alot of skins but have never liked any of them as much as this one. - May 11, 2006 by Joe Tidwell
good job dude - It's easy to use,there's acolor theme for everyone, and it deosn't take up so much space.Its just good all around. - March 4, 2006 by christine hernandez
Very clean usable skin. - A professionaly designed skin. Easy to use and easy to read. The best of teh best. Most skins are impossible to use, this one blows them all. - February 17, 2006 by Jon Harrell
Keep it up - First usable skin after browsing trough 30 pages of skins.. Simple, yet ellegant. Very nice work. Keep it up - February 14, 2006 by T S
Nice - Just what I've been looking for. It has the avs window with audio controls AND next/prev for the visuals :) :) :) - January 24, 2006 by Andrew Jones
Really good! - I love the colour feature. It's easy to use. A bit bulky, but otherwise really nice looking. - November 15, 2005 by chantelle leblanc
BULKY BUT COOL - This is a cool skin but it is a bit to bulky even in shade mode. It does offer lots of great colors tho. - September 8, 2005 by Michi Simpson
Bunny Huggling Awesome. - I love it... It's like something you'd find in an iPad. (A room where like, everything is white and there's only a tiny bit of color, usually very bright and vibrant, from like, an apple or something.) That's my current obsession. Why is it called January 29 though...? o.O;; Anyways, keep up the good work! - March 20, 2005 by Katana Akaissei
Awesome - I lvoe the color choices..and it gets soo small, just what i was looking for. Great Job! - February 5, 2005 by crystal schaeffer
:D - Very nice! (Would be nice if it had some speakers, and an equaliser tho....) - February 1, 2005 by Otto vanZanten
my favorite - i know everyone else has already said many nice things, but i just wanted to add that i forgot to save this skin when i reformatted my computer. so, i just spent about an hour searching around for it. i hadn't gotten any skins ever since i found this one quite a long time ago. thanks for making it! - January 5, 2005 by jen l
Understated and Underrated - This skin simply rocks. It doesn't look spectacular at first glance, and that's a measure of how really good it is; it doesn't need to draw attention, it simply performs flawlessly, cleanly, beautifully. If there's an 'ergonomics' to Winamp, this skin achieves it. The only detraction is the Winshade mode, which is cramped and hard to read. The formfactor of the basic mode is slim enough that you might not miss the Winshade, give this one a shot. - September 6, 2004 by LionHeart Khanna
Sweet - This skin is so cool looking has lots of color schemes. - July 13, 2004 by Michael Villanueva
The Champion - This combines simple styling, discreet yet comprehensive functionality, some lovely colour schemes and a coat of silky polish. The best skin on this site. - May 14, 2004 by Robin Binnington
Nice - This skin is great if you want something unobtrusive but handy when websurfing. Big selection of colors, too - easy to match to your desktop scheme. - May 3, 2004 by Will Ellis
Solid - This is a solid skin that continues to amaze me. Everything has been skinned, so you are not left with unmatching gumps. A long list of color shemes, opacity settings and a very well balanced feel. 5 Stars, many thanks! -seg - April 19, 2004 by J J
awesome - the best skin ive ever had - March 26, 2004 by Kasey VanKlaveren
Keep it simple stupid! - Has all the buttons. Nice, simple design, with lots of colour schemes. - March 7, 2004 by Alan Blanchflower
January 29 - Nicely done, I like the fact that it's not pretending to be a phone, Hi-Fi or any other household device. It's just a well thought out, clean looking & easy to use skin. (which I prefer!) Nice work. - February 28, 2004 by Barry Whitaker
Great - Very very nice skin, very simple to use, very well done, what more??? - January 20, 2004 by Artur Nogueira
Very clean design - I like the simplicity of the design and the winshade mode serves my needs. This is the only skin which has found a place on my desktop as a close 2nd to MMD3... - October 26, 2003 by c settles
Great!!!!!!!!!!!!!!!!!!!!!!!!!! - I like it because.... it doesnt zap up my CPU... maybe the autor could use some more curves on this skin... - October 17, 2003 by Carlos Santana
damn good - i thought those dots in the upper right corner did something, but they don't, so i was kind of confused. very easy to understand :D - October 6, 2003 by kko n
simple - Quite simple to use... not bad for a korean guy who actually designed this skin.. - September 8, 2003 by Chris Kim
pLAYLIST - Wow...1st of all..great visuals! extra star for the extremely functional playlist! ( with the display switch) - August 22, 2003 by sonic gringo
BEST OF THE BEST - This skin is one of the bestskins for winamp 3 it looks like a mini theater if u put the avs in the middle and widen it - August 12, 2003 by Ricardo Heirs
Soft on the eyes. - Like Glenn says, very easy on the eyes. Simple and sumptuous. - July 28, 2003 by Kevin Smith
Best - Dosta dobar - July 27, 2003 by Robert Stefanides
Excellent - The only reason I've given this four stars instead of five is just in case there's a better skin out there. I have my doubts. Excellent work. - July 24, 2003 by Dave Ryman
Easy on the eyes! - Well, its well layed out,has a few(Altough unremarkable) color themes, goes well with the vid window and playlist, has a small filesize. The layout of this skin is what makes it a winner. Everything is properly labed. You dont need an instuction manual to use it. It doesnt have a design that reaces out and grabs you, but it works, and flawlessly. The exceptional layout leaves me no choice but to give it a 5 out of 5. - July 6, 2003 by Blue Eagle
Naff - Well I must be the odd one out cos I thought it was pretty NAFF! - June 21, 2003 by Blues Joshua
WOW - A very sweet sexy skin... i like the smoothness of it.. would like to see a cool metallic blue colour for it.. well done - June 17, 2003 by Glenn Wellstead
Wicked... - Good work m8.. I luv this skin, the black ver looks best.. - June 16, 2003 by daz smiff
its ok - its very smooth, thats a plus. but its just not interesting, and its a little difficult to use - June 14, 2003 by josh kanner
cool - I really like this skin for many reasons. its totally cool looking and other more! Please download. - June 9, 2003 by jess nucum
Finally ! - Finally I found it! Exactly the skin I was looking for: nice-looking, appropriate size in windowshade mode, and all necessary functionnalities available. Moreover, a double-click lets you switch between the normal/windowshade mode. A masterpiece! - May 6, 2003 by Florian C
Cool - Very nice cool good job - May 2, 2003 by Patryk Misztal
Good job - This has become my new favorite, too. I especially like the file info button. I use this all the time. I wish some of the other skin makers would include it in theirs. Thanks. - May 2, 2003 by James Miller
Style and function in one - Excellent skin, my hat's off to you. - April 16, 2003 by Tim Klein
Clean and accurate - Yes, it's the leader! Lookin forward for new masterpieces from you Kim ;) But.. I don't understand what the 3 non-functioning buttons in the top-right do? :) Another nice thing to add would be song title in the stick/shade mode. Then absolutely no alternatives will be left! - April 15, 2003 by Andrew M.-Y.
Ain't jokin around here... - I like the stereo-ish look. Maybe the dials could be changed but, you don't really get skins like these very often...Keep it up! - April 7, 2003 by C H
good look but messes up - I downloaded it, its really good, but the skin wont let you go to the main menu and it totally messed me up. - April 4, 2003 by ryan smith
Very Smooth! - Very Smooth.Feels so good with Billy Holiday playing on it. Very Functional, good Job Soo-young Kim. This is a great skin. - April 2, 2003 by Malcolm L
nice - hey, that's my birthday! awesome! - April 2, 2003 by Emmett Fikus
Awesome!!! - First thought it was kinda like the MMD3 but still proves to be good! It even supports unicodes and some of the Chinese and Korean letters Good sizes and pretty exquisite design. Nice work =] - March 29, 2003 by Ty Lee
I liked it as much as MMD3 skin.... - It looks like MMD3 skin at winshade mode, but smaller that it. I liked it too... - March 27, 2003 by Zafer DEPE
An interesting design - Very sleek and functional. However, a few more color schemes and the ability to expand and contract the thinger would be nice. Most skins like this you can "stack" the components and make them fit. I think contracting the playlists would take too much away from seeing the titles. Overall though - thumbs up. - March 27, 2003 by Lou Lange
Beautiful - Sleek and clean look with right out of the box, this one had me impressed from the beginning. The large buttons and other display elements just made me wish everyone took as much care with their designs. It's simple, beautiful and downright awesome. The drop down equalizer and easy access to almost every control just makes this skin even better. The winshade is compact, but easy to use with lots of options available that most people leave out and less space is used than the average winshade. Of course the songticker is missing in the wishade, but that's not much of a problem and it doesn't really bother me. I hope that when I finish my first skin (If I ever finish it) it will be as good as this one. - March 24, 2003 by Scott Johnson
Pretty cool... - I really like the button arrangement and on of the color themes. Nice work - especially for your first skin! - March 24, 2003 by Ryan Butler
Very Good!! - Oh, man do I like this skin. Great!!, simple large easy access buttons on the main window, easy access to the PL, ML, Video and your Color schemes. On so many others it hard to figure out what button does what, it's great that you've labeled them!! The playback controls on each window is a GREAT GREAT idea! And I just noticed the eq On, Auto, and Preset access on the main window. Another GREAT idea! I always found it just a tad, annoying to go to the eq just to select a preset, I don't mess with them myself that much so it nice to have quick access to it. And all this even in Shade mode! :D My only suggestion would be to put some sort of button on the PL window for WindoShade, took me a minute to figure out all you have to do is double click, but still that's the only thing I suggest changing. Great job Kim, I look forward to seeing your next Skin, especially since this is your first!! - March 24, 2003 by David Roberts
Solid skin - A solid & excellent stereo skin. But has it ever appeared in the 'newest skins' column in the opening WA skins' page? - March 21, 2003 by Prashanth Srinivasan
No muss, no fuss - This is my new favorite skin. Clean and simple. Everything is clearly labeled and easy to find. Some nice touches, including buttons for Preferences and Media Info Editor. A few more silver themes with tinted LED window and glowing buttons would be nice. - March 17, 2003 by P.R. Newman
perfect for me - I was looking for a "grey" colored skin that looks good full screen, way to go. I am using this skin in my Car playing MP3's while traveling, Thanks for the great skin!!! - March 15, 2003 by poo poo
THIS IS SO GOOD - Hey dog this is one of the best skins i have ever seen. Dang man make another one. GREAT JOB!!! - March 15, 2003 by AJ Holliday