>
Skins

>
Entertainment
iRobot _V2
Will Smith
Will Smith
The updated i, Robot Winamp 5 skin! This summer Will Smith stars in this action thriller inspired by the classic short story collection by Isaac Asimov and brought to the big screen by director Alex Proyas. In the year 2035, robots are an everyday household item and everyone trusts them, except one slightly paranoid detective investigating what he alone believes is a crime perpetrated by a robot. This skin is packed with features like color themes and animations. Built for winamp by Petrol Designs. Coding updated to make color theme window resizable, and some small tweaks. Drawer bug found is a Winamp bug not a coding one. This bug has to do with layer masking in 2 stage drawers.
Download skin
| | | |
| --- | --- | --- |
| June 17, 2004 by iRobot movie | 1183539 downloads | |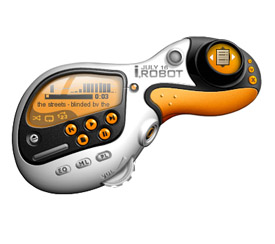 Staff review
Robots, Will Smith
what more could you ask for in a summer film? New Version 2 with fixes and tweaks. Enjoy.
Comments
Very Nice model.It looks like a..skin:) - I hade this one for a year but my dad said:You can't have this thing.And I said:why?`because it can come porno But I will have it Again - May 19, 2007 by Ignacio Carrasco
FGD - FDGDFGDG - March 3, 2007 by EWREW WERWR
cool - it's vrey coooooooooooooool - January 12, 2006 by Carunta Sergiu
very good - nice one! - May 22, 2005 by Pop Sergiu
grate and i will tell you why - because it has every thing and whith the easyst way to reach it - May 8, 2005 by michael_o ochana
so fuckin nice - .. yaa - January 16, 2005 by jonna bella
wonderful - Great idea and very interactive!!! - January 9, 2005 by Magus m
Good one - very nice! especially the shape. Go get it ! - November 4, 2004 by Hardik Shah
S2, anyone? - The first thing I thought when I saw this skin was that it had an uncanny resemblance to Sony's S2 collection. I have both the stereo and walkman. Sweet skin, smooth and future-like. - November 2, 2004 by Fat Josh
gooooood omrani think this will be the best one in this year - gooooood omrani think this will be the best one in this year - November 1, 2004 by khaled omran
Pointless - I have seen MANY MANY MANY MANY Petrol Design skins and I'm sorry to say this is by far the worst of the lot. Its just a strange shape with a few buttons and a gallery. Nothing special. And another thing, if you come across a bug you program around it, you dont just blame the product and leave the bug intact. - July 20, 2004 by Willem Potgieter
Cool - Co00ol - July 20, 2004 by Navid Za
cool skin - i like the buttons and everything. It's pretty easy to learn everything, without a tutorial. The picture gallery is cool, all the pics are hi-res images, but it has like 7 pics only. the volume button's is okay, but that could be improved. colour themes are pretty limited too (only 12) but thats not a major problem. My problem is, this doesnt really relate to the movie. It would be cool if the skin was v.i.k.i. (for those who havent seen the movie, watch it and you'll understand) or sonny (yes its spelled sonny, not sunny). - July 18, 2004 by b silver87
A small problem... - It\'s a pretty cool looking skin, but there is a problem- the smaller layout mode doesn\'t go with the color theme- I set color themes to \"Dark Blue\" and switched shades, and the little circle thing was still the default orange theme. - July 6, 2004 by Jonathan Jones
Nicely done - Very nice skin, but you need a tutorial, I couldn't figure out some stuff on it. - July 4, 2004 by T W
iRobot movie - the best - July 4, 2004 by kuki siska
Haven't I seen this before? - Reminds me alot of the Sony S2 Sports1 skin. I like the Sony skin alot more. I hope the movie works better than , it doesn't have operational flaws on my pc. I hope the movie works better than this skin. - June 29, 2004 by Lee Groomes
It's greate! - You create a greate skin(i.ROBOT)! Haw can I get it, from my mail adress. Can you delivert to my mail adress, so I can get it? Thanck you! - June 29, 2004 by Cretu Gabriel
Major Issue - The skin looks very nice...at least, I think it did, because when I put it into shade mode, it disappeared. Now when I switch to this skin it never appears anywhere and I much switch to a different one to use Winamp. None of my other skins do anything like this, so I'm guessing it's this particular one's problem. - June 28, 2004 by Phyltre Ryoken
... my old review has been deleted! - i dunno why, it was offensive or anything like that, it was just my own opinion and facts. anyway, here it is again this skin... is really bad! the shape seems ripped to me ... to all of them who think that this is so creative... (Link: http://sunshine.i6networks.com/designs/amor.png)http://sunshine.i6networks.com/designs/amor.png the drawer animation is buggy, the standardframe is looking bad and is buggy, the window buttons have no tooltips in shade modes but look all the same... not even skinned componentbuttons... and much more... this is very poor work. i never expected something that bad from petrol designs. 1 star from me for a freeform skin and the clean gfx... but the code is more than poor... even the seekerthumb is missplaced!!! and before deleting that,tell me WHY!!! critics seem not liked to be seen from somebody over here... - June 26, 2004 by i rontz
Isaac is spinning in his grave - These reviews have completely killed my interest in downloading the skin. I was already leary about downloading it because the movie, in no way, resembles Asimov's beloved book. One Independence Day was enough, but now a sequel? bah! - June 24, 2004 by Ty Hanna
look guys......... - i am not a noob and i know what i am talking about if I speak about winamp skins. You have updated the skin, now you can change the w and h from the colortheme window but the colortheme list has not relat_w and relat_h. Besides you just used the code from the PL Editor for the Picture Gallery and you was so lazy that you didnt cuted the bottom bar from the PL Editor out in the Picture Gallery. I like will smith and i just hope that this movie is better than this skin. - June 24, 2004 by CarlosP Interactive
Thanks for the fix. This is HOTT - I am so excited to see this movie. Love the photo gallery change and v2 fix. THX! - June 24, 2004 by Bobby Field
Poor skin, needs more effort. - Watching this one here: http://www.theskinsfactory.com/skinsfactory/?page=fvportfolio&id=102 Makes me start thinking that something is wrong with that shape and style. I agree with rpc's comments, this result should be expected from noobs and not from a corporate company that got paid for doing skins to clients...... PS: thinger was once upon the time in WA3 skins to do list, we're on WA5 nowdays aren't we? - June 23, 2004 by METASKINS Team
I see no bugs - Not sure what bugs you guys are talking about. This one works fine for me. I like the clean look and the drawer. Dig the color themes too, although I would like to see more of them. - June 22, 2004 by Ground Hawg
Buggy - hahahahahah, i cant believe but even if you made this skin for who ever and you got money for making this skin it is buggy. Not a bad skin but buggy for that reason only 3 stars. - June 22, 2004 by CarlosP Interactive
----> I Dig the shape ! Nice Job - This is the most unique form factor I have ever seen on in a skin. WOW. This is my new default skin fer sure. Where do I see video? - June 20, 2004 by Bobby Field
Nice going! - What?! This skin rocks! Smooth, nice, sleek, and usable. What more could you ask!? Nice going. Be Proud *thumbs Up*. - June 19, 2004 by Scott Kuehnert
meh - I like the general shape and placement of the buttons. The playlist and media windows are extremely boring and the equalizer is just plain unattractive. The photo gallery is just lame. Most of the different color themes are poorly done. The shade mode is horrendous. And as for what else to ask in a summer movie, I would like an original plot. - June 19, 2004 by Jesse Brown
gotta go with Pete on this - Why because Pete is the Man and what Pete Says is True - June 18, 2004 by QuadHeliX Barber
Where is the quality control? - Wow, I don't want to sound harsh but this is a very weak skin. The graphics are mediocre at best. Some of the elements actually seem mispositioned (like the seek bar handle). The buttons and scrollbars were left as the default graphics? The EQ drawer has some funkiness when opening and the sliders on it are small and ugly. The color theme window has some default flourescent purple left in it? The thinger (besides being rather obsolete) is poorly spaced and not very well executed. - June 18, 2004 by Pete Clark