>
Skins

>
Computer/OS
Into the Windows Media
Windows Media Player 11 skin
Windows Media Player 11 skin
***Into the Windows Media - WMP11 skin by Uros***

Here is my second hand-made skin,
it is much better then the first one and it is also
by wa2.9 standards.Nothing else to say then...

Enjoy :)

Copyright Uros Jovanovic
www.geocities.com/ukipictures
Download skin
| | | |
| --- | --- | --- |
| August 2, 2006 by Uros Jovanovic | 203213 downloads | |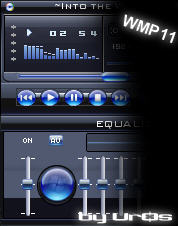 Staff review
Another Wimp inspired skin, oh happy days..
Comments
Nice - Winamp meets Windows Media Player - May 3, 2007 by Andy S
Perfect replica! - I really like the look of mediaplayer 11 and was tickled to find this skin which matches it perfectly and at the same time doesn't muck up the standard winamp controls. - January 26, 2007 by Nathan Lowe
wmp11 - OMG you saved my life TNX a lot!!! - August 17, 2006 by turbo_zob Dolfar
Good black and blue colors - I don't like to mucho the Windows Media Player in general, but this skin is cool. Pretty good job!!! - August 13, 2006 by dIEGO P.
Great skin. - It is a great black skin and just like WMP 11. - August 5, 2006 by Rahul Mehta