>
Skins

>
Stylish
IceFusion
Last Skin
Last Skin
I hope that you enjoy it as much as I enjoyed making it. Since the first skin (ice fusion) in 1995 I have been creating many a great and some quite useless skins. Here is the final representation of my skinning craft and what I have learned. I appreciate all the help from many people. Peacemaker, The Only Lynx, Mike-DB, Ampburner, Misery-In-Motion, Wildrose-Wally, Forevever, Cyana and many many more.
Download skin
| | | |
| --- | --- | --- |
| January 19, 2009 by Joe Garrett | 217959 downloads | |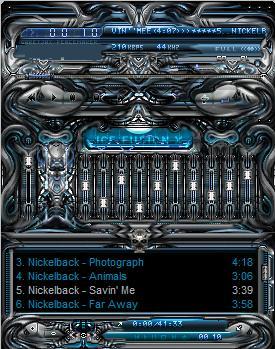 Staff review
great looking skin
I've somehow missed those skins... This is how Winamp looked for lots of people! And Ice.Fusion is another great skin of this sort. Best wishes for the author if this was hist last skin.
Comments
waaaa!, where are the buttons?!! - There are much things in this skin, it makes me dizzy, but i like what you are tring to say with it!!The song Playing is the best ever!!! - September 7, 2009 by DraineD
Nice Look - Very Nice Theam :) keep up the good work - April 28, 2009 by Justin Barnes
Insane design - Its reminds me of some H.R. Giger style artwork. Im a Huge fan of the Alien movies. im gonna use this skin forever. thanks - April 1, 2009 by Tom Kaiser
Fenix - super - February 6, 2009 by Andrey Ishuk