>
Skins

>
Animated
Hoop Life Modern
Featured Skin August 22, 2002.
Halo ! Hoop Life ! - A tribute to Halo Jones



This is my small tribute to Halo Jones and all the fun she has given me over the years, if you've never read the book I suggest you run down to your local store and pick it up, it's Published by Titan Books; ISBN: 1840233427 July 2001


Get more Halo related skins and information at...

hooplife.org



Based on Characters created by :- Alan Moore and Ian Gibson

All 2000AD Characters and Imagery are (tm) & ? 2001 Rebellion. All rights reserved.

Visit 2000AD Online
Download skin
| | | |
| --- | --- | --- |
| December 4, 2003 by Jones Owns | 914170 downloads | |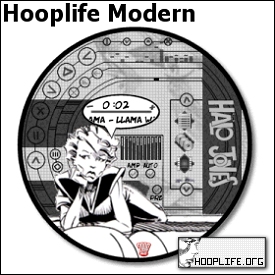 Staff review
a skin and a half
This is really well made, and it looks great, what else do you need? download it - this means you!
Updated Oct 30th 2005
Comments
bla bla bla - muito boom! - February 20, 2008 by Clara Brito
simpy cool - great! - September 7, 2005 by German Bonfa
tooo kewll! - I love this skin! this skin has been, and still is, one of my all time favourites. it's just so cool! it's so hard to find skins with women dressed that you wouldnt beleave. so the first time i found this one, i was thrilled to find something i would like, and something that would be tasteful :). great job! two thumbs up! - January 31, 2005 by melosa kavanaugh
that Good - good good good~i like it very much~ - September 11, 2004 by smilktep lei
Flawless - When's book 4 due out? - April 26, 2004 by Philip Coggins
love it - love it - January 6, 2004 by Vic lee
The best! - Mmm, I love this skin! It`s beautiful *_* It`s the best skin I`ve ever seen! - July 19, 2003 by Lillian Eison
Everytime I douche my PC... - I reload Winamp3 and I download this skin. This skin shows some genuine skill with an overall classy look. It manages to be clever and classy at the same time. Very smooth - July 4, 2003 by Jabberwock Carroll
Great. - More skins with grayscale! This looks good. - July 3, 2003 by repe sorsa
Wow! kwel picture! - This is a wonderful skin! I love the c-d style and the way the name of the song is being put in a word box! great job! The orginazation is pretty good. - June 14, 2003 by Hanabi
thanks for introducing me - I found out about this great comic when I saw this skin, so thanks for the introduction! Love the inking, good story... However, I can't seem to download the skin. Doh! - June 12, 2003 by Moon June
Why She Look... - So Sad loooookkkkiiiinnnnggg! I prefer smiley face in my desktop. But ok.. nice wrk though... - April 27, 2003 by Matrix Child
Something new! - This is one slick skin. Nice comic book illustration, look and feel. I like the compact and interesting design, and it's neat how other parts of the winamp (i.e. equalizer, thinger) are tucked away neatly on the main window as buttons for pop-up panels. Very stylish! Some excellent creativity. Just wish the playlist could be so creatively integrated. Great job! - March 5, 2003 by Joe Town
the best skin? - one fine skin, good work. - February 6, 2003 by joe joe
What do we put in this space? - I haven't downloaded it yet... but it looks neat. Winamp is the coolest most... um... COOLEST media player yet to be evaluated by... um... ME. By the way- is that a boy or a girl? my Bitmap renderer is pixelized... or how avs would say it... "Mosaic" - December 1, 2002 by No MSG --
Very cool! - Love Halo Jones and love this skin. Keep up the excellernt work. - November 21, 2002 by G Turner
so coooooollllll - th1s sk1n is very c0000llll, I lov3 tha stylish. - November 6, 2002 by Xavier Zu?iga
I think it rocks - I like the appearance a lot. A lot of people who make skins make them cool-looking but neglect to make them easy-to-use; the buttons can be hard-to-find or left out and what have you. Congratulations; an easy-to-use and awesome-looking skin! I love it! - November 6, 2002 by Celeste Adamson
cool - this skin's just cool. may not be the best skin, but its the coolest - October 28, 2002 by g w
So cool! - I'm totally blown away! this skin rocks! - October 18, 2002 by Khaleoud Marceau
stylish - really cool cartoon skin,clean and stylish.Simply NICE! - October 13, 2002 by Cecilia Bergkvist
all bow down to the best skin - This is the best skin I have. shame there is no way of changing the backgroud to that of the picturein the slide show but it is still great. - October 12, 2002 by adam timmins
... - WOW... brilliant - October 11, 2002 by alan dougherty
Awesome! - This is the best WA3 skin I've seen yet! I haven't heard of Halo, but i'll sure check her out now. Suggestion for future version, make the playlist extend out of the caption bubble when enabled, if that's possible. Keep up the good work! - October 7, 2002 by Andrew Holmes
FINALLY - finally, ive found someone else in love with halo... and finally ive found someone who didnt do the damn shiny metal futuristic bulsh that everyones throwing together lately... halo is gonna stay on my desktop for a while... - October 3, 2002 by Adam Davis
Halo rocks my world - Functional and respectful design, an excellent homage to the late and great Halo Jones, loved the Slideshow as well... reminds me of what a crush I had on Halo ;) - October 1, 2002 by jeff s
oh my gosh this is the best!!! - i don't know wat some of u idiot people are thinking but this skin is one of the best. if you have some that are better tell me i wanna see. but if u don't then shut the fuck up. - September 30, 2002 by Peter Ong
wow - It's so nice and circular. The volume was hard to find (it's near the time display). But very pretty. I am awed. - September 25, 2002 by Clyde Waverly
nice - gorgeous looking skin. i dig it. - September 22, 2002 by trevor hawes
Yayy, it's Halo Jones! - not a bad skin too - September 21, 2002 by Ben McBride
the quality, without: - All the quality of a cool skin, without the psychic ability to play with the users mind. Its okay, as long as you like comics... cuz this was from a comic... Enjoy, for tehre are better... - September 16, 2002 by Fei Jital Erfende
Perfect - So Easy, but still so good!!!! - September 12, 2002 by Bj?rnar Vister Hansen
NICE NICE NICE NICE NICE - Very good classic well do ! keep it up if u have not download it do it now this skin is one of the best so far i seen. - September 11, 2002 by ho joseph
Interesting! - Well, a good idea, I like it very much! - September 9, 2002 by Luiz C. de Oliveira
ok - i thik is very nice yhat the skin is not square - September 5, 2002 by juan francisko
Stunning - great skin, and a nice tribute to Halo Jones. Thanx - September 4, 2002 by Matt Parker
what - is this? - September 2, 2002 by mad challie
mr - this is very very nice and good . - September 1, 2002 by gholam reza etesam
Very god - This is really cool! I love the style, although I don't know the comic. I'm not too crazy about the scrolling text though...but definitly one of my 3 favorite skins! - August 30, 2002 by Martin Jeppesen
woot - this is one of the best skins ive seen. i love the comic book style!. great skin!. - August 28, 2002 by bill cosB
Nice - Great idea this one.... Excellent work - August 25, 2002 by Steve Butterfield
Mmmm... SWEET - Uniquely creative and simply functional. Obviously a labor a love and it's greatly appreciated. - August 25, 2002 by c settles
Fairly good. - Very simple and artistic, anyone who likes a simple skin will most likely enjoy this skin. However for myself, this skin is a bit too straightforward and the round winamp just doesn't strike me as very good. Still, fairly good. - August 24, 2002 by Tuomas Lecklin
Poop - Good clean skin and fun to use... The exact oposite of poop... - August 20, 2002 by Richard Nixon
Looks really cool, but . . . - There's a pure-black bar that jutts out of the upper right corner (circles don't have corners, but hey) that throws the coolness off two stars, I'd say. Otherwise, I like the colors, and it's the best looking 2D skin yet. - August 20, 2002 by Reed P.
perfect - I love comic book stuff and this is perfect. It looks just so cool. Thanks for making it. - August 20, 2002 by piya w
thats sweet - after 2 minutes of strenuous searching, i couldn't find the volume, i mean, it should be there, but i swear its not... - August 20, 2002 by Erik Wilson
Great! - This skin is just great! I like the layout and the way the eq and thinger load :) - August 19, 2002 by Johannes Athmer
real nice - I like what you've done.It's more of a issue of stile.I like the way you've placed the button...and how you aranged the equalizer in the middle...Realy nice man!Keep up the good work!Looking forward to seeng more of your work... - August 18, 2002 by Madalin Vilcea
. - wow... exceletn layout... love the grey scale idea... probably my main skin now. - August 17, 2002 by Weed Head
Say: Useable Art - Sweet. Need more images. Good Work. - August 17, 2002 by m c2
WOW - WOW - great job!!! I love the way the EQ and the thinger were made... At first sight it might look complicated, but it's a very efficient skin. - August 16, 2002 by Bungalow Bill
Well done. - Just well done, not one of those portable player skins. Skins should either be A) Usefull, B) so cool you just stare at it for hours (haven't found any of these) or C) mean something. To the author and fans of this comic the answer is C. I'm not a fan of the comic but this is well done. - August 14, 2002 by Brian Bryce
Very Good. - Very cool. Love the visions. But for some reason my playlists never stay put. Why? I dont know, but besides that, very good. - August 13, 2002 by Mr. X
thumbs up - shit jones. do you really think anyone will read that huge comment? anyway, looks good. /edit this is really blackdog. dont hold joseph accountable for my remarks! (somehow it automatically logged me in as joseph limpert. i didn't even notice) - August 13, 2002 by Joseph Limpert