>
Skins

>
Animated
Hoop Life Classic
Hoop Life , it's the only life I know.
Hoop Life , it's the only life I know.
This is my small tribute to Halo Jones and all the fun she has given me over the years, if you've never read the book I suggest you run down to your local store and pick it up, it's Published by Titan Books; ISBN: 1840233427 July 2001




Get more Halo related skins and information at...



hooplife.org




Based on Characters created by :- Alan Moore and Ian Gibson



All 2000AD Characters and Imagery are (tm) & ? 2001 Rebellion. All rights reserved.



Visit 2000AD Online
Download skin
| | | |
| --- | --- | --- |
| March 27, 2003 by Jones Owns | 88283 downloads | |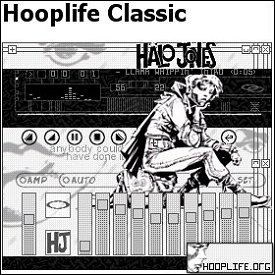 Staff review
a skin and a half
this is really well made, and it looks great, what else do you need? download it - this means you!
Comments
blues - nice - August 21, 2008 by toyandagreat toyandagreat
brote - ke loko ps ta chido no - July 10, 2008 by david68mu garcia
Who's Halo Jones?? - this skin is really cool but who the heck is Halo Jones?? :) - May 24, 2003 by Ashley Little
A good ONe - Specially if you fave a silver theme.. then pick up! - January 20, 2003 by Peter Jordan
>:`D - The design is very good, but overall the layout is a bit hard to read. Nice to look at, but realistically, I doubt I'd use this skin over the base skin (at least I can find the buttons on that one). - August 18, 2002 by John Eres