>
Skins

>
Animated
Hong Kong Phooey V3
Fannnnnnnnnrific !
Fannnnnnnnnrific !

Hong Kong Phooey V3

A rebuild of my existing Winamp 2 skin

Hong Kong Phooey, number 1 super guy ! Based on the classic 70's cartoon show.

The original skin came about because of an off the cuff comment in the Winamp forums, this one came about because I was bored one day and started playing with the original PSD file.

This version features...
Newley cleaned up artwork, courtesy of my good buddy Duk.
Integrated EQ and Thinger on the main Window.
Fully skinned studio components.
Rinky dink winshade mode.
Some other stuff that I forget.

I take no claim for any of the original artwork, and this skin is here mainly due to my love of the original cartoon, and in some small way, this is my tribute to it, You can like it or you don't , I don't really care either way, remember I skin for my benefit and not yours :)
Download skin
| | | |
| --- | --- | --- |
| December 4, 2003 by Jones Owns | 317315 downloads | |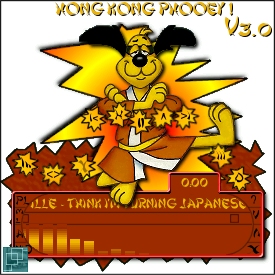 Staff review
The classic hound returns for a personal appearance at Winamp3.
The return of Phooey also brings some much needed class to the Anime category, check out the way the equalizer and thinger are incorporated into the main skin. Great work.
Comments
Lovely work... - Wonderful design, really great skin! - March 21, 2005 by Kitty McGann
It's really great! - Personally, I think it's really great! I mean, I myself am a Hong Kong Phooey lover, and I think that the skin totally brings out the character. - September 21, 2004 by kasey silva
Yup - Boy you might be legally retarded - December 5, 2003 by Vic Z
hmm I dont - think 5 star because it was made real fast. - October 10, 2003 by QuadHeliX Barber
Fun! - I really liked this skin. 1. Hong Kong Phooey is like... the coolest guy ever. 2. It was the nicest skin in the category. The DBZ skin looked nice... but... DBZ makes me cry... - October 9, 2003 by Mumou Bishonen
Cool for oldschool's - I remember watching Hong Kong Phooey and it is STILL a cool cartoon. the skin is done very good. NOT childish at all. It is just cartoonish. :) keep up the good work - April 21, 2003 by Jerry Rice
OH, WOW! - I never expected to see him again anywhere but on Cartoon Network's boomerang channel! I love the originality! - April 19, 2003 by Vinny Mahida
Don't like this skin - First, I don't like the reddish background; Second, IMO the buttons are not labelled clearly & are hard to locate; Last, the windows' title font is shabby. Anyway, 3 stars for the work you've put into making this skin. - February 22, 2003 by Prashanth Srinivasan
very very nice :-) - this skin is the coolest I've ever seen...and every thing works.The windowshade mode is also cool. Good Work Jones Owns ;-) - February 21, 2003 by Tony Berndt
Style and Respect - Not sleek, not greasy, nor metallic, nor over the top. Honk Kong Phooey adds the level of style and grace that other skins long for. - February 21, 2003 by Patrick Neil
Nice and good! - Very funny skin! Also, buttons are OK, very useful, all-in-one. Good work! - February 15, 2003 by Stefano Bagnatica
Fannnnnnnnnrific ! ... agreed ... - I don't like to comment on skins much anymore, but I have to talk a little about this one. What I've found with most WA3 skins (including my own) is that the vast majority of them (again, my own included) require a bit of a learning curve in order to become accustomed to the interface. Not so with Phooey. The layout is so strikingly simple that even a WA3 novice should be able to locate the whereto's and whatfor's with relative ease. It's an easy/fun transition skin for those still crossing over from WA2 to WA3. What really does make this skin so spectacular (for me) tho is the theme. Before we had anything even remotely close to resembling a 'one stop shop' like the Cartoon Network, we actually had to wake up early on Saturday mornings and huddle in front of out TVs on cold floors in our jammiez to catch these lovely programs. And it was worth every effort. The theme of this skin brings back some very fond memories, my friends. I highly recommend you go find a copy of the Phooey theme to play inside this little skin to get the complete experience. Great job once again, brother Jones. This is a bright spot in a sea of dark blah 'Official' skins. ;o) - February 15, 2003 by Duk ...
It not only looks funny - This is one of the most easy to use skins I've seen. It's got everything I need in a skin. - February 15, 2003 by Amnesiac ........
COOL - This brings back the old days when sitting at home and watching this dog kick some major booty. Well done my good friend. - February 14, 2003 by John Sayasavanh