>
Skins

>
Games
Hero of Time Amp v 2
The Zelda series' hero on Winamp!
The Zelda series' hero on Winamp!
This is the best skin I've ever done. The only graphic that isn't mine is the picture of Link. The flame effect on his sword, the background, and all other graphics are mine. Link is scheduled to appear in Soul Calibur 2 when it comes out August 27th, and I felt I had to give him a proper welcome! UPDATE: Changed the color of "Normal" for PLEDIT.txt and skinned 2.9 components.
Download skin
| | | |
| --- | --- | --- |
| July 19, 2003 by Daniel Campbell | 73521 downloads | |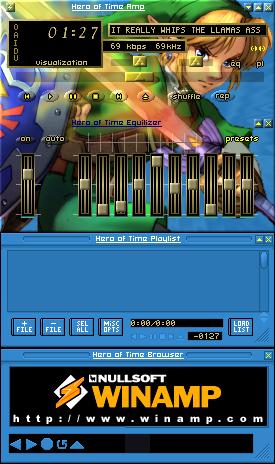 Staff review
The pic is nice
The skin overall is not bad, but it needs some improwement. 2.9 components are not skinned.
Comments
wow superb - totaly cool i lake ledgend of zelda - August 10, 2007 by joop van der velden
Pretty good - Pretty impressive, I love the main window...it couldn't have been done better...however because of the main window the Media Library...although you can see it and read everything it can be hard to read sometimes....otherwise well done, I'd say about a 4 and a half... - February 18, 2006 by Mark Ninnis
link skin - the skin was very good looking and well "drawn" i dunno its nice - December 23, 2005 by Aaron L
Really Nice - If u are a Legend Of Zelda Fan... You must get this skin... it's a really awesome skin! Take My Word - August 30, 2005 by Shrumru Simegato
Great skin!!! - This is one of the greatest Link skins i've seen. Colors are great, buttons are nice, and of course, LINK!!!! He's so cute!!! Very Nice. - January 23, 2005 by Yuna Heartilly
Very Nice - Beautiful skin, very well done. =) - January 3, 2004 by Tim Nicholson
great skins - this is alsome I cant wait download it. - July 27, 2003 by wilson sharp