>
Skins

>
Entertainment
Halloween Town
How awful our christmas will be!
How awful our christmas will be!
Based on Halloween Town from the movie "The Nightmare Before Christmas," and all graphics were made from scratch in photoshop. Have fun!
Download skin
| | | |
| --- | --- | --- |
| April 6, 2005 by Luigi Hann | 263912 downloads | |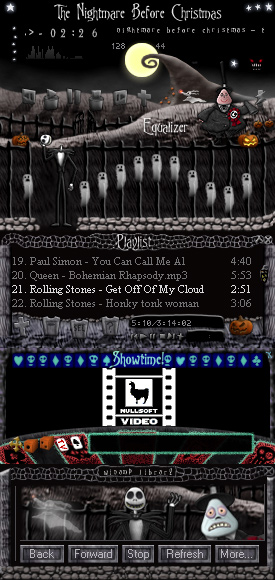 Staff review
What's this...?
Oh I can't believe my eyes, Ok I am biased here, NBC is just about my favourite all time film and this skin captures it brilliantly, from the subtle animations and intricate details on all the windows, it's just great, if you are fan you need this skin, if you are not a fan you need to watch the film, become a fan and then get this skin.
Comments
Awesome! - I absolutely adore this skin.It matches my myspace and my Google homepage.I love the NBC! Kudos to you, Mr.Hann, for creating this skin. - October 14, 2007 by Heather Graft
bad ass - it'll be cool to make a rob zombie one - October 1, 2007 by Alex Restivo
Great, as usual - I always love your stuff, Luigi, and this is no different. I'm currently working on NBC computer stuff, and this will be perfect to listen to my tunes on while I'm working. - June 4, 2007 by Andrew Catluvr2
amazing!!! - if you are fan of jack you gonna love it. - March 11, 2007 by sandra quinteros
Great skin - Takes a bit to find the volumne and pan buttons, but once you do you see that this skin is very fluid and looks more like art than it does a normal skin. Very snazzy - July 5, 2006 by josh g
OMG I LOVE YOU - luigi, you never sease to amaze me... - November 7, 2005 by Gray Sperry
great !! - everyting is match !! - November 5, 2005 by ling ling
Halloween Town - I love the Nightmare Before Christmas and this skin is an excellant skin with many interesting features and it is very well done. - August 6, 2005 by Jennifer White
GOOD JOB - I'm a lover of this movie, thaks ... there are some things that can be improved ... but this is such a great skin ... good job - July 25, 2005 by may perez
not a good skin - Nigthmare can have better skin... this one is so poor, haven't good visualization. - July 23, 2005 by miko lin
Oooh! - Wonderful images, stunning detail, and it totally captures the overall feel of the movie.. I love it! Also, Bohemian Rhapsody = thumbs up. ;) - June 7, 2005 by Melissa Osborne
nice, but looks familiar - I love the movie as well, and the skin is well done...but it looks very similar to the skin I made in October. Nightmare amp also has that graveyard scene....... oh well its still cool, though out of season i suppose - May 16, 2005 by Ryan The Girl
excellent. - this skin's excellent. everything here is perfect. I'm not the biggest fan of the movie but the fact that I like the movie and that this skin is so great is enough for me to have it. my best friend's gonna love it. - April 22, 2005 by ana thema
?Z?i?R^^ - ?????????x?P??~?u???????w^^ - April 20, 2005 by t7819 t7819
bla - Nice skin *gives u a thumbs up* keep u the good work - April 14, 2005 by Benjamen Brown
hallowen - it s a gorgeus image and i would like to have it - April 10, 2005 by rasvan raduta
O - O - April 9, 2005 by CYNTHIA C
Very Nice - Very nicely done and very complete. I like the little ghosts on the equalizer. I wish the progress bar had a little something special, a ghost or Santa\'s sleigh. Maybe in Version 2? - April 8, 2005 by Thomas Bryner
MEDIEVAL ERA - IT S A NICE PICTURE AND FUNNY.I LIKE IT,OF COURSE IT S A VERRY EXPRESIVE! - April 7, 2005 by rasvan raduta