>
Skins

>
Compact/Utility
GreenDream
Made for DeskMod Love Contest
Made for DeskMod Love Contest
My latest Winamp3 skin Green Dream follows my typical path of minimalism mixed with a simplistic design which makes the skin not only easy to use but easy on the eyes.Included in the skin is a playlist with a shademode, and equalizer, a thinger as well as two shademodes for the main window. Also included are two basic color themes which make the skin a tad darker for those of you who think the skin is too bright. As for other color themes, they're not really possible right now because winamp3's color theme system currently doesn't support text objects and there borders.The name, of course, comes from DeskMod being gorman's and iMike's dream and it just so happens to be green :)Special Thanks to Jeff, Bizzy, Petrol Designs, and all the other testers who loved the skin :)Fixed Snappoint problems (basicly I just took out the shadows :)Change the color of the thinger icons to go with the skin a little better.
Download skin
| | | |
| --- | --- | --- |
| January 20, 2003 by David Serrano | 192307 downloads | |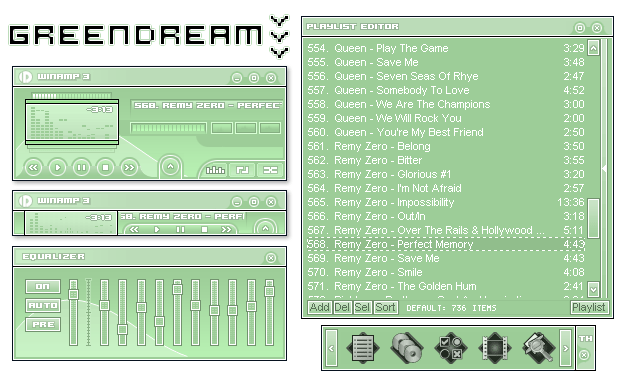 Staff review
GreenDream with a green theme.
Nice relaxing skin in a world of clutter.
Comments
Love it - It's awesome, great color for my aston layout(evergreen). Only thing that threw me off was the location of the seek bar and the fact the seekbar doesn't really work as of keeping track of the song's time. Love it. - February 12, 2006 by Nick Nelson
:( - whenever i try to download the skin it doesnt work it automatically goes back to the original winamp skin help? - November 25, 2005 by Dead RECKLESS
hmm... - At first I thought it was better than 'Underscore'- shuffle and repeat have made an appearance! and the few colour themes (even though theyre not to my taste) enable us to use the WA5 colour editor to get rid of that horrible green. BUT... shademode isnt as compact as in Underscore and the Vis also goes a bit glitchy in shade mode..... and for some reason i can't resize the Media Library!! [otherwise it may have been 5 stars] - December 14, 2004 by Rue Davies
by David Serrano - 14 - October 28, 2004 by Helena Zimackova
Crash!!! - Well it looks lovelly on the screenshop, yet maby you would want to make it more Readeble! And i got a error when you try to load it? Da King Sting - October 22, 2004 by Da_King Sting
perfect! - Its got that south miami/mint chip ice cream theme...deffinately needs some other colors but i'm lovin it. - June 7, 2003 by Jan Jensen
I prefer blue - I would love to see this exact skin in blue, or purple. Or with a nice picture of Gwen Stefani (from No Doubt) somewhere. :o) The white lettering was hard to read but not so bad. It was a little jittery when I moved things around a bit. - May 30, 2003 by Miss Deceptions
Good Job - Hey, that's pretty good. Nice job. - April 1, 2003 by Reilley Adamson
hmph. - but.. but couldn't it be something instead like.. 'RedDream' for instance?? otherwise.. hey its okay i guess. - March 27, 2003 by Kat :o)
Causing failure - Ok, seems great on the site but it makes WinAmp fail with Windows XP ! I don't have this problem with other skins... However, I'd like to try it. - February 10, 2003 by Stanislas Michotte
wooow thats good - i like this, but make some better color themes ;) - January 29, 2003 by VooDoo`
As mint as can be - literally speaking. Waiting for more color themes! perhaps one with just a little more contrast in the text/console colors...anyways, my new favourite! - January 23, 2003 by sonic gringo
Green - -GREAT GREEN- - January 23, 2003 by ake land
nice - but it would be great if you make more color themes for it... If you don't want to make other colors than green, you could do another tonality... But it would be very cool if you do a pale blue or rose theme/skin - January 22, 2003 by Yanizu Osborn
beautiful - absolutely beautiful - January 21, 2003 by Emmett Fikus
Nice - But the letters are white which are hard to see :/ - January 21, 2003 by 9inch nail
I really like this skin - I gave 5 stars because of the originality of this skin, FINALLY a good, good looking, functional, rectangular skin. Some colorthemes in the future would be kinda cool, but not a must. Though I do think it would be alot nicer if the thinger icons were colorized to match the rest of the skin, instead of beeing that dull grey color. I also don't know about the shadow, although it is nice, it doesn't make much sense of having it on the main window only and nothing else. So, I think it actually would be better without it.. Other than that, great work man! -Plague - January 20, 2003 by Linus Brolin
Snap Points - The snap point problem isn't really my problem. Winamp3 doesn't seem to handle snap points very well. - January 20, 2003 by David Serrano