>
Skins

>
Stylish
FX-TEAM
iN dHA hOUSE!!
iN dHA hOUSE!!
The main reason for this skin went to dedicate it to all the FX TEAM that little by littleto been growing, to all those that with pleasurethey have collaborated and supported in everythingwhat they have been able... by all of them goes this small skin which I dedicate with much pleasure.I hope that they like... :D
Download skin
| | | |
| --- | --- | --- |
| July 27, 2003 by Infected FX | 13583 downloads | |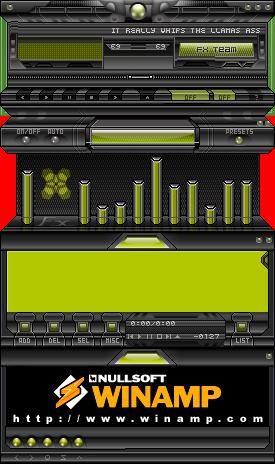 Staff review
Dedicated to the FX team.
Green, dark with green, a lot of green.
Comments
o_0!! - WOW!! You r amazing men!! this skin its very very cool!! congrulations... - August 4, 2003 by Carlos Alberto Luna Ayala
Whoa... awesome! - Awesome man! always the best quality!!! thankz! - July 27, 2003 by byte me
WOW - Very cool infected, I hope see the next skin soon FX TEAM forever - July 25, 2003 by Surfo fx
Excelent - Woow man that is a real skin !! man is excelente that your skin is here in winamp.com and we are wating for the next infected skin ... Buen skin man eso si k es un verdadero skin y esta con madres k tu skin este aki en winamp.comy pues toda la gente esperamos el suguiente - July 25, 2003 by mOrbo new
Wow... O_o - Another great creation for the Master, Infected you are one of my favorite designers and sure, my best friend, congratulations brother, your jobs are the best, only you can express the true sense to be an FX. - July 25, 2003 by Miguel Garcia
O_O WoW !!! - I'm honored to be part of such a great team and thanx infecthiux ?_? your work is always AMAZING !!! - July 25, 2003 by Dorian Martinez