>
Skins

>
Entertainment
FRIENDS 1.1F
Fan of The Friends ?
Fan of The Friends ?
Skin for the Best sitcom ever...Features: Main, Playlist, Media Library, Equalizer, Video, AVS, Winshade skinned..Choose your favourite character for the equalizer panel..Also you can choose from 70 colorThemes (right-click > Skin Colors)..Version 1.1F fixes: Fixed the ability for the main window to be turned off. Fixed keyboard input problems.
Download skin
| | | |
| --- | --- | --- |
| January 25, 2011 by Ghabrius Klemas | 1398721 downloads | |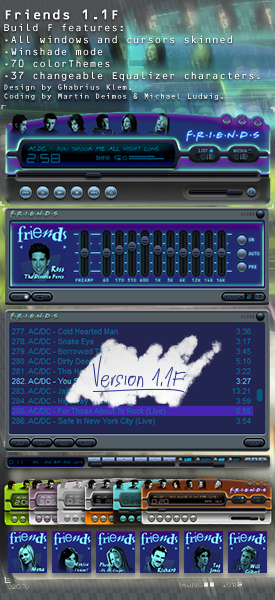 Staff review
Amazing Friends skin
Wow! You finished it! Amazing job! I love the colorthemes! All of them are suberb. Great design, simple and clear, usable even if you're not a Friends fan. Thank you for your submission.
Comments
great skin - March 30, 2011 by tommyjr700
Like the skin... nice work - March 24, 2011 by Tommy
This is a great skin - March 10, 2011 by larhonda1