>
Skins

>
Entertainment
FLIGHTPLAN
Please fasten your seatbelts.
Please fasten your seatbelts.
Follow the Flight Plan Winamp 5 skin as you are flying at 40,000 feet in a cavernous, state-of-the-art E-474 aircraft. Kyle Pratt (Jodie Foster) faces every mother's worst nightmare when her six-year-old daughter Julia vanishes without a trace mid-flight from Berlin to New York. Finding herself desperately alone, Kyle can only rely on her own wits to solve the mystery and save her daughter. This updated version features a Country Selector to customize the skin to your locale.
Download skin
| | | |
| --- | --- | --- |
| September 16, 2005 by Flight Plan | 700487 downloads | |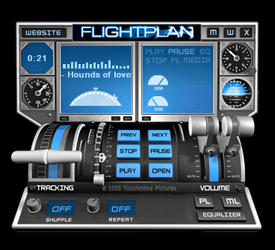 Staff review
Take to the skies.
It's like flying a plane! In Winamp!
Comments
Very Interesting - At first look, I thought, great looking skin as its so unlike anything else out there. Great idea, but I think it was released too early. The handles on the volume and tracking disappear as you increase volume....these should have stayed and not vanished for a better look i think.Also, some functionality of the gauges might have been nice as they are just static. Other than that, nice idea, but needs a rework in my honest opinion. - December 24, 2008 by Chris OBrien
lerolero - muy bueno.. no se de que pelicula o programa es pero bueno.. las manijitas se mueven! :) jojojo - January 16, 2008 by Estefi Soria
[email protected] - demix - October 7, 2007 by david bertok
best choice - best choice for aviators ;) - January 10, 2006 by Zafer EREL
PERFECT - all the controls are easily located and it is a must have for users, don't give two hoots about the film!, not seen the film, not going to, but this skin is superb! GET IT - November 11, 2005 by ash hough
Cleared for Take-Off - Really nice idea! Could be more realistic but still the best 'cockpit-skin' I've seen so far. There's just one bug: when the levers exceed the outlines of the panel they are cut off... - November 2, 2005 by Gordon Becker
perfect skin - I very like it !!! - November 2, 2005 by giant 007
JESUS i nearly took off - this is wicked im personaly a plane enthusiast so i love it. ***** - October 10, 2005 by Simon Jovanovic
Wow. - Nice easter egg! i love how it flashes with the bass! I hope to see more skins like this in the future. Well done! - September 29, 2005 by Alan Farquharson
Purely for the volume - Very nice animation, even when running my reasonably low-spec pc (800Mhz processor, 256 RAM). Shame about the levers clipping though - the edges are not visible as they disappear with the transparancy behind it (maybe it's just me?). I would give this a 3 star, but the controls are very impressive - hours of fun to be had... well around a minute or so. - September 26, 2005 by Tim E
100 - the most one - September 24, 2005 by ahmed adel
Great Skin - I absolutely LOVE how the volume and seeker work on this skin. I could seriously just play with those levers all day long! This skin is my new default. Five stars! Bravo! - September 21, 2005 by Ground Hawg
i feel cheated - interesting skin, but... 1. the dials unfortunately don't do absolutely anything. anything? anything! come on, people, would it have been so hard to make'em move with the beat or something? too many thingies in this skin that don't do anything. and there's even space left unused ;) . who rushed you guys? :P . go home and finish this skin... 2. there's too much freakin' text in this skin. it's like a damn novel in there. Shakespeare would be so proud... --- it's really 3.5 stars, but i'll give it 4, because it has potential. - September 20, 2005 by Sam T
KOOL LOOKS - This is such a coool looking console. Excited to see this one! - September 20, 2005 by Bobby Field
so close yet so far - Why aren't the shuffle and repeat buttons animated? And why are all the windows besides the main winsow so generic? The volume and tracking animations are great, and most of the buttons are good, I just wish the shuffle and repeat buttons were smooth and the other windows fit in better. - September 18, 2005 by Luigi Hann