>
Skins

>
Retro
FEUEREIS
Featured Skin, November 13, 2003.
Skinned everything! Fittin' the design of FEUEREIS.com (which I did for an Austrian brass-band-project - check it out!)
ENJOY AGAIN!

Based on my meatlove skins, I tried to publish a more, hm, decent one. Also I completed the skin, so that all winamp2.9 windows are skinned (with a glimpse to upcoming "winamp5").

You like it? So drop a note.

chrismale.
Download skin
| | | |
| --- | --- | --- |
| November 13, 2003 by chris male | 82902 downloads | |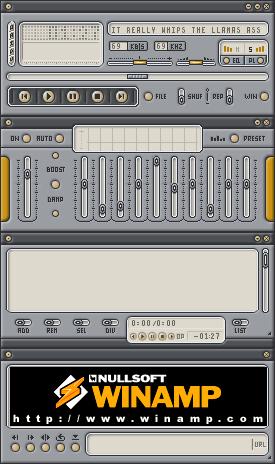 Staff review
Yes, I like it. Here's my note. :)
Simple, yet some real good stuff. Apart from that it is very user friendly.
Comments
Nice! - My current skin :) Really nice - July 4, 2006 by Authrom A
The Funk - I really like this Retro skin you guys have here reminds me of the funky shit thanks winamp another great skin and i love how you guys are keeping it real so have a good one guys late - January 16, 2004 by Aamir Khan
beautiful - Simply great! Has everything and is really an eye-candy - December 8, 2003 by nico leRuss
Abraham Lincoln gave it - ACR - CLIPPONSREUNIS, c'est encore mieux que des raviolis precuits gave it. - November 30, 2003 by Jean Merde
HELP ME ! ! ! - Have you got 'nothing of emptiness' skin, if you have, please mail it to me! [email protected] - November 27, 2003 by altair4444 .
Sleek and slim with a trasparent head - Functional and sleek. the only skin I seen that I've liked for more than 10min since I started using winamp. - November 21, 2003 by Alastair Drong
Awesome! - Its great and way better than those skins where you dont find the buttons... 5 Stars for you! - November 16, 2003 by Christopher Herb
feuereis - i do not no - November 14, 2003 by Kim Britton