>
Skins

>
Animated
erase_me
I tried to edit the skin some days ago and now the wsz is corrupted, so I'm uploading it again
I tried to edit the skin some days ago and now the wsz is corrupted, so I'm uploading it again
I wanted to make a handmade skin, so I made a sketch for it and since I thought the sketch alone wouldn't be enough, I decided to apply a plastic texture to it along with some other pc generated effects, apart from which everything else is handmade (you can even see my handwriting through the skin windows). I just hope someone else will find something of value among these pencil lines and eraser trails.



July 11, 2005. It may be late but I just noticed that some chars in the gen.bmp file were messed up; now they're fixed.
Download skin
| | | |
| --- | --- | --- |
| September 6, 2004 by ana thema | 481892 downloads | |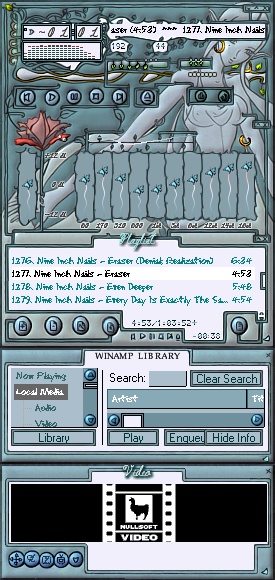 Staff review
Amazing
Wow, simply amazing skin, beautifully organic looking, while at the same time fresh and clean, a great classic skin.
Comments
Simply the Best - I've been using this skin for years and still haven't found a replacement. Extremely creative and pleasing to the eye. Even if you aren't an anime fan. - January 26, 2009 by Mat Perich
my favourit - realy nice - October 5, 2007 by Gnni Kox
tender soul - dreamful - January 28, 2007 by katia yakimenko
Absolute...WOW!! - Hey i saw this skin and i thought...i HAVE to download it just because it looks downright spectacular!!! I got an account JUST so i could comment on it. This is a masterwork of artistic design. Ana your an incredible artist WAY TO GO!!!! - January 9, 2007 by Joshua Clements
Neat - Nice look to it. The handwritten effect is very well pulled off. :) - July 3, 2005 by seliah keller
Extremely Imprssive - You can always tell a serious artist by how they critique their own work. I don't care how many mistakes you think you made - to people like me that wish they could draw worth $0.02, this is eye candy. I love it. :-D - June 29, 2005 by Willie Odom
HUM.! - pretty! - May 15, 2005 by kim meejung
?????GENIAL!!!!! - En primer lugar gracias por dar tu opini?n a cerca de mi skin de evangelion q' aunque muy sencillo (no estoy muy familiarizado con las herramientas de dibujo avanzado)es totalmente a mi gusto. A cerca de este skin tuyo, te comento q' ya hace tiempo q' lo habia bajado y esta ^o^BIEN BUENO ^o^, apenas me di cuenta de q' era hecho por una paisana (^_^deberia darte pena no incluir texto en tu propio idioma en la info del skin ^_^) me gusto a?n mas este skin, te felicito por tan exelente trabajo. Por cierto si de pronto te gusta Gorillaz, te recomiendo mi otro skin. - April 21, 2005 by Alvaro_Jose Varela
my idea - it's pretty kwel i like the colors... yeah.... it's kwel! - April 9, 2005 by ariel castle
Whee - This skin is way cool. I like it. The image in the background is great. Very very nice. - January 23, 2005 by Awesome Ashley
Awsome - It nice to see some one with actual talent. My only problem with this skin is that some of the buttons are hard to identify, the leaves and rain drops. - December 1, 2004 by David Meloon
waouh - the playlsit writing is a bit hard to read, but ity's beautiful - November 14, 2004 by Darkside Blues
Simply WOW!!!! - Hey out there!!! This is the best handmade skin I've seen in my whole life!!!! Nice work girl!!! Come on, you got to keep it up!!!! - November 9, 2004 by MrG Stephan
fantastic!! - Can u give me some skinning tutorial??.......i'm asking this because you are the best winamp skinner in this whole world. "ERASE_ME ROCKS". - November 8, 2004 by Srijan S
Comments - Nice and Creative, but hard to see. It does need more contrast. - November 6, 2004 by Savira Kinista
erase_me - I love it. - October 30, 2004 by Trista Lockton
by ana thema - 13 Reviews - October 27, 2004 by Helena Zimackova
Hmn... - Although beeing well drawn - and having that "freehand-feel" - think this skin is far to busy. Intergrating a character in a skin is a tough job and i think it mostly just becomes clumsy... There are some cool details like the vol/bal sliders and the EQ/PL buttons. However the ID3-text is not very clear and neither is the posbar... Also stuff like wrong inner playlist-window colour seems to throw off my eye - so does all the small text everywheres. Major thumbs up on the cursors though. They are very nice. And although the "pillow-embossment" looks a bit flat - it still works good. Keynote - Nice idea - but too crampy and clumsy outcome IMO. >bunji - October 20, 2004 by bunji design
Oh, Emm Eff Gee. - WOW. To think I found this randomly. Truly a gem and a wonder. I have to congradulate you. *applauds* The art is beautiful, and has a very comforting feel to it. The characters in the font even match the setting. Again, kudos, you've outdone yourself. - October 9, 2004 by Benjamin McCabe
Wonderful - Really you make a wonderful skin for us. So, I want to thank you for name of all Turkish people - October 5, 2004 by Carlos Alfonso
wow - I signed up for an account here just to give this skin 5 stars. It is absoloutly beautiful. Keep up the great work! -Frank - October 1, 2004 by Frank Leonetti
Magnifis - It's fantaxyk!!! It's the most beutiful winamx skin I'v ever seen =) - September 29, 2004 by You Chen
Indeed a fine peice :) - only skin ever to stay with the equalizer :) thanks for that dear :) - September 25, 2004 by Yotam Ivgi
Good Effort, Mediocre Functionality - Definitely dig the plasticized filter applied to the clean, appealing sketches, but aside from the great EQ, the interface is clunky and confusing. The Progress Bar, for example, would benefit hugely from a slightly thicker path than the tracker, and a lot of contrast. The little leaves on the volume bar are genius, but the segmented slider makes accurate compensation require some studying. Not my favourite, but I am impressed by the skinner and look forward to future entries. - September 18, 2004 by Ike Eisenhower
beautiful skin - dream beautiful must tyy it - September 17, 2004 by chen sophia
wow... - This is just the best photo skin I've ever seen...Very smooth and stylish... it surely deserves more than 5 stars... you must download this skin even if you're not a anime fan... Hooray for Ana Thema! - September 12, 2004 by El-ArGeNtO (Fernando Adorneti)
New Favorite. - I think I just found a new favorite skin. I have been using the more modern skins for a while now but this one made me step back and say WOW. Great job with the skin the cursors and everything else, excellent piece of work. I hope to make such a nice skin someday. 5 STARS! - September 7, 2004 by Michael Landa
holy #&$*(@ - Beautiful. Very Beautiful. I see you have Nine Inch Nails in your Media Library. (Nice) I love NIN and I love this skin. I'll give it 5*'s. ps. You got nice handwriting. - September 7, 2004 by Charlie F
Beautiful - Good job on this skin! - September 7, 2004 by Cat Dreamer
Don't erase it! It's great! - This one is excellent! - September 6, 2004 by Veronica Mogni