>
Skins

>
Cool Devices
EMP
Featured Skin, June 26, 2003.
Evolved Media Player. EMP is designed to be fully functional, easy to use, look cool, and not use too many system resources in the process. Features: Cool Play/Pause button animation, all windows skinned, modular thinger & EQ & color themes windows, lights visualization, three useful skin modes (normal, bar mode, and remote mode), skin options window with a few performance tweaks, cool color themes.Windows 2000/XP reccomended, but not absolutely necessary
Download skin
| | | |
| --- | --- | --- |
| October 1, 2003 by Andrew Mackowski | 2732763 downloads | |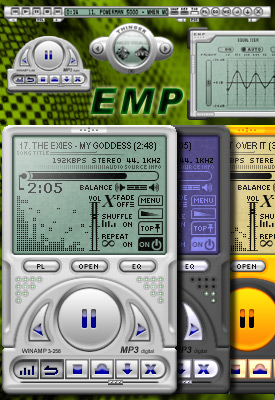 Staff review
Excellent work.
Nice appearance, compact, color modes, what else would you like?
Comments
Nice - I really like it's form and that it's not to big :) - June 22, 2009 by memmi_89
a little different - i like the thinger window haha - November 6, 2008 by Robert paltrineri
july 27.2003 - It's very good!!! - December 18, 2007 by Marcin Kucharski
supreme skin!! - over the topprops - August 5, 2007 by Ramon Sturzenegger
toto - ta gueno - July 30, 2007 by cesar tovar
Small, but effective - I've been using this skin for quite a while now, and I have to say it ranks among my top 5 favorites. - May 14, 2007 by Jordan Whelan
Perfect - Easily one of the best skins available on this site. Very customizable colors, to fit in with the backgrounds I have. Awesome flashing lights. Compact, easy to read and figure out. And I can adjust the opacity or display mode if I desperately need the screen space. I can't think of anything that would make it better, except maybe an engraving of my name, or a Hot Dog Stand color theme, just for comedic relief. (Though "Watermelon on Fire" comes close to achieving that) Well done. - March 17, 2007 by Michael Aherne
goooood - Bravo - February 17, 2007 by Emil Andreev
Clean, clear, but where's the tracker in bar mode? - The nomrmal layout looks great. It's very clear, the buttons are placed cleverly. A wide range of color themes. It would have been perfect if only they had paid more attention to the bar mode. The volume control and the tracker on the bar are so 90's. You have to click on a tiny button over and over again to skip throughout the song. There's no progress bar. Add that and a sensible volume control in bar mode and you have my vote. - February 3, 2007 by Ioan Baba
Excellent - Functional and good looking! - January 14, 2007 by Bradley Beacham
Artem said... - ?????????? ? ???????? ????. ? ??? ????????, ???, ? ??????? ?? ???????? ?????? ????????? ??????, ?? ????????? ??????? ????-???? ?? ????. - December 18, 2006 by Artem Karpenko
I like it! - Love the skin, try the Stealth with orange color..something to drool on! - November 22, 2006 by Salil A
Great - My favorite skin! - October 29, 2006 by Travis Rice
m - I like it:) - October 25, 2006 by natalia foremniak
WHOA!!! - Truely the BEST skin i have seen so far, even better than EMP 2, this skin is amazingly beautifuly designed, i envy your creative capacity. IT ROCKS!!!!!!!!!!!! - October 8, 2006 by Wondertea Teawonder
emp - very nice - October 4, 2006 by niki m
Awesome - I like this skin a lot, looks great. Nice job. - September 25, 2006 by Alex M
Sweet - Love it, can't deny it nyah nyah - September 19, 2006 by Andrea Schiefer
Cool - IT looks like an ipod video man! thats the coolest skin ive evere seen! - August 14, 2006 by Nikesh Mehta
my star - wow this is cool - June 25, 2006 by Abhishek Sharma
EMP rocks! - ***EMP rocks!*** With three different sizes from which to choose, and the ability to change opacity and color-modes, there is something for everyone here! The ability to resize in all three modes is super-sweet! I think this skin has more functionality in \"bar mode\" than any other skin I have tried to date! GOOD JOB! :) - June 23, 2006 by Betsy Jordan
Superb - This one is my favorite. - June 22, 2006 by Ceren Erbay
great buttons - great button use... - June 9, 2006 by Joe Caruth
Many features but too big.. - It is a great skin, has made many features acceassable easily, but it is too big and occupies a very big part of screen.... - March 13, 2006 by parv nutUrBzNs
Excellent - What's more to say? Wish the main controls were resizable! More is better! :) If I were the suspicious type, I would say this was styled after my bike odometer! Don't know the limitations on color pallets, however I would love to be able to tweak the sheen or polish of the silver colors. - February 27, 2006 by Steven Gomo
emp - me parece muy buena - February 24, 2006 by Enzo_Gustavo Cascante
i like it man - i think it has cool screen nice setup good shape great feature shapes so over all its prity cool well done mate - February 19, 2006 by luke larney
A worthy alternative to MMD3 - Definitely worth a try. I have been using MMD3 for a long time, but this may make me switch. My only gripe is that this skin cannot be ran in double size, so it is a bit hard to see at high resolutions. - February 17, 2006 by dale folsom
fvrgb - efrre4 - January 26, 2006 by Amon Demon
Ghost - I usually prefer the old fashioned style Winamp skins, but this one is cool, you don't need to sit and stare at it trying to figure out where everything is. Nice Work! - January 13, 2006 by Ghost u
EMP - I like it - January 12, 2006 by Dimitar Parashkevov
For sure - Thnx for sharing Your special work. Because that compact & sophisticated skin I don\'t need to try create one myself. I\'ve returned using winamp (5.x) again and only Your skin can make me doing so in the future for sure. Best Regards Marek Wojtal - December 29, 2005 by Marek Wojtal
great skin - Great skin. Lot\'s of great colour schemes. \"Watermelon on fire\" is a little scary though - November 9, 2005 by Elizabeth Climis
My favourite bar skin - I've looked long and hard for a minimalist bar skin that looked good, was space-efficient, and had easy to see /&/ use controls. My search is at an end! By scaling to 114% and setting opacity to 30%, it fits /perfectly/ on my title bar without being distracting. Bravo, Andrew! - November 6, 2005 by Deadly Dad
brilliant - i love this skin. its has everything, but itn't complicated looking or confusing. and the bar mode is really nice - November 5, 2005 by lily xiong
Almost perfect... - Pretty much perfect beside that big giant play/pause thing and oh yea the seek bar blackground color doesn't reset when you play a new song leaving a dark blackground made me confuse how far the song have played. :( Darn that seeking bar. - September 25, 2005 by Nun Poom
show - Ta d+. - September 6, 2005 by Joao Sousa
Superb - Excellent, easy to use and very fun to play around with. :D - August 22, 2005 by Skim Kim
Verrry nice! - A well thought-out, full featured amp. Bar mode saves screen real estate when things get crowded. - August 19, 2005 by James Bond
SMS - Just Simple... Just Modern... Just Strong!!!... Congratulations. - August 12, 2005 by XyX Zen
EMP is it! - Tried a LOT of skins over the years I been using Winamp. One of the all time best! - August 12, 2005 by Mark Maiville
Cool and Compact.. - A nice tidy skin and cool to look at.... - July 28, 2005 by Mike Pollard
Clean and compact - Very nice skin. Easy to use, buttons right out there easy to find. Nothing complicated here. Decent selections fo color schemes. Compact enough to leave on top, tucked in a corner. Bar mode has controls that are clear and well labeled. Eq design is unique. Highly recomend this skin. - July 16, 2005 by Wolf Bringer
by DJ_BrEaThE - wery cool skin... - July 13, 2005 by Kaspars Bleidels
coool - It's cool skin - July 7, 2005 by DJ_LINA DJ_LINA
Awesome - i looked through quite a few skins and this is the only one that i could properly layout winamp to how i like it. Excellent job! Brill colour schemes aswell :) - May 12, 2005 by Ben West
Simply Great - Great design! And very useful! One of my most appreciated skins now. Words alone can not describe it, just give it a try. - May 6, 2005 by Sephiroth FinalFantasy
ShoestoneD - this is without a doubt one of my all-time favorite winamp skins. EMP offers a variety of functions as well as a simplistic interface. with this skin your options are virtually limitless. not to mention, it's got mad style. this is the ideal skin for the ideal winamper. rock on with winamp. to the creator...where's EMP 2? - May 3, 2005 by Justin Shoemaker
. - . - March 24, 2005 by mb10433 mb10433
I LOVE IT!!! - very easy to use, looks amazing, and very compact. Keep up the great work! - March 5, 2005 by Troy McMurray
Good job - This is one of the best skins i have ever seen!!!!!!!!!!!!!!!!!!! good job - March 3, 2005 by benny ceuppens
Wauw - I love this skin.. It's great ;) - February 8, 2005 by Kiki pixie
Awesome Skin - Easy on Eyes - This skin is Awesome - the setup is perfect, and the color schemes make it customizable. The only problem was deciding the color scheme! Great Job! - February 8, 2005 by Frank Vasquez
Wow! - Small, compact skin. Cool. - January 30, 2005 by Wicked CAT
This one is the best - I ahve been using this skin for more than a year now and I still think it is the best. Small, beautifull and easy to use. I suggest this skin to everyone. Clear but still very, very nice. - December 30, 2004 by Erik Loeffen
iPod'ish, but nice nonetheless - Here's a good skin, the colour combinations are VERY good....youll probably use this skin for a day or two and then forget about it.....the only problem with this one is the HUGE pause/play button, i mean cmon, were not blind! - December 26, 2004 by Anish Banerji
Sleek And Innovative - It's an awesome innovative look anyone would be proud to sport on their PC....easy to use and easy to look at... - December 1, 2004 by Debbie Lyons
:) - if your going to make a skin why not include all the different screens, most skins only include a few windows, this one fortunatly uses them all. since i downloaded this skin i have used no other - November 11, 2004 by chris toon
Perfection - It's the best i've ever tried ! It's like the Microsoft's revenge over the Ipod !! - November 3, 2004 by Nicolas Provost
Perfect - Scaling is perfect. good job - October 23, 2004 by Turgut TTT
Not Bad - The full view reminds me of the M-Com from my Playstation 2 game, SSX3. I'm just not really satisfied with the compact mode. It looks great, I just hoped it would show the remaining time of the song and some of the title of the song. I've a large collection of MP3s and sometimes I can't remember what's in it. - July 6, 2004 by Vivian Tong
Easy to use, but ugly - Easy to see and clean buttons, but ugly layout. In particular, the "remote" mode is terrible. Just not my taste. - June 3, 2004 by Pascal Getreuer
go go to top - very cool - May 31, 2004 by almotsam ali
excellent - Simple, smart, clean, and very customizable! I love this one. By far the best modern skin I've used. It's a keeper! - May 21, 2004 by Neil Pridgeon
Great art-work - Congratulations EMP author, good job, simple, clean, excellent arrangement. - May 15, 2004 by Carlos Sandoval
looks nice but - i wouldnt use it....too big buttons...yo, i'm not a blind oldie that use large btns telephone....:P mayby if the layout were remade...like to put the lcd to the right, it'd be realy better:) - May 7, 2004 by dm909 dm909
Wunderbar! - i love it!! it's the best that i've ever seen! - May 6, 2004 by NANNETTE Groser
super skin - i just love this skin. i used it back when i had winamp 3 and just love the nite mode. the other skin that i use is kms but i think this one is better in that it has a better nite mode to it. - April 28, 2004 by phil boyd
EMP - This skin is absolutly the best skin. It has many color themes and it is easy to use. - April 7, 2004 by Sebastian Lindgren
great skin!! - probably the cleanest skin i have seen in the past 5 years of using winamp. - April 7, 2004 by brendan mcdaniel
Great Skin! - This is the skin I use all the time, very easy to find your way around for a new user like me...thanks! - March 4, 2004 by Josh Harbst
Superb - Superb skin. Can't get any better I think. Congrats! - February 20, 2004 by Sagar Khushalani
Very Good Skin !! - Very good work ! - January 23, 2004 by Noname Nolast
cool - this is cool - November 27, 2003 by Stephanie Martinez
favorite. - this is my all-time favorite skin for Winamp. the colors rock and its very simple and doesnt take up much space, real harcore skin. - November 15, 2003 by Hanna Choi
Excellent - This is definatly my favorite W3 skin, I used to use the MMD, but it had its flaws that annoyed me. This skin is excellent, in my opinion. Great button lay out, nice visuals. Only thing I don't like, and it's not even that big, is that there isn't a nice black skin, but the stealth blue is pimp. So it's all good. - November 11, 2003 by Rog Welch
This is an awesome skin - People need to shutup about boring colour schemes. Functional skins are much better than flashy ones. This one is both flashy and functional. This is awesome Mackowski, keep up the good work. - October 21, 2003 by me myself
Beautiful skin, but....... - One great looking skin, display is easy to read, nice and funtional. However, the CPU usage on my system jumps up over 70% when I load this skin. Looking at all the other positive reviews, I would guess this isn't happening on everyones systems, as it is quite a preformance hit. If it wasn't for this issue, this skin would be locked on my desktop. - October 8, 2003 by K A
WAY COOL AND NICE!!! - THIS SKIN ROCKS! i like the color changing thing! never seen it before Nice Job!(5 Starz) - September 19, 2003 by Victor Villa
Ont of the best - man this skin rocks its easy uasability and well laid out buttons make it a prized possesion for any win3 user a MUST for every winamp user . Kudos andrew - September 8, 2003 by Pratik Mehta
Great Skin - Terrific Visuals and nice color themes. Thanks for a great skin! - August 31, 2003 by Cole Ruddick
ya - so great . i like it very much! - August 27, 2003 by robert john
Wow - I like that Skin. Very nice design. - August 25, 2003 by Little Teddy
JEBI GA! - NIJE LOSE. KONTROLE SU PRILICNO DOBRE. PREPORUCUJEM OVAJ SKIN. OCENA JE 4,5 ALI JA DAJEM 5. - August 17, 2003 by Darko Rajkovic
Seems to Slow Shoutcast - I'm not sure if this skin uses more PC juice than the others, but it seemed to adversely affect my Shoutcast listening. - July 23, 2003 by Avinash Singh
Very Good - It works very fine here, nice to use it. Nothing more to say than its a great skin. - July 20, 2003 by Leonardo Balter
Great skin but.... - This is a nice looking skin, but I don't like the fact that the other windows don't fit together. - July 17, 2003 by Sam Hopkins
good - esta muy bueno este skin es genial - July 14, 2003 by antonio rodriguez
The awesomenes has arrived!! - One super sweet piece of work even sends MMD3 running for the money! - July 13, 2003 by Devin Hasanally
I Love it!! - This is a very KoOl skin, I love the rugged yellow. It's awesome. Thank you this great skin!! I give it five stars! Regards, Wolfie - July 12, 2003 by Wolfgang Ernicke
Great skin! - My default skin. Great looking, plenty of options and it takes up very little space. - July 10, 2003 by William Eustis
=) - i like!! - July 6, 2003 by Paulo Eduardo
Very Good!!! - a true EMP weapon for all the other skins - July 6, 2003 by Bassam Elias
ACE - This is a superb skin - my new default. It is clean Easy to use Superb Colour schemes Very functional - July 5, 2003 by martin home
Really Cool! - This plugin looks great so far... The color themes offer a lot of change in case you get sick of the regular skin - July 5, 2003 by Clint Alves
Goodie Good - If one would rezise the player, it would be worth five stars.. - July 4, 2003 by Kimmo Vainio
Very nice - I'm running at 1920x1440 resolution right now, and I really love the ability to resize the amp. Lets you shrink it to 50% the normal size, all the way up to 400% the normal size. Means I can actually see the controls at that resolution. Nice, easy to figure out controls. Multiple colour schemes. And excellent use of transparency. All in all, an excellent skin. 5 Stars well earned. - July 3, 2003 by Rob Kroll
great great Skin - wow impressive!! - June 23, 2003 by QuadHeliX Barber
Original - Good and well worked skin. 4 stars for the 4 grafics showed in the skin. Bom trabalho / well done! - June 23, 2003 by Heitor vilnius
Absolutely not average ! - Come on, an average skin is something boring like UOFL or Circlotronic. This is not average. This is more like a bottom-class good skin. But i think it could run for top 30 W3 skins. But it's true the color themes are really boring, and the buttons are uncomprehensible it took me like 5 minutes to understand how to switch layouts. Hey Andrew Mackowski you got some talent, you just need some more experience to figure out what you CAN innovate in and what you SHOULD innovate in and what you SHOULDN'T innovate in because people don't understand what you're trying to do then. Keep up the skinning ! - June 22, 2003 by David Cohen-Tanugi
Nice - No extras but actuaally no extras needed since everything is so clearly layed out, even a dummy could use it ! - June 21, 2003 by Xixi Trollichou
excellent - great best skin - June 21, 2003 by brian chaloner
Great, but... - Great, but if only the main display window wasn't so... old-looking. Maybe you can do a version 2 with a high-tech looking display window, one similar to MMD3 maybe. - June 21, 2003 by Alek Apkarian
Almost there. - This skin has a lot of cool features, and I love the normal mode. I especially like the layout for the main window, and the large visualization area. Even so, I feel a slightly better job could've been done. Some of the controls seem blurry, and the tool tips are incomplete. If you're going to download this one, do it for the main window, because the bar and remote modes still need some work. - June 20, 2003 by Circ Aloriath
Great!!!! - Excellent.. - June 20, 2003 by ake sunday