>
Skins

>
Cool Devices
EMP 2
easy to use!
easy to use!
I've had this sitting on my computer for a while and I thought I might as well submit it. Lots of cool things to play around with (double click on the main window visualization to expand it, eq drawer, color themes), try it yourself!
Download skin
| | | |
| --- | --- | --- |
| May 14, 2006 by Andrew Mackowski | 471047 downloads | |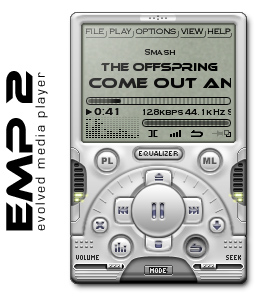 Staff review
Good thing this is not sitting on that computer anymore.
High quality skin with lots of good features. Download it and explore.
Comments
i like it - February 7, 2010 by sherief emad
best skin ever! - I hardly every write reviews or comment and have used various skins before... This is so good that I created winamp login just so I can write this review. great job!!! - October 8, 2009 by tunnelrat7
cool looking compact functional skin - Only skin I use.There's all kinds of other great skins out there, I even have the infamous mmd3 installed, but I find that this is the ONLY skin I keep using.I would have to credit the little volume lights for that, since I am a DJ, they show me the relative volume of a song by sight and it helps me lots.Only complaint is how difficult it is to drag volume or seek bar... but I guess that's what you get for compact.Until the devs create a plugin for track gain analyzing, or a superior skin in all aspects (looks, compactness, volumelights) comes out, I don't think I'll stop using this. - January 22, 2008 by Raymond Wong
Amazing - This is by far the best skin that I have used. It's system usage is very smooth, no choppy interference when changing modes, color options are well done and balanced, the light visuals do not cause any slow-down of performance, the controls are perfectly integrated into the skin. I must admit, I found myself playing with ALL the options like a newbie, (and yes, there ARE PLENTY of options).I tried to find something that I did not like, but to no avail. To put it simply, this skin is perfect. Kudos to the author for the excellent work. I rated this a 5, because the scale does not go up to 10. - August 25, 2007 by Papa Smurf
Love the BAR!! - I love this skin, I use the Bar on top here at the office, I've got WinAmp keyed into my keyboard and this skin makes everything run quite smoothly!! Great Skin!! - April 25, 2007 by Terry Corder
MMD3 has a competitor - Wow! I have used MMD3 skin exclusively for years. Then I downloaded and tried this skin on for size. Nice work! I wish WinAmp had a donate/paypal button. I'd use it! - January 3, 2007 by Ryan Jentzsch
Short...I adore it!! - Clean, functional, love the colours, most of the time is this the skin on my Amp. - December 29, 2006 by Myriam Vingerhoets
Both EMPs share time on my desktop. - Amazing. I loved the original EMP and I also love this version. However, I wish I could change the font to something a little less "United Federation of Planets-y." Regardless, excellent work. One of my new favorite skins. Five stars. - November 24, 2006 by Jessica Tok
Fantastic !!! - Best looking Skin ever with great colorschemes :) - October 31, 2006 by Patrick Metz
Clever - Very well thought out, clear and ergonomic design (especially for such a small device). - October 21, 2006 by Oomingmak R
EMP2 - Love this player, small sleek and very cool looking. thanks for the great player! - September 30, 2006 by Robert Winamp_Site
NIIICE! - I've used EMP 1 for long, i luved it! and this one is even better! - August 12, 2006 by joeyjo0 joey
Outstanding - This is a great skin, man! Perfect for my uses. My computer is hooked to my TV and stereo so the small size is good for the TV viewing. Also it's clean, well laid out and I love the beat meters. I've tried many different skins and this is the only one that doesn't confuse me, has everything I like, and looks good. And it doesn't seem to hog resources either. Beauty...! - July 12, 2006 by Michael Dyck
very kool - hey ppl.... this is one of the best skins i have seen......it looks gr8...it is sooo simple to use and it can change shap to the way u want it. this is a gr8 skin and i highly reccomend it to other ppls. koool as....MEL - July 11, 2006 by Melissa Leane
is this real? - This is realy a very very nice skin. I congragulate the friend who made this wonderfull skin - June 17, 2006 by Sait Cakar
Outstanding - All the commonly used features are easily accessable behind coherent and attractive design cues. Much color customizability as well. Worth the trouble to create an account and log in to rate it. - June 12, 2006 by Martyn Speck
Masterpiece - I have never changed winamp modern skin since winamp5 launched. I did check out new skins from time to time, but no one quite did it for me. Until... its clean, functional, has everything i need and nothing i dont need. (i even made a winamp account specially for this review) high five - June 8, 2006 by Roel Krols
It was me! - This is a great skin, loads of extras. Its perfection at its peak. - June 8, 2006 by karl idontknow
Great ! - Great, Great, and Great - I've been looking for such great skin ever since Winamp 2! - June 8, 2006 by Gil Daniel
God skin - Yer this is great. - June 3, 2006 by Philipp Philipp
Check It, Baby- There Is No Other! - If you're like me, you enjoy plenty of choices and like to play with different faces for your personal pleasure- but this is it. The real deal. I have never quite enjoyed using a media player so much as this little gem. Classic style, ease of use, smooth and functional in design- YEAH BABY! Daddy like! Just try and knock me down off of this cloud designers!! Thank you brother Mack! I dig your artistry! God bless you. - June 2, 2006 by Chadwick Yates
My favourite! - This is the best skin I've ever used in every media player! I think it's nice looking as well as functional. The colour choice is good too. Thanks for that! - May 31, 2006 by va vavs
Bello!!!!! - Bueno est? hermoso, me encanto!!!! y a los que no saben espa?ol se fastidiaron pq lo unico q puedo decir es q esta beautifull!!!!! Look my Space!!!! http://spaces.msn.com/luzenidlamejor/ Love y abrazos!!! ((*_*))The_Best((*_*)) Yeahhh! - May 31, 2006 by Luz Gonzalez
aWeSoMe!!! - its so kewl and techy!! i feel like im carrying some kinda gadget. maybe iPOD. the controls are super useful and easily accessible too. this one is my personal favorite. 3 cheers! - May 30, 2006 by Rahul J
crashes - Looks great but it crashes my winamp when i try to load it. - May 25, 2006 by Sam T
Funkingly COOL! - I loved the EMP 1 skin, its always been a Fav! More more MORE! Having said that, things I'd change... 1. Click on the strobing lights to have bigger version pop out the sides. 2. Just have the screen dissapear in smaller mode so as the PL, Equaliser and ML Buttons dont dissapear. That's it really. Tarrith P.S. Keep skinning dude, it's way excellent! - May 24, 2006 by Tarrith DoUrden
A good job - EMP 2 win Award Of The Year. - May 23, 2006 by Lvpvs Italycvs
WTF - how do you get it back to the ipod setting. other than that it's great - May 22, 2006 by Joey Bozeman
Great Skin - really great skin. even better then mmd3, imo :) - May 22, 2006 by Felix M�ller
Perfection - Simply one of the best skins for Winamp to have ever been designed. Great choice of color themes as well. 5 star rating for this one. - May 20, 2006 by Aaron Boswell
Nice variation - Nothing too startling, but good direction for the EMP family of skins, which are my favorites... - May 18, 2006 by Mark Maiville
it sucks - too small - May 18, 2006 by Daniel Harrisson
This is awesome - I've used this skin for ages now(or was it beta version from this...?). Anyway, quality is very professional and clear. Thank you from this. - May 16, 2006 by Pasi K
Real GOD skinn - Good that mosty of MMD3 is broken. Good that EMP was resumed with EMP2. In particular I like the menu-bar on top of winows... great job! Is ther enything else sitting in that computer? - May 16, 2006 by Johannes Heinsoo