>
Skins

>
Stylish
Echo
Featured Skin, October 24, 2002.
The way things should be.
Echo - David Adamczyk's First Skin.

Ergonomic, easy to use design, ultra stylish slim mode with never before seen transparent visualisation (XP/2000 only), minimizable playlist which clips onto the bottom of slim mode, fully skinned components and 15 unique colour schemes!

Version 1.1 - bugs fixed to prevent crashing (turning off internationalisation helps, too!) and addition of a thinger to winshade mode as per request.


Enjoy...
Download skin
| | | |
| --- | --- | --- |
| October 31, 2002 by david adamczyk | 1431894 downloads | |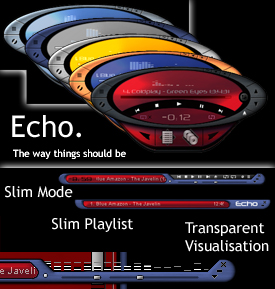 Staff review
There's a new skin in town,
and it's a pretty good one too.
Comments
Virtually Perfect - Both in looks and functionality. The shade mode is particularly well done, including all the essential buttons I need. One small suggestion I would make for this mode, however, would be to make the track progress time display a white font. It's currently black on dark which clashes with the other white on dark text, plus it's very difficult to read (I have to move in close to the monitor). - August 26, 2006 by Will G
serious problems - this one has some kind of script problem and will generate an error right after reporting a script failure.so 2 stars.. - February 19, 2006 by laur s
diggit, but... - It's nice. The only problem I have with it is that the mini-mode isn't quite easy enough to get to what you're going for. The buttons are SO small it's difficult to hit your target. Overall it looks great, and the mini-mode is a better fit in the title bar than MMD3, which is still my fav. skin. - September 15, 2005 by t0rque bolt
... - It ROX - November 22, 2004 by Luke Rahl
cool cool cool cool - very awesome skin. i like almost every color theme and the windowshade/slim mode is insanly user friendly. Big thumbs up. - June 16, 2004 by Jordan M
Choice skin! - I love the sleek lines and color options. Great work! - February 3, 2004 by Dendrobia Azureus
Splendid! - Go raibh mile maith agat. This skin is far and away one of the best.David Adamczyk rules. I hope he keeps working at skins, tho' how he can beat this one......... - September 7, 2003 by Jim Mc Manus
Perfecto - The best skin! It has tons of good color themes that are diffrent combinations and not just a plain one color thing.It runs good and all the buttons are nice and easy to see. If you only download 1 make it this one or invicta cause that one is good too :) - August 13, 2003 by Talia Rhodes
cool skin men???? - jeg savner lidt flere faver - August 7, 2003 by lasse rasmussen
good - simply the easiest skin i've ever used. sleek, smooth visuals, and all the buttons you need. a very funky skin, but missing the x-factor for five stars - July 15, 2003 by Jordan Smith
Excellent. - Really Good. Love it. One of the best in my opinion. - July 15, 2003 by Geoff Stokes
Very cool - Looks awesome, functions well... what more can you (or at least me) ask for? It's great. Simple and elegant. - June 8, 2003 by Lauren Caliolio
cool - quite cool - June 4, 2003 by Wang Cheng
very good - great work. i like this skin. - April 20, 2003 by Xander Harris
K.I.S.S. - This is the best skin that i have ever used; simple, easy, effictive, stylish, and it has a playlist...whut's not to love??? - April 1, 2003 by James Januze
Good - very nice... love it... - March 29, 2003 by Shin Wong
Sweet as anything mate! - Definately one of the sweetest skin jobs I've EVER seen, loadsa fine colour schemes, great "minimal mode" Simply put, it looks the nuts. DOWNLOAD & LOVE IT!! - March 29, 2003 by Jay Dubster
How do you change the theme? - I like it but I got one question. Maybe I'm an idiot but I don't know how to change the color scheme. Don't get me wrong, the original version is fine, I just wanted to know. - March 28, 2003 by Joejoe Moralis
Wow, Finally got it. - Cool. I love this 1. It's smooth wohaaa. I love to play with it. Grr i can't explain how cool and smooth it is but did you get it that it is what i am saying.lol Isn't i am confusing sometime. http://WeAreFriends.cjb.net - March 6, 2003 by Sikander Shahjahan
NICE AND SIMPLE :) - i love this simple, straight forward, nice looking design. good job! - February 28, 2003 by neni oetami
do I hear an echo - Great design, great structure, good use of different color schemes. I use this skin for hours. - February 26, 2003 by James Bouffard
WOOHOO! - This is a REALLY nice skin! I LOVE it! - February 21, 2003 by Nikki Peck
Cool! - For a first skin, it should get a few nore stars. Looking forward to more (and better) stuff from you in future. Take skins ... further :D - February 20, 2003 by Tanveer Yasser
excellent design - well designed not-in-your-face winamp loveliness. Colors work v well together, making it v useable. Top job! - February 8, 2003 by r d
Wonderful design. - This is one of the best skins I have ever seen. Very smooth design, nice implementation of the thinger, great color schemes, and skinning of all components. The controls for stop/play/pause aren't immediately intuitive, but the sheer beauty of this skin outweighs that minor concern. - February 4, 2003 by Starla Pureheart
WOW - This is like one of the most unique winamp i have downloaded, it has easy access to all options of winamp and lets you change the colour to you preferenc, that way even if it isn't matching your taste, your able to change it! - February 2, 2003 by Zi Ling Tam
great - love it, great idea...but it only gets 4 stars though, because there could be more colors... - February 1, 2003 by wesley krueger
This skin rocks - Ilove how this skin fits into my desktop in the corner so now i can play some music while i doing homework or something very colorful themes u got there!!!!! keep making better ones!!!! everyone loves this skin!! - January 27, 2003 by Paul Yang
BEST FRICKIN SKIN EVER...no exceptions!!!! - This skin rocks, I love how it fits perfectly in the unused space in the internet explorer window. Until I saw this skin, i was using "apill" for the simple reason that it was small and out of the way yet accesible and useable. I love the color options. We definately need more like this. This will be a tough one to beat for any skinner, THANKS! - January 24, 2003 by Jared Grieve
oooooo pretty! - I love this skin..it changes colors and cool stuff like that! I love the option of being able to change it! Def would like to see more unique ones like this one! and the minimize, close etc buttons change color when your mouse goes over them...a def plus! Mucho coolio! thanks =) - January 18, 2003 by adam graniss
COOL! - This is really cool. It looks good, and matches my background, but how do you change the color scheme. Some one please help me! - January 11, 2003 by Lorenzo Magnate
The best skin i have seen. - not only is this theme good looking.. but i also find it easy to use, unlike alot of other themes.. Plus this theme has lots of different colors you can choose from so it can go with anything or any mood. - January 7, 2003 by graig smith
its really good - well, the title gives it away. - December 24, 2002 by Cat C
! - Holy shit! :-) - December 21, 2002 by Jon Lee
Microsoft - learn from the master - David got it right this time...again. This is the best goddam skin I've seen and used. I've been a dedicated winamp user since the early days and this skin really has all you need and more. The slim mode is great - for the first time I can actually keep winamp on top of all softwares without being bothered while working with other programs. Excellent color choices where the text is always visible. Since I installed it, I have had no bugs or crashes so I give this one top ranking. - December 21, 2002 by Dennis Lindwall
Transparent Vis: - To Activate the Transparent Vis, Desktop Alpha must be on. To activate it, go into preferences, then advanced, then turn on desktop alpha. Sorted! - December 9, 2002 by david adamczyk
It's good - This is a pretty god skin, but as the other guy I could not find the transparent visualization option. It's a pretty cool work - December 8, 2002 by Juan Jose Flores Acevedo
Really Cool! - It's a really cool skin, but i coudn't find the transparent visualization, I have WXP, but the visualization it's not transparent. How do I activate it? - December 8, 2002 by J Thomas
Cool - I like the style, cool. - December 3, 2002 by Ice Wolf
check out a modified Echo - Howdy David, I would like to get in touch with you, but your hotmail mailbox has filled up. I did a few modifications for this wonderful skin on my own in the meanwhile, I added a cute little file bitrate display to it and switched the timer font into a monospaced one, so it won't jump around as much anymore and can be centered much better. Screenshot: http://www.dataring.ee/myecho_shot.png Skin: http://www.dataring.ee/myecho.wal - November 30, 2002 by Leho Kraav
cool color - I'm going to use this skin, he's looking very nice with a lot of combinated colors! Cool idea. What's on else? - November 25, 2002 by Mike Massonnet
This was close - This skin was very close to MMD3 in my decision on 5 stars... butthis got it. VERY sleek, and just more done looking then the others. Best one here, as far as I can see. Great job!! - November 25, 2002 by Joe Pigott
its great! - the skin is a really great, and there arent many flaws the way some other skins do. BUT there are a few things that should be changed. to change the skin colors, u must go to preferences, instead of ON the skin. GREAT JOB!!! - November 24, 2002 by Alex Chan
SF - top skin, much better then mmd3!! - November 18, 2002 by Martin Heckt
The REAL Slim Shady! - Oh wow, can't say enough about this skin! It's friggin awesome! The winshade works so well to get the thing the hell outta the way when you need it to. Bravo bro! - November 8, 2002 by Spider Man
very best - Been the best before and the windowshade thinger is just cool. - November 7, 2002 by Hans Farian
ECHO - A mais bela e muito bem pensada capa, para o melhor player que ja encontrei. Parabens!! - November 6, 2002 by ELANO FIGUEIREDO
Echo - It's cool! - November 3, 2002 by Steve Molokken
One of the best. - The second best Winamp 3 skin i've seen so far! - November 2, 2002 by Henric Bergqvist
Cool - Echo is sooo coool. it looks awesome. hats off to david adamcyxz - November 1, 2002 by Nikhil Aima
Winamp Crashes - This is a really cool skin, too bad I could only use it once :(. Every time I want to load it, Winamp crashes... - October 31, 2002 by Souheil SULTAN
only one worth using - Great look, great practicality, great versitility, and great balls of fire. I've yet to find a problem with it... and I'm very, very picky. - October 28, 2002 by Althea Thyrst
Pretty Nice. - I thought it was okay... It's very nice looking, but MM3D is a much better skin... - October 27, 2002 by Keenan Schneider
Best skin yet! - It hasn't left my Winamp eversince I downloaded it. It's GREAT!! In my opinion, this skin, MMD3 and Koalla are the best of all. Good work! I'd love some more color schemes too! - October 27, 2002 by Daniel Flamaropol
Perfect! - I love it it's soooo awwwesome!!!!111 I'll keep it forever!!!! - October 26, 2002 by Jennifer Brewington
Bad - this skin rocks from most of the other crap ones and it isnt that good - October 25, 2002 by Rhys Hollingworth
Excellent - This is a very nice skin because it's complete, some skins are missing stuff like equalizer preset function. This skin has it all easy to read and looks good in compact mode. My Overall is a 4of5 My Originality is a 5 My Completeness 5 Aesthetics 4 - October 25, 2002 by Bryan The Reviewer
Da bomb diggity - rock the heck on dude this is a sweet skin with a lot of color options and everything seems to work perfect with it.... and just the perfect size too for my screen - October 24, 2002 by Mike Perry
Very Cool player - wow it's an amazing winamp skin i ever seen .... - October 24, 2002 by Joseph Youssef
I like it - i would have to say it has great look, and it is just all around easy to use. - October 24, 2002 by cameron livermore
If we are all made of stars, then this skin is made of 5 - absolutely perfect ! - October 23, 2002 by Matjaz Razbornik
wikkid.. - more..we wan more..=) - October 22, 2002 by Rizal Hamid
Finally! - A small skin with a visualization that I can see - and transparent too! Clean and cool. This is it. - October 22, 2002 by Rick Judson
Sweet Skin - this skin is great and i've yet to have a problem with it. It looks even better once you download it. I highly recommend it. - October 22, 2002 by Jason Walker
AWESOME - Incredible skin, works and looks incredibly. Colors and themes are well contrasted so none of the text blends in like I see on a lot of skins. Love the fact that there's a 'slim' mode, I'm a huge fan of those kinds of skins that can get out of the way when they have to. Phenominal job. - October 22, 2002 by dave c
Fits everywhere - OK,so the shape is not very original,but it's an more than Ok skin nevertheless!Nice color schemes and has what you need.Simplicity is never wrong!:) - October 22, 2002 by Cecilia Bergkvist
Hippie - Love the skin. Don't like it quitting when you try to play it or anything. Hopefully be fixed soon. - October 21, 2002 by Mike Lindsey
WOW!! - Finally a great skin that has everything!!! Adjustability, lots of nice color schemes, full functionality and easy to use. and the best part - it has a WINDOWSHADE FOR THE PLAYLIST! THANK YOU!!!!! - October 21, 2002 by Debra B.
One Fine Skin - I have been using winamp for a very long time. It is a fine program. This skin made it that much better that I had to logon and tell someone about it. It is aestheticly pleasing and easy to use. As Mike the Lama says "Echo really whips the Lamas ass!!!" - October 20, 2002 by Tommy Denton
Great WinShade Mode - Very nice, David. Great colors and terrific Winshade mode. Is there a way to reach the Thinger from Winshade mode? Gotta have my LyricsAmp when i need it :-)) Thank you for your great work!! - October 20, 2002 by Larry Bass
Simply the best winamp3 skin of the moment - Echo is simple and functionnal (the minimizable playlist is great!) and at the same time, good looking. Many many many color themes available, all are great. I use it relegiously, and I'm impatient to see more work from you! Felicitations! - October 20, 2002 by James GT
Nice - Not bad at all. - October 20, 2002 by j z
this is an amazing first skin, love it - wow for a first skin this is the best i have seen yet, cant wait for more. I especially like the winshade mode and the minimized playlist, keep up the great work. - October 20, 2002 by bob smith
String Error - I like the looks alot. There is only one problem, when I went to my preferences to adjust the color and such, a message pops up saying there was some sort of string error. Now I whenever i try to choose the skin, winamp crashes. - October 20, 2002 by Alvin Ao