>
Skins

>
Stylish
Ebonite 2.0
Featuring RGB Color Sliders
Featuring RGB Color Sliders
After 2 years, Ebonite is back and packed with tons of new features! Featuring: New 'Narrow' player mode, RBG Color Picker/Sliders, All skin graphics rebuilt to look sharper, Larger Album Art, Configuration Window, New custom visualizations, Enhanced Code, and much more... I am currently looking for freelance design work, contact me at WinstonGFX.com. Ebonite is now featuring the RGB Picker and Brightness Settings so you can color theme Ebonite for just about any desktop theme. You will need Winamp 5.55+ in order to use Ebonite. Our resident crazy coder SLoB implemented the RGB functionality. SLoB aka Kev also freelances and is looking for new clients, check him out at MultiLayer Design.
Download skin
| | | |
| --- | --- | --- |
| May 31, 2009 by Mike Winston | 387641 downloads | |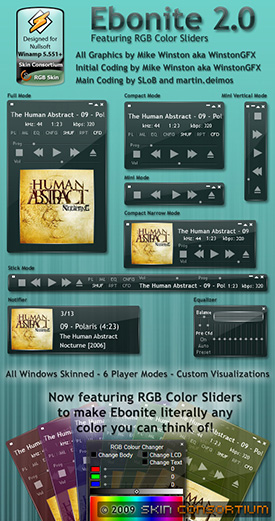 Staff review
ebonite reloaded
I guess most of you know the legendary Ebonite skin.These guys have topped it with Ebonite 2. Now you can choose the background colors with a color picker, so it perfectly matches your desktop!
Comments
in win7 there are problems - September 6, 2010 by Sayat Ibraimov
Love your WorksThank´s !from HaKaSuKe - March 11, 2010 by Rob
simple, sleek, sexy abesss - February 17, 2010 by Nathan Von Dominic
Clean, sleek, and sexy. Thanks! - January 24, 2010 by peterk731
WOW! Best, most beautiful skin ever - I knew I was getting something good when I saw this skin. I've been using it for months and have no desire to switch to any other skin.It works so well with Vista. I'm sure it would look great with Windows 7 as well. I highly recommend it. Perfect score! - September 30, 2009 by account
Like the glass effect! - just what im looking for... its elegant cuz it cristal effect, not mechanical like other(MMD3, i dont know what it is so popular,it sxcks)...keep going! - September 7, 2009 by DraineD
Good but... - ...it would be really nice to be able to toggle the Playlist Editor from expanded view to a minimized view. Most skins I've used allow a double click on the Playlist Editor to achieve this effect.If this toggling ability isn't possible, this is a deal breaker, for sure. - August 24, 2009 by IDreamInEightBit
?_? - I think it's really nice made and not to much things going on. And i love the color system :) - August 23, 2009 by Buraindo
Slick, any color combo a plus. - Can't say much more about this that others haven't already said. My only gripe would be the seeming inability to resize the player in "stick" mode, which is what I always use. I generally like to have it stretched across about 75% of the length of my screen, right on top of the start bar. If there is a way to resize it please let us know, but beyond that fantastic job! - August 15, 2009 by vr3wm
Sleek and Simple - Really simplistic interface, its six unique Winshade modes allow you to see what you want to see and the color changer lets you integrate it with any color scheme you can concoct. Perfect for those who want a clean interface. - August 11, 2009 by Timothy Metcalfe
Great! - Man, this one's a really good one - August 4, 2009 by Alonso Vega
cool - OMG THAT'S AWSOME KEEP GOIN - July 26, 2009 by n3m3c1s
Beautiful skin, great colours! - The rgb sliders concept is new, and the ability to change colour shades on-the-fly is just wonderful to behold, and overall this is a lovely looking skin!But... the default layout looks terrible on all my systems (with 3 different monitors in 3 different resolutions, I had components laid out all over my desktops); I couldn't find a way to stop some components from always being transparent (ignored the global window settings transparency settings); and the colour sliders don't work as smoothly as I hoped - the slider settings only seem to be applied when they match predefined colour points or regions for text colours; and there doesn't seem to be a way to save the settings as colour points or numeric values or names, which makes it hard to replicate the settings without a pencil and paper.It was a frustrating introduction to this skin, and I really hope I can find out why it worked so horribly for me. I'm sure it must be my systems (XP x32, XP x64, W7 x64), but I'm just not sure why!But the slider colour concept is brilliant! Keep up the good work, and I'll keep trying! - July 25, 2009 by PC Pete
Awesome! - I love this skin. It's so sleek and blends right in with the look of windows vista. Definitely my most favorite skin EVER. - July 25, 2009 by jyro275
Good - Nice one - July 23, 2009 by Shashikiran
Looks cool! - Really liked the skin. Aesthetics are fabulous and the layout is simple and intuitive. Kudos on a job well done! - July 8, 2009 by sks3286
Really good skin, but... - I have a trouble. I have an error ... it writes that couldn't load one file - standardframe.maki'it's in local.temp folder\scripts .Any one have this trouble or only I ? please fix error or help me repair it. Thx a lot. - July 6, 2009 by gocho
Awesome ;) - Docking was tested prior to release and found that Winamp does not dock fixed sized containers properly hence this skin has docking disabled. - July 5, 2009 by slob
simply nice - i like its appearance, but why it cant be docked =( - July 4, 2009 by Candra
Cool! - Cool layout! - June 27, 2009 by Raymon Holeman
=D - this is called a good job tkxit's just unfortunate that one can not set the bar takes the full width and disappears at the top or bottom maybe for version 3 ;) - June 20, 2009 by ldos
Very nice, but c++ error upon first use - Very nice skin. The only issue I had with it is if you change the skin while playing music you have a 50/50 chance of getting the c++ error of doom. it comes up and says "Virtual cell error" and kills winamp. restarting fixes the problem but it is a slight hassle. would have given it 5 stars but that part is why it is only 4. - June 16, 2009 by flamethrower
It's okay. Wish it worked for me. - When I tried to use this skin, it resulted in a virtual call error. Pure Virtual Call it said. Is this a fault in the skin? I don't know, just reporting what happened to me. - June 11, 2009 by phat.man169
Looks interesting. - I love this skin, it looks very nice in Vista Ultimate, all the different modes are fantastic, just one problem, the Media Library lags a bit for me, but the playlist scrolls fine and plays tracks instantly, any idea how to fix this?Also, in that picture the stick mode looks longer than mine, can i make it longer? - June 11, 2009 by -Citrus-
.. looks amazing.. will it work? - Yes! By far the best skin I've ever used! I've tried out many skins trying to find one that looked good maximized, looked good in a compact view, had album art... and most importantly.. worked well! This has it all and such a range of options to customise. Tested on winamp pro 5.552 on windows 7.Many thanks! - June 10, 2009 by mj.jepson
Wow. - Functional, beautiful, every configuration your little heart could desire....what's not to love? Great job!!! - June 1, 2009 by Anne Robinson