>
Skins

>
Entertainment
Dr Who The Ten Doctors
Vrooop Vrooop Vrooop...
Vrooop Vrooop Vrooop...
To celebrate the new series of Dr Who JT skins present a trip through Doctors past and present.


All ten Doctors included, a different looking skin every hour!


Lots of hidden extras including a special TARDIS mode, see if you can find it.


Also Available


Doctor Who - 10th Dr Adventures


Doctor Who - Monsters & Villains


Doctor Who Classic

Dr Who is (c) 2006 BBC
Download skin
| | | |
| --- | --- | --- |
| April 7, 2006 by Jones Owns | 39502 downloads | |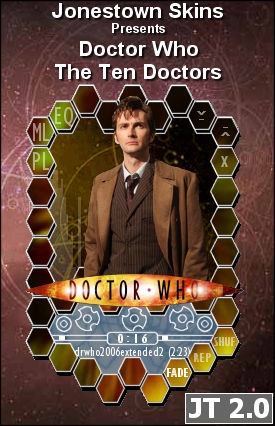 Staff review
At last! a shiny new Dr Who skin, perfect for all fans of the show worldwide, you can come out from behind the couch now, not a Dalek in sight....
Comments
Ooooooh I LOVE this skin!!!! - Absolutely lovely skin! Definitely going to be my favourite for some time to come! I love the colours and overall design as well as all of the lovely little details ( the changing background colours and the vortex effect and changing Doctor faces when you touch the buttons and the hidden Dalek) and of course having a choice of Doctors (Though I tend to leave it on Eight ) I also love the Monsters and villians version you did. (Any chance of a Mikroamp skin or skins to match? ) Well done! - May 2, 2006 by Kath McGann
Amazing - This is just awesome. The buttons are easy to find and the pictures chosen for each of the Doctors are very nice. Very creative and well done. - April 8, 2006 by Loray Dilerd