>
Skins

>
Consumption
Devil Ant
Act2 encore
Devil Ant - Act2 encore
Deviantart.com - where art meets application....well they had a contest and i want that prize. so i threw this together.
Download skin
| | | |
| --- | --- | --- |
| July 26, 2006 by Nullsoft Classicz | 259129 downloads | |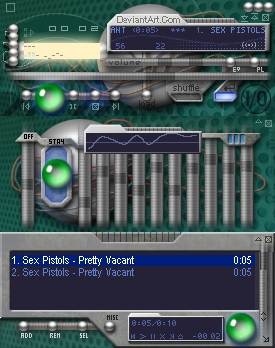 Staff review
Impressive skin design.... the use of depth to this one is great. I really like how the

foreground stands out from the background... very nice.... there's even a midground. The

foreground itself is very smooth... tightness all around. With some glowing green orbs to top it

off....and you know those are always good. Downloading this will make you a happy camp attendant.

-dg

Original Design by Raj I/O
WA5 update by Jones.
Comments
ooooh the memories.... - remember for my good ol' times... - June 16, 2007 by jericho xp
it doesn't work... - several things in this skin don't blend; the winshade button is different than the others when pressed; there is no animation on the load, eq, or playlist buttons; the clutter bar is disgusting along with the sliders in the media library; the borders on the playlist and gen windows are off; the green orb seems overused; the animations on the video buttons are retarded; if you wanted the foreground and midground to be special, they aren't, they are repeated and in some cases like the playlist, could have been shown more; also the playlist buttons have a disgusting pop up veiw without animation i might add. All in all, the idea was good, put it was poorly executed, and the sad thing is that all of these problems could have been fixed, very easily, but the skinner didn't bother to do that. Too bad :-( - November 21, 2006 by Thomas Lynn
Awesome skin! - An awesome skin! I just love it! Nice colors, has a nice techno style and the glowing orbs are a good bonus. And what the staff said, it's like it has a mid-ground. This is truly one of the elite skins on this site. I hope i will see more of you! - August 13, 2006 by joeyjo0 joey