>
Skins

>
Stylish
Desert Storm
Featured Skin, June 5, 2003.
dust & humidity plus wa2.9!! my latest offering!!DEseRT SToRM...and this to beat ashenwood at it's own game...guys guys guys....i get a lot of mails concerning the darkness factor in my creations e.g ashenwood....please try adjusting your monitor settings(it's true i intentionally made it dark to conmplete the theme)but it's not that dark on my machine... couple of my friends here faced the same thing!!anyway this skin was created to narrow it down a bit...more visibility!!hee hee hee...ohh ohh there i go crazy again!!chao!!
Download skin
| | | |
| --- | --- | --- |
| October 4, 2003 by neville dsouza | 37796 downloads | |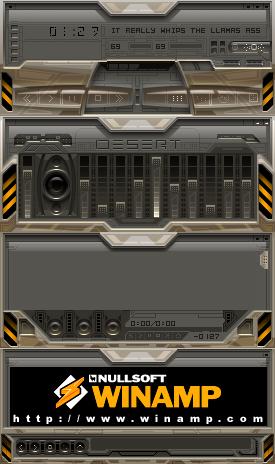 Staff review
Dark skin, but some nice graphics.
Interesting main.
Comments
Graphics - I think the graphics is nang - May 15, 2005 by Ahmad Hassan
WoW! - a-a-a! GREAT! Greatest Dark'n'Light skin!!! Good Customized. I like it! Great locking clear skin! - August 12, 2003 by GAG [Jaguar]
Amazing but the buttons - It's amazing. This skin rulez. But I just give 4 stars, because you can't identify the buttons down in the playlist. This is sumthin that really suckz. But the rest: Wow! - June 22, 2003 by Simon Kramer
12 - 12 - June 13, 2003 by mohamed shaltot
excellent job - this is a skin. - June 9, 2003 by dick v/d berg
Beautiful - Simply Beautiful... and ready for 2.9x... Very very nice!!! Congratulations! - June 8, 2003 by Imre Benedek
Excellent! - Great job! - June 6, 2003 by Zarko Jovic
Wee!! - Really nice... - June 6, 2003 by Miroslav Blazevic
Awesome! - This is really a great skin! - June 3, 2003 by Alex Wiser
nice! - Great use of color and shape. I wish the buttons were a little more animated. - June 3, 2003 by ... zwylle
Wow!!! - Incredible Skin man :D i download right now!! :D - June 2, 2003 by Infected FX