>
Skins

>
Cool Devices
Demon v5
Featured Skin, October 8, 2001.
When you can no longer see shadows the Demon has taken over,the destroyer.
This winamp is number 4 on my list. It was engineered for the year 3024. It is the destroyer of MP3's, wav & etc. If you think you are ready for the Demon you may download it. Its mechanical parts are included eg: Avs, Pledit,Mb,etc. It is perfectly designed for War. May God have MERCY!
Download skin
| | | |
| --- | --- | --- |
| July 1, 2005 by Nullsoft Classicz | 38211 downloads | |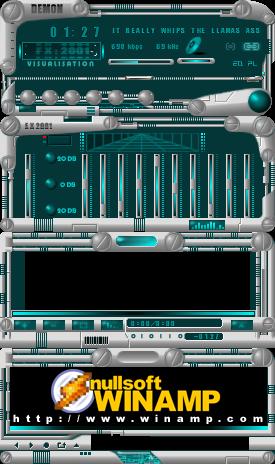 Staff review
Time to turn on your "demonic" senses!
Bass check-1...2...
Frequency get ready, get set!
DOWNLOAD!
This one will blow you away in construction alone; a mastery of components. Enjoy!

Original Design by Faraz a.k.a. xotrex.
WA5 update by Jojo 544.
Comments
Nice - The skin is futuristic but I can't find demon things on the skin - August 13, 2005 by soulfly arie