>
Skins

>
SUI Skins
Cyanian 2010
Keep glowing.
Keep glowing.
Its been a long time since I released my first ClassicPro skin (The last submitted was Munchen, more than 2 years ago!). From then to now I finished another ones, but ideas for something really good were missing. So I decided to work on the classic Cyanian skin and converted it to the stylish modern look of the ClassicPro format, maturating the "cyan" concept developed to the first skin. Its the best I can offer to you now.
Download skin
| | | |
| --- | --- | --- |
| June 22, 2010 by Wilian Souza | 1423511 downloads | |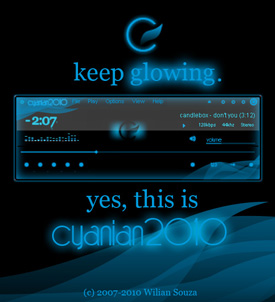 Staff review
Cyanian skin in cPro version
I like the cPro version of the Cyanian classic skin. As you said, the concept madurated. I'm not sure about the cbuttons, IMO I like to distinguish them, instead of plain circles. Thanks for your submission.
Comments
bravo - January 19, 2011 by aerobuta
Awesome skin - take into account that I generally do not go for dark skins but this is a definite exception. I see an issue in the Media Library regarding selecting items. Initially, the highlight is there but click another item and it disappears and you are unable to see what is selected. Not sure if this is the skin or on my end. - January 14, 2011 by jtekUSA
coool - December 28, 2010 by [email protected]
Very nice look. I dont get why cPro skins are so large though...I can resize the width but not the height. - December 10, 2010 by Richard Longjohnson
i love it - November 12, 2010 by [email protected]
GOOD - September 12, 2010 by [email protected]
tres beau skin! great! - September 5, 2010 by phantomxfr phantomxfr
Very clean and nice skin but i agree that the circles is annoying at first but you get used to it although an option to show the real icons would be nice. - August 16, 2010 by Orici Orici
no coment - August 5, 2010 by [email protected]
The Beat Vis is very nicely designed, as is the rest of the UI. Agreed with the Staff review, the buttons could be a bit better, but overall, very smooth.Thanks! - July 18, 2010 by Ratchet Aris
Clean interface, like the color, smooth animation and also like the button design. Congrats on a job well done ;) - June 24, 2010 by pjn123