>
Skins

>
Stylish
Cup of Tea_large
cup of tea large
cup of tea large
This one was made to fit a green wallpaper you can find here: http://www.deviantart.com/deviation/8546759/

There\'s a pack containing 5 skins. You can download it from here: http://www.deviantart.com/deviation/38143391/

Hope you like it! Comments are appreciated.
Download skin
| | | |
| --- | --- | --- |
| August 20, 2006 by Veronica Mogni | 193011 downloads | |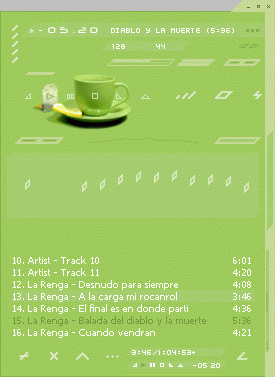 Staff review
This skin appears to be very simple, but really is very unique in it's simpleness.


Comments
Clean - Hello Veronica!I have adopted your skin and wallpaper after months of clutter on the desktop. As a C# and Java programmer, I find this a breath of fresh air. Not only is your concept cool, it is very unique. The green is so smooth and the graphics so minimal. I highly recommend this skin for its memory effeciency as well. Good work!Toronto - October 1, 2007 by Henry Hewitt
Tea ftw! - I love tea, this is the right one for me d:E - August 10, 2007 by Abi S.
nice - it's really great - August 9, 2007 by usestrict usestrict
nice - nice, congratulations - June 16, 2007 by jag zombie
Now this is Hot - Fantastic, Absoutely love it. Went to site and put as background. Who would have thought, that this morning, drinking my tea, I would find such a refreshing skin; I like green, brings out the color in my brown eyes ;). - August 26, 2006 by Gabriel Gonzales
Great job - Great job! I've seen the whole pack and large version is the one I like most. Keep on like this! - August 23, 2006 by Ver�nica Lemos
edit for people who use words - *simplicity - i'd change the fonts to match a bit more, but it's otherwise quite efficient and pleasant. - August 22, 2006 by tr 67
Great - you wanted a simple skin? well...here it is...i've seen this skin...actually it is a skin pack with some other versions (smaller ones, with more transparencies) I think the colours are great, and the whole skin matches perfectly the walpaper that inspired it...it's a skin for simple people and serious workers :P and eventually, skinlovers like me :) - August 22, 2006 by El-ArGeNtO (Fernando Adorneti)